SANAA -- The Iran-backed Houthis (Ansarallah) on Sunday (June 6) acknowledged they targeted a military base in the northern city of Marib, a day after the Yemeni government said an attack killed 14 civilians at a gas station near the base.
Houthi political commander Mohammed Ali al-Houthi issued a rare call for an independent investigation into the attack in a post on Twitter.
It is unusual for the Houthis to admit attempting to strike a target near where civilians have died.
On Saturday, state media reported that a strike had killed 14 civilians at a gas station in the city of Marib, the government's last northern stronghold, and blamed the Houthis for the attack.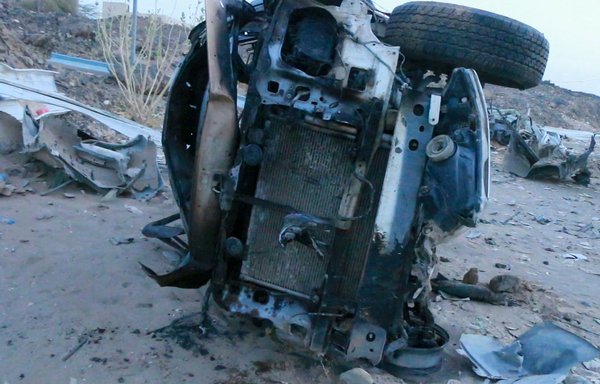 According to local media, dozens of cars were waiting to fill up when a "ballistic missile and a booby-trapped drone" struck, sparking a fire in which 14 civilians died, including a little girl, and five others were wounded, including a child.
A medic in Marib confirmed the toll.
According to two residents, the gas station is about a kilometre away from the base, and soldiers often go there with their families to refuel their cars. It is near an open-air market and a camp for displaced people.
Yemeni Information Minister Muammar al-Eryani denounced the attack on Twitter, calling it a "heinous terrorist crime which amounts to a war crime".
Al-Houthi said his group "will be obligated to pay compensation" if the investigation finds them guilty of killing the 14 civilians.
Attacks on civilians
Marib province had been relatively stable since the Houthis seized control of Sanaa in a 2014 coup, and had become a safe haven for hundreds of thousands who fled frontline fighting.
But the Houthis launched an offensive in February to seize Marib and its surrounding oil fields -- the last significant pocket of government-held territory in the north.
The escalation of hostilities has displaced thousands in Marib this year, exacerbating what the UN calls the world's worst humanitarian crisis.
On May 20, the United States announced sanctions against two Houthi commanders who are leading the Marib offensive: chief of the general staff Mohammed Abdul Kareem al-Ghamari, and commander Youssef al-Madani.
Al-Ghamari is responsible for orchestrating attacks impacting Yemeni civilians, and has taken charge of the Marib offensive, the US Treasury said.
As the most senior commander within the Houthi military leadership structure, al-Ghamari is directly responsible for overseeing operations that have destroyed civilian infrastructure in Yemen, Saudi Arabia and the United Arab Emirates.
He directs the procurement and deployment of various weapons, including improvised explosive devices (IEDs), ammunition and drones, and has overseen Houthi attacks against Saudi Arabian targets.
"Al-Ghamari reportedly received his military training in Houthi militia camps run by Lebanese Hizbullah and Iran's Islamic Revolutionary Guard Corps (IRGC)," the Treasury said.
Oman in diplomatic push
The Marib gas station attack came as a diplomatic push to secure a ceasefire intensifies.
On Saturday an Omani delegation, accompanied by senior Houthi figures, including the group's spokesman Mohammed Abdul Salam, arrived in Sanaa.
Houthi sources said the delegation is trying to convince the Iran-backed group to accept a ceasefire and join the peace efforts.
The Arab coalition controls Yemen's airspace and since 2016 had prevented Abdul Salam and other Houthi figures from returning to Sanaa.
The delegation's arrival, which would have required approval from Riyadh, demonstrates something of a step forward in negotiations.
The Houthis have repeatedly demanded the re-opening of Sanaa airport before any ceasefire agreement.
A Houthi source, speaking on condition of anonymity, said the delegation was to meet with Houthi leader Abdulmalik al-Houthi and update him on talks held in Muscat.
The Marib Military Court has issued an arrest warrant for al-Houthi and 174 other leaders of the group on charges that include staging a coup against the government and participating in the formation of the Houthi militia.
Oman has regularly played the role of mediator in regional conflicts and has hosted UN special envoy for Yemen Martin Griffiths and US envoy Tim Lenderking in recent weeks.
On May 31, Griffiths urged the warring sides to "bridge the gap" to reach a ceasefire.
"There's an extraordinary amount of diplomatic consensus... there is a real diplomatic energy now, which hasn't always been the case," Griffiths said.