Iraqi paramilitary groups made political gains in the 2018 parliamentary elections after the defeat of the "Islamic State of Iraq and Syria" (ISIS), but will face a stiff challenge in forthcoming elections set for October, observers said.
Militia groups have lost support as they continue to threaten Iraq's security, stability and sovereignty by carrying out attacks on Iraqi and international targets and intimidating or killing their political opponents.
Iran-backed Iraqi militias have been widely blamed for killing, attacking or abducting more than 70 Iraqi activists since the popular protest movement erupted in October 2019.
In the most recent example of this intimidation, an Iraqi activist who has been critical of Iran-backed militias was abducted and assaulted over the weekend.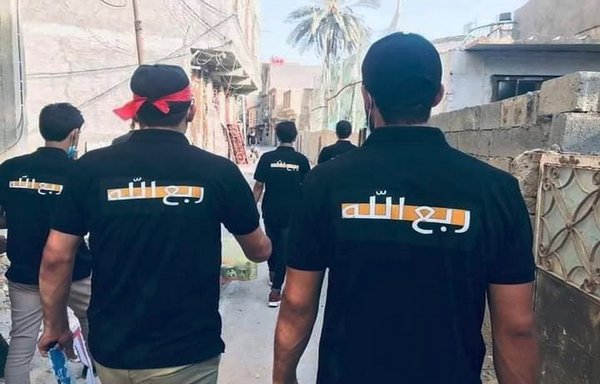 Journalist, activist and researcher Ali al-Mikdam disappeared on Friday (July 9), sparking widespread concern from his friends and supporters, before he was released late Saturday, injured, on the outskirts of Baghdad.
Prime Minister Mustafa Kadhemi visited him in a Baghdad hospital on Sunday, where he had been taken after security forces released him from his kidnappers.
So far this year, almost 50 attacks that bear the hallmark of the Iran-backed militias have targeted bases housing troops from the anti-ISIS international coalition, embassies and Iraqi logistical convoys.
A Kataib Hizbullah affiliate, Thaar al-Muhandis, claimed responsibility for the most recent volley of rockets fired on Ain al-Asad air base in Anbar province.
The latest round of militia violence has targeted international coalition troops in neighbouring Syria as well.
On Sunday, a mortar shell landed in the Conoco gas field in eastern Syria's Deir Ezzor province, near a base housing international coalition forces, according to the Syrian Observatory for Human Rights.
There were no immediate reports of casualties, it said, noting that pro-Iran militias were likely responsible for the incident, which followed a series of attacks on nearby al-Omar oil field. Al-Omar also houses coalition forces.
Losing political support
Created seven years ago to battle ISIS, the paramilitary alliance blended into the armed forces of the state. Then it moved into politics.
With the second biggest bloc in Iraq's parliament, powerful friends in Iran and vast financial assets, it has now become the predominant force in Iraqi politics, experts say.
It has agents throughout the country's regular armed forces, one senior military official told AFP on condition of anonymity.
Armed groups within the alliance are working to fragment the state security forces in an attempt "to weaken them and break them up", he said, though patriotic commanders are trying to resist these efforts.
Militias run some of Iraq's main ports and land border crossings, where bribes help fund their operations and support allies, including Iran, and its regional proxies, such as Hizbullah.
The paramilitary alliance's popularity took it to second place in the 2018 parliamentary elections, the first time it took part as a political force.
But in forthcoming elections in October, paramilitary officials and others admit to expecting a lower score.
Former Iraqi MP Taha al-Lahibi said the alliance has become a dangerous entity that threatens Iraq with its own resources, as it receives annual funding from the Iraqi treasury.
The government allocated it more than 2.4 trillion IQD ($1.6 billion) in 2020 -- an amount exceeding the combined budgets of several ministries.
'No respect for the state'
Despite the privileges and funding they receive, many militia groups do not consider themselves part of the state "except when it is time to receive their financial allocations", al-Lahibi said.
They do not show the slightest respect for the state, and constantly endanger Iraq with their actions, he said.
Iran's Islamic Revolutionary Guard Corps (IRGC) regards these militias as "an auxiliary military force", he added, noting that Iran intends to use them to "weaken the Iraqi army and take Iraq hostage".
Iran-backed militias are fighting the Iraqi state, spreading terror and attacking civilians, said retired Iraqi military officer Jalil Khalaf al-Muhammadawi.
"We turned the page on ISIS with great sacrifices and losses, and we want the world today to extend a helping hand to us to rebuild the destroyed infrastructure and build stability for a prosperous future," he said.
"Militias are trying to push us into a dark tunnel by dragging our country into conflict and war," al-Muhammadawi added.
Ahead of the October parliamentary elections, some observers fear a repeat of the 2018 scenario, when militias used their influence and weapons for political gain and seats in the current parliament.
But others say the militias' influence is firmly on the wane.
According to writer and journalist Sarmad al-Taie, militiamen have fallen out of favour in Iraq after their violent suppression of public protests, noting the "We want a homeland" slogan that the protest movement has used.
This points to the Iraqi public's will to establish a new, free, popular political scene, which is free from the heavy-handed intimidation and influence of Iran, he said.