BAGHDAD -- Three rockets were fired at the US embassy in Iraq early Thursday (July 8), the Iraqi army said, following a day marked by rocket and drone attacks on bases hosting international coalition forces in Iraq and Syria.
The embassy itself was not hit, the army said, but the rockets struck three nearby places in Baghdad's Green Zone.
The last few days have seen an increase in the frequency of attacks on international coalition forces and diplomatic missions in Iraq and Syria, which are widely blamed on Iran-aligned militias operating under various names.
Some are well known Iranian proxies, notably Kataib Hizbullah, while others are shadowy groups that have emerged more recently and appear to be acting at Tehran's behest, in an attempt to hide its hand.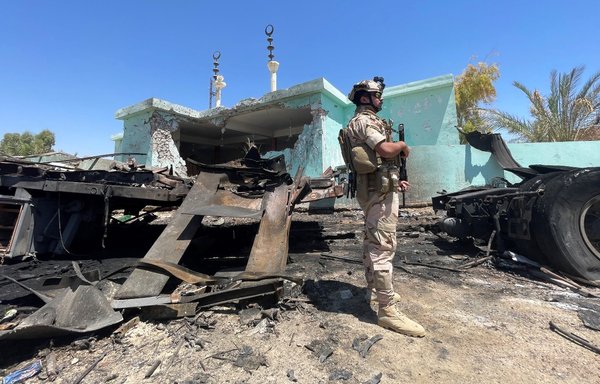 On Wednesday, 14 rockets were fired at Ain al-Asad air base in Anbar province, Iraq, causing minor injuries to two personnel, the international coalition said.
Local houses and a mosque sustained damage, international coalition spokesman Wayne Marotto said on Twitter.
The culprits hid the rocket launcher inside a truck carrying bags of flour, said Iraqi security forces.
A militant group called Thaar al-Muhandis (Revenge of al-Muhandis Brigade) claimed responsibility.
Thaar al-Muhandis is known to be an affiliate of Kataib Hizbullah.
The group is named after Abu Mahdi al-Muhandis, who was killed in a US strike in January 2020 in Baghdad along with Islamic Revolutionary Guard Corps Quds Force commander Qassem Soleimani.
There were similar attacks earlier this week.
On Monday, an armed drone was shot down above the US embassy in Baghdad, and three rockets targeted Ain al-Asad.
US State Department spokesman Ned Price said the latest attacks "reflect and are representative of the threat that Iran-backed militias present fundamentally to Iraq's sovereignty and to Iraq's stability".
Syria drone attacks thwarted
Across the border in Syria, where Iran-aligned militias have fought alongside the Syrian regime, the Syrian Democratic Forces (SDF) also reported attempted attacks near an international coalition base.
The SDF said they repelled drone attacks near the base in al-Omar oil field in Deir Ezzor province, eastern Syria, in the second such attack in days.
"Our frontline forces against the 'Islamic State of Iraq and Syria' (ISIS) and coalition forces in the area of al-Omar oil field dealt with drone attacks," said the SDF, adding that the drones had caused no damage.
The Syrian Observatory for Human Rights said Iran-aligned militias had probably launched the drones from a rural area outside the town of al-Mayadeen, southwest of the oil field.
The SDF had on Sunday reported that "two unidentified rocket-propelled grenades (RPGs) landed on the western side of the al-Omar oil field", causing no casualties.
Pro-Iranian militias also fired several shells at al-Omar on June 28, causing damage but no casualties, the Observatory said.
The United States had launched air strikes the previous night against three targets it said were used by pro-Iran groups in eastern Syria and western Iraq.