The Iranian regime is increasingly relying on a "new generation" of militias in Iraq, hand-picking members based on their loyalty and selecting those who fiercely support the Islamic Republic's expansionist agenda, sources say.
New proxy militias are smaller than conventional armed groups and operate with greater secrecy under the direct supervision of the Islamic Revolutionary Guard Corps' Quds Force (IRGC-QF).
The move towards forming smaller militias demonstrates the IRGC-QF's difficulty in leading larger proxy groups, say analysts.
Over the past year, the IRGC reportedly deployed hundreds of carefully selected fighters to Lebanon, where they received training that prepared them to carry out complex attacks on international interests in Iraq.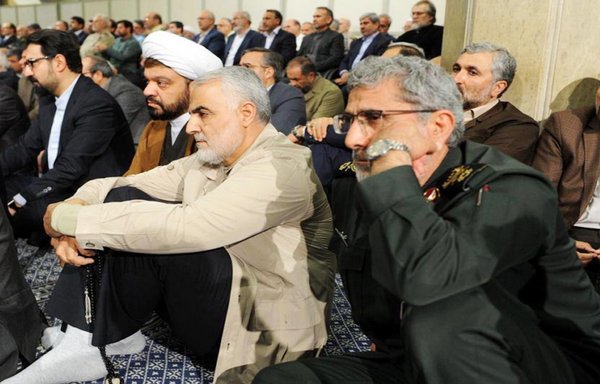 Others reportedly received training focused on creating and managing social media accounts to form what is referred to as a "cyber army".
IRGC-affiliated militias are accused of carrying out some 300 attacks on international interests and logistical supply convoys in Iraq in the past 20 months -- 40 since the beginning of the year.
Short-range missiles and improvised explosive devices (IEDs) have been used in most of the attacks. But the use of explosives-laden drones in recent attacks on Ain al-Asad air base and Baghdad Airport shows the militias using new methods.
Well-known militias typically do not claim responsibility for such attacks.
Instead, they are usually claimed by lesser-known groups such as Awliyaa al-Dam, which claimed the mid-February bombardment of Erbil airport. (The same airport was later attacked with an explosives-laden drone.)
Loyalty fears
Little-known armed groups such as Awliyaa al-Dam, Alwiyat al-Waad al-Haq, Saraya al-Muntaqim, Qassim al-Jabbarin and Usbat al-Thaereen reportedly operate under the command of Kataib Hizbullah or act as a front for it.
The militia, which is one of the most prominent Iran-backed armed groups in Iraq, receives money, weapons and training from the IRGC.
IRGC commanders trust only a small number of armed groups, led by Kataib Hizbullah, said political analyst Ghanem al-Abed.
They fear that larger armed groups might turn against them or might stop serving the IRGC's agenda and act on their own, he said.
"The newly formed militias are different from the conventional ones, in that they are smaller, perhaps comprising no more than a few dozen fighters, and operate with a great deal of flexibility, technicality and secrecy," al-Abed said.
They also are characterised by blind obedience to the IRGC, he said.
Conflict between militia leaders over personal interests and financial gains is a constant source of concern for the IRGC, whose leadership is worried that its interventionist policies fall by the wayside when internal rifts emerge.
Liquidation process
"The new IRGC tactic does not necessarily mean dispensing with all the militias or withholding support for them and focusing on small groups," said Thaer al-Bayati, secretary-general of the Salaheddine tribal council.
Rather, he said, it may be "a liquidation process...to isolate and restrain groups that are no longer enthusiastic about the IRGC's agenda...or those whose loyalty is in question".
Atop the IRGC Quds Force, Esmail Qaani has cut a feeble figure compared to his predecessor, Qassem Soleimani, despite his frequent visits to Iraq, said al-Bayati, and his ineffectual leadership has frustrated the Iranian regime.
The newer, smaller "smokescreen militias" started to emerge and proliferate early last year under different names, said al-Bayati. More than 15 such groups are now operating in Iraq.
These little-known actors represent a "new generation" of IRGC-affiliated militias led by Kataib Hizbullah and supervised by the IRGC's Quds Force, he added.