BAGHDAD -- A Wednesday evening (June 9) attack targeting Baghdad airport was carried out with explosives-laden drones, a technique increasingly used by pro-Iran groups, a security official said.
It is the fourth time in less than two months that such devices have been used in Iraq to target international coalition interests, a form of attack also used by the Iran-backed Houthis in Yemen.
Three explosives-laden drones were fired at the Baghdad airport. One of them was intercepted by air defences, the army said in a Thursday statement.
It was the first such attack on targets in the Iraqi capital.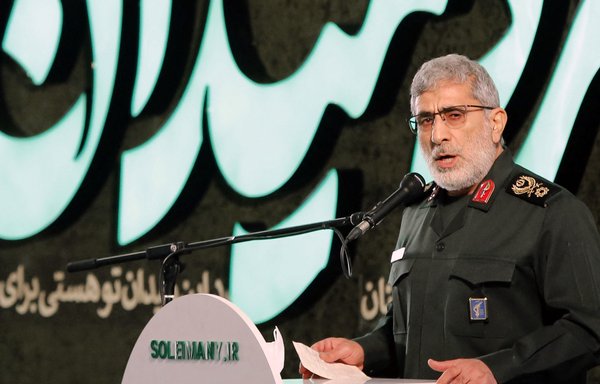 An hour earlier, rockets had targeted Balad airbase, to the north of Baghdad in Salaheddine province, another security source said.
Five rockets hit the airbase, where foreign contractors and F-16 fighter jets flown by Iraq's air force are housed.
"There were no victims or damage," a security official said.
At least three foreign subcontractors and one Iraqi subcontractor have been wounded in previous attacks on Balad airbase that have been widely blamed on Iran-backed militias.
Some have been claimed by a new crop of "smokescreen" militias aligned with Iran that have emerged in Iraq over the last year that are generally understood to be fronts for Kataib Hizbullah, Harakat al-Nujaba and Asaib Ahl al-Haq.
Earlier in the day, Iraqi authorities released a senior official in an Iran-backed armed group, Qasem Muslah, who had been arrested May 26 on suspicion of orchestrating the murder of a prominent activist.
Qaani visits Iraq
Regional and international media outlets reported that Islamic Revolutionary Guard Corps (IRGC) Quds Force commander Esmail Qaani had arrived in Iraq on Wednesday, though Iranian media was silent about the visit and its purpose.
Iraqi political sources told Arab Weekly that Qaani would focus on shoring up electoral alliances among the various pro-Iran political forces in Iraq ahead of the parliamentary elections slated for October.
He was expected to assure the Iraqi leadership that Iran-aligned militias operating in Iraq would remain under the authority of the IRGC, and also take the measure of the militias to see if he could ensure their obedience.
Qaani, who is not fluent in Arabic, has tried to step into the shoes of his predecessor, Qassem Soleimani, who was killed in Baghdad in January 2020.
But early concerns that he would struggle to maintain full control over Soleimani's network of regional proxies appear to have been well founded.
Iraqi observers told Al-Mashareq there are signs of a widening rift between Iraqi militias controlled by the IRGC and their Iranian handlers, fueled by the Iraqi militias' failure to comply with the IRGC's orders.
Meanwhile, others maintain that Iran and its proxies remain as close as ever.