The newly appointed deputy to new Islamic Revolutionary Guard Corps Quds Force (IRGC-QF) commander Esmail Qaani is known inside Iran for his hardline views and his track record of suppressing internal dissent, experts said.
Mohammad Hejazi was appointed deputy IRGC-QF commander on January 20th, shortly after Qaani was elevated to the top post following his predecessor Qassem Soleimani's death in a US airstrike in Baghdad.
Hejazi, 64, had been one of the top IRGC commanders in Iran and is a well-known figure, unlike many senior Quds Force commanders, Iranian affairs experts told Al-Mashareq.
As commander of the Basij Resistance Force, an IRGC-affiliated paramilitary group that is used for internal security, he sided with IRGC hardliners opposing the Iranian student protests of July 1999 and related political struggles.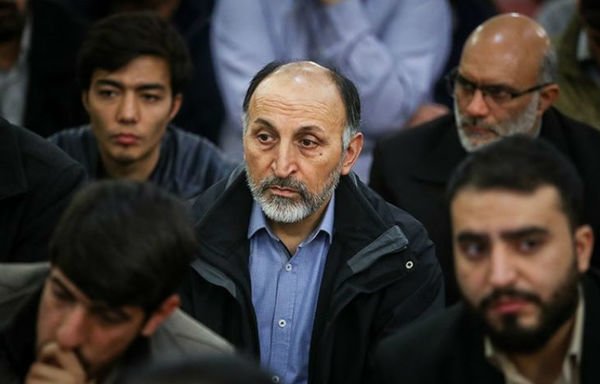 He is said to have supported a group of 24 IRGC commanders who wrote a threatening letter to reformist president Mohammad Khatami, calling on him to quash the protests, former student activist Ali Zanjani told Al-Mashareq.
As students protested against the closure of a reformist newspaper, the Basij's Sarallah Headquarters -- a unit responsible for maintaining security in Tehran that was under Hejazi's personal command -- swept in.
Along with Ansar-e Hizbullah, a paramilitary vigilante group, they violently suppressed the protests, killing several students. In the aftermath of the six-day protests and riots, students went missing and have not been seen since.
"It is said that the threatening letter sent to Khatami [...] was written in collaboration with Hejazi, but because he was commanding the Basij force at the time and was considered an official, he did not sign his name," Zanjani said.
During his time with the Basij, Hejazi expanded and strengthened the Sarallah Headquarters unit and was responsible for the formation of the Imam Ali Battalions, whose elements serve as IRGC reservists.
These groups later played a central role in suppressing the 2009 post-election uprising, Tehran-based journalist Hossein Rajabi told Al-Mashareq.
Hejazi was placed on the EU's list of human rights violators for participating in the 2009 crackdown, he noted.
Shifting focus to foreign operations
Hejazi rose through the ranks of the IRGC, serving first as chairman of the IRGC's joint staff and later as deputy commander-in-chief.
In 2009, when he was named deputy chief of general staff of the Iranian Armed Forces for readiness, logistics and industrial research, his focus shifted to advancing Iran's missiles and other weapons programmes.
This effort has been a significant part of the IRGC's operations.
Since light weapons and short-range missiles manufactured by the IRGC are distributed throughout the region to arm Iran's paramilitary groups, Hejazi also became closer to the Quds Force commanders and operations teams.
Between 2014 and 2020, when he was named deputy IRGC Quds Force commander, Hejazi is believed to have been involved in the IRGC's operations in Lebanon.
In announcing his newest appointment, IRGC-affiliated Tasnim News Agency revealed Hejazi was "also responsible for the IRGC operations in Lebanon".
At the same time, government news agency IRNA reported that Hejazi, alongside Soleimani, had been responsible for commanding paramilitary groups outside Iran.
Hejazi's actions in Lebanon
For the past five years, Hejazi is believed to have been in charge of the Quds Force in Lebanon, and may have had a hand in suppressing the popular protests against corruption and the faltering economy that broke out on October 17th.
Supporters of Iran-backed Hizbullah and Amal attacked the peaceful demonstrators with the goal of creating fear, with observers noting that these were similar to the pattern of repression used against protestors inside Iran.
Similar incidents have been reported during recent protests in Iraq.
Here, Iran-affiliated militias such as the Badr Organisation, Asaib Ahl al-Haq, Kataib Hizbullah, Saraya al-Khorasani and Harakat al-Nujaba, have been accused of targeting demonstrators and civil rights activists.
Iranian affairs experts told Al-Mashareq that Hejazi's appointment as deputy Quds Force commander is noteworthy as his experience in the Middle East will likely compensate for Qaani's lack of experience in that region.
Qaani, whose prior focus was on operations in Afghanistan, has to "fill the gap that was left by his predecessor [Soleimani]", military and strategy analyst Hatem al-Falahi told Al-Mashareq.
The new IRGC-QF commander has to "figure out how to keep the regime intact in the face of popular opposition to its influence in Iraq, Lebanon and Syria", he said, as well as how to maintain a firm grip on the various Iran-backed militias.
But Qaani's ability to unite the militias is questionable, al-Falahi added.