Hizbullah received a shipment of anti-aircraft missiles and various materials used to manufacture weapons through Rafik Hariri International Airport last month, a Hizbullah defector revealed to Al-Mashareq.
Hizbullah's control over key airport operations has been well documented over the years in a number of international intelligence reports, which reveal it has transported weapons and fighters in and out of Lebanon aboard Iranian civilian aircraft.
According to a February 2020 report by the Independent Arabia website, these aircraft use uncommon flight routes through Iraqi and Syrian airspace to evade air traffic monitoring radars before landing at Beirut airport.
Flights between Iran and Lebanon "never stopped", said the defector, who asked that his name be withheld, noting that "most of them are exclusive to Hizbullah".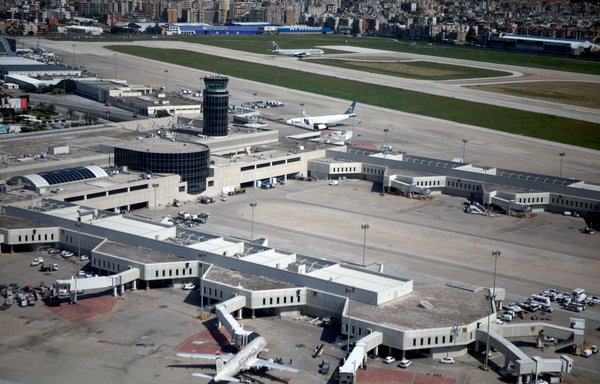 The party uses these flights "to send its members to undergo training courses in Iran, as well as smuggle food and light and medium weapons, in addition to trips by politicians and party members between the two countries", he said.
"The transport of high-tech light weapons from Iran to Lebanon is ongoing, non-stop, via the Lebanese airport, specifically via runway No. 17, which runs parallel to the airport's wall and is strictly a Hizbullah runway," he said.
Iranian planes transporting smuggled goods and weapons, including the January delivery of anti-aircraft missiles, land on that runway, he said.
Iranian smuggling hub
Undeclared flights via state-owned Iran Air and sanctioned Iranian carrier Mahan Air have raised questions about about both airlines' questionable activity on behalf of the Iranian regime in recent years. The carriers have been accused of transporting weapons and fighters to conflict zones throughout the region.
Hizbullah "turned the [Beirut] airport into an Iranian smuggling hub, not only for weapons and fighters, but also goods subject to US sanctions", the defector said.
"The goods are unloaded and transported directly to the party's headquarters and [affiliated] merchants, without going through the official security and customs points," he said.
"The Iranians have thus created a new smuggling route to the Middle East through Beirut airport, to avoid being tracked."
In March 2020, Iran sent material used in the manufacture of missiles and explosive warheads into Lebanon via the airport, the defector said.
As for large and medium-sized missiles, he said, "they are smuggled from Iran to Hizbullah through Syria across illegal land crossings and with heavy security escort by the land and transport team, known as Unit 4400".
Land conduits
Meanwhile, security expert Naji Malaeb said that there is "no concrete certainty that Hizbullah is bringing in weapons from Iran through Rafik Hariri International Airport".
"The airport and its security is handled by the Lebanese army, and everything that is brought in via air freight is inspected by the customs department," he said.
Malaeb pointed to Lebanon's land crossings as a more likely conduit for Hizbullah's smuggling operations, as these "are still open for the passage of people and equipment without undergoing inspection".
This means "all Iranian weapons and sensitive equipment are passing through them from the Syrian Zabadani crossing, and through the illegal crossings near Brital and the Jinta, Yahfoufa-Maaraboun and Nabi Sheit crossings", he said.
It is possible that Iran is "continuing to operate flights to Lebanon carrying dubious goods because logic and the progression of its relationship with Hizbullah suggest that it will not stop", said journalist Youssef Diab.
"Such flights are not listed on the airport's manifest," he told Al-Mashareq.
"Flights from Iran to Lebanon have continued after August 4, as they did before that date. They are invisible flights, and the control tower cannot track them because the airport is under Hizbullah's security and military control," he said, referring to the devastating August 4 Beirut port blast.
Governing without Hizbullah
Even after the August resignation of Hizbullah ally Prime Minister Hassan Diab and his government as a consequence of the Beirut port blast, Hizbullah continues to control the Lebanese decision-making process, said Malaeb, the security expert.
He pointed out that the formation of any government that includes Hizbullah would not be useful in resolving Lebanon's crises.
"As long as Hizbullah continues to impose its hegemony and sway over Lebanon, the formation of a new government would be useless," he said.
"It would be powerless to achieve the required reforms, since Hizbullah would be a part of it, owing to its dominance over the Lebanese decision-making process."
"How can Lebanon form a government of technocrats whose mission is to address the crises in which it is drowning, while Hizbullah is in control of the government?" Diab said.
"Hassan Diab's government resigned, yet Hizbullah is still in control of the situation."