Security experts say Hizbullah has had near total control over Beirut's Rafik Hariri International Airport since 2008, and monitors every movement through cameras placed in and around the airport.
They said the Iran-backed party uses the airport to bring in people with fake names and smuggle in various goods and small military equipment.
Numerous media outlets, including Al-Hadath TV channel, investigated Hizbullah's control of Beirut airport in their reporting. The party "uses the airport as an entry point for its weapons and a point of departure for its fighters", it said.
Control of airport since 2008
Military affairs researcher Brig. Gen. Khalil al-Helou said Hizbullah has controlled Beirut airport since May 2008, after the government decided to dismantle the party's ground surveillance network in the airport and dismissed airport security commander Brig. Gen. Wafiq Choucair, who is affiliated with Hizbullah.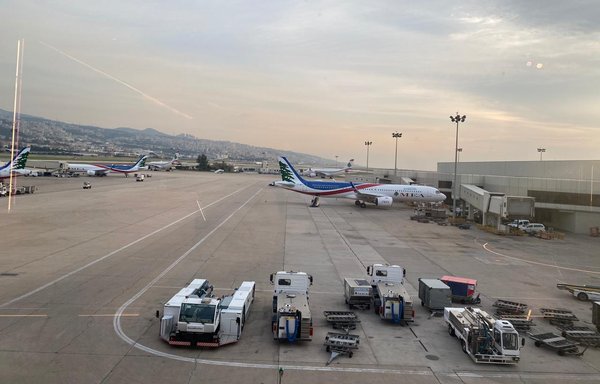 Responding to the government's crackdown on Hizbullah's secured network, militants affiliated with the party and its allies blocked Beirut's main streets on May 7, 2008, paralysing life in the capital.
The next day, gun battles erupted between Hizbullah supporters and pro-government loyalists shortly after Hizbullah leader Hassan Nasrallah gave a televised speech in which he called the government's decision "a declaration of war".
In the following days, fighting between pro-government and opposition militias spread to other parts of the country with major clashes in Aley and Tripoli.
The Doha Agreement, signed on May 21, 2008, finally brought an end to the political crisis. But Hizbullah's control over the airport's security has only grown since.
"Hizbullah uses the airport to smuggle in what it wants, just as it does with the port and border crossings it controls, which has reached the point of vetoing administrative, security and military appointments issued by the government," al-Helou said.
"No official is appointed at the airport without the party's approval," he added.
Ongoing Beirut-Tehran flights
Al-Helou said Hizbullah has used the airport to bring in shipments of money, Iraqi and Houthi militia leaders and commanders of the Islamic Revolutionary Guard Corps (IRGC).
Light weapons and ammunition also likely reach Hizbullah by air through the airport, he said, but the heavier weapons continue to enter Lebanon overland from Syria.
Flights between Beirut and Tehran "have not stopped despite the sanctions imposed on Iran", and there are rumours of undeclared flights via state-owned Iran Air, he said.
Sanctioned Iranian carrier Mahan Air also has been embroiled in questionable activity on behalf of the Iranian regime in recent years. The privately owned carrier has been accused of transporting weapons and fighters to conflict zones throughout the region.
Ali Hamada, a columnist for the Lebanese daily Al-Nahar, wrote in August 2013 that Beirut airport is "under Hizbullah occupation, and anyone who [passes] through it submits himself for a few hours to the mercies of an organisation that most Arab countries, Europe and the US have defined as a terrorist organisation".
"The Rafik Hariri International Airport has in effect become [Iranian Supreme Leader] Khamenei International Airport. This is the truth," Hamada added.
Customs exemptions for Hizbullah
Al-Helou, the military expert, said Hizbullah's control of the airport and its smuggling of goods that bypass customs are costing the airport and the Lebanese government heavy losses.
Political analyst George Chaheen said that the airport has been a safe gateway for Hizbullah for many years.
"There are many reports of customs exemptions granted to goods imported by Hizbullah through the airport. The reports also talk of a blue mark that is placed on anything imported by Hizbullah, signifying that it should enter through a side gate to bypass customs," Chaheen said.
Hizbullah has influence over companies operating at the airport, including baggage carrier companies. It also employs a large number of Middle East Airlines staff, he said.
Chaheen said Hizbullah has full control over the airport's perimeter, with the highway linking Beirut to the airport passing through the party's stronghold of Dahyeh.
He said there are reports of the arrival of Iraqis, Yemenis and IRGC members entering the airport under aliases and being greeted by the party, events that vigilant airport personnel have occasionally noticed.
"Hizbullah acts on the belief that it has permanent control over land, sea and air borders," said security expert Brig. Gen. (ret.) Naji Malaeb.
It monitors and tightly controls all activities at Beirut airport, he said.
The airport is situated in the southern suburbs of Beirut, near Hizbullah's stronghold, which makes monitoring and controlling it more convenient for the party.