Iran's intelligence minister admitted Monday (February 8) that a member of the country's armed forces was involved in last November's assassination of Iran's top nuclear scientist Mohsen Fakhrizadeh -- a revelation that is shining the spotlight again on growing domestic unrest inside Iran.
"The person who carried out the first preparations for the assassination was a member of the armed forces," Mahmoud Alavi said in an interview with state television, without elaborating.
He said it was not possible for the intelligence ministry "to keep watch over the armed forces".
Mohsen Fakhrizadeh was travelling on a highway outside the capital accompanied by a security detail on November 27 when he came under machine-gun fire.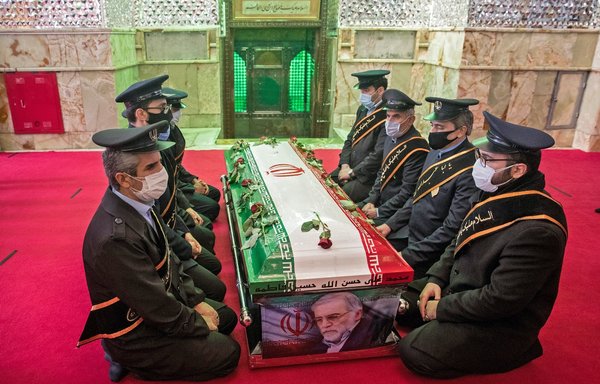 According to Iranian authorities, Fakhrizadeh was a deputy defence minister and carried out work on "nuclear defence".
The Islamic Revolutionary Guard Corps (IRGC) said a satellite-controlled gun with "artificial intelligence" was used in the attack, which Tehran blamed on Israel.
Rear Admiral Ali Shamkhani, secretary of Iran's Supreme National Security Council, said at the time the "complex" operation to assassinate Fakhrizadeh was two decades in the making and known to Iran's intelligence community.
However, since the operation's timing and details were altered over time, Iranian intelligence forces "were unfortunately unable to act accordingly", he said.
There was previous speculation that the assassination may have been an inside job.
One theory was that a group of Iranian hardliners who are against any negotiations with the United States may have been motivated to assassinate Fakhrizadeh as a pretext to distance Iran from its commitments to the International Atomic Energy Agency (IAEA) and obstruct potential negotiations.
Growing unrest
With the Islamic Republic preparing to mark its 42nd anniversary on February 10, the motives of the armed forces member may be connected to the growing anger on the Iranian street.
Iran is facing a national currency in freefall, severe hyperinflation, economic stagnation and a dire shortage of resources.
Compounding the frustrations is the regime's willingness to sacrifice at home, while spending lavishly on proxy groups abroad.
The regime also spends untold millions on the research, testing and deployment of its domestic missile programme.
Public anger over economic and living conditions has reached a boiling point, and observers have cautioned that the next round of public protests might be far more violent than the November 2019 protests over the spike in fuel prices.
Security forces led by the IRGC responded to the protests by shooting demonstrators in several cities, and detaining and torturing hundreds afterwards. Some estimates suggest as many as 1,500 civilians were killed in the protests.
The 2019 protests were of a magnitude rarely seen in Iran following the 1979 Islamic Revolution, and the biggest since 2009 rallies over a disputed election.
Reports from Iran over the past few weeks and months of slowed down internet speeds and intermittent outages suggest the regime may be trying to tamp down on a new round of civil unrest.