The funeral of top Iranian nuclear scientist Mohsen Fakhrizadeh, who was killed Friday (November 27th) in an attack the Islamic Republic has blamed on Israel, was held in Tehran Monday amid rising criticism over Iran's inability to stop the killing on its soil.
Several high-ranking Iranian officials attended the funeral, including Defence Minister Amir Hatami and Islamic Revolutionary Guards Corps (IRGC) chief Hossein Salami, AFP reported.
A large display showed a picture of the slain scientist next to Iran's Supreme Leader Ali Khamenei, as well as IRGC Quds Force commander Qassem Soleimani, who was killed in Baghdad earlier this year.
Rear-Admiral Ali Shamkhani, secretary of Iran's Supreme National Security Council, said the "complex" assassination operation was two decades in the making and known to Iran's intelligence community.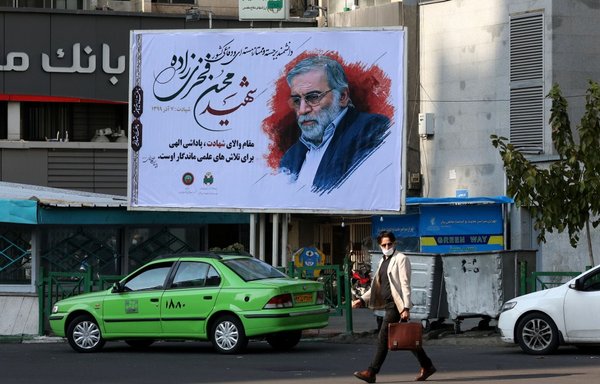 However, he said, since the operation's time and details were altered over time, Iranian intelligence forces "were unfortunately unable to act accordingly".
Fakhrizadeh's assassination, added to the killings of several other Iranian nuclear scientists in recent years, several explosions in sensitive military bases, and the recent theft of sensitive nuclear and missile programme documents from a nuclear facility in Iran, have prompted a deluge of criticism of Iran's intelligence capabilities.
Some speculate that internal forces may have been behind the attack. They say a group of Iranian hardliners are against negotiations with the US, which motivated them to assassinate Fakhrizadeh and use it as a pretext to distance Iran from its commitments to the IAEA and obstruct potential negotiations.
They have also mentioned the fact that the vehicle carrying Fakhrizadeh was not bullet-proof, an indication of what they describe as intentionally weak security.
Setback to nuclear programme
A former Iranian navy analyst told Al-Mashareq that since Fakhrizadeh was working on upgrading Iran's military radar system, his death is a blow to Iran's conventional military programme as well as its nuclear one.
The analyst, speaking on condition of anonymity, said regardless of whether the killing was intended to deter other Iranian scientists, it will probably have that effect, as it raises the cost of being involved in the regime's nuclear programme.
Regarding a setback to Iran's nuclear programme, he said Fakhrizadeh's assassination is comparable to that of Soleimani.
"In the short term it may be a setback for the nuclear programme, because they might not have another person of the same calibre to replace Fakhrizadeh," he said. "But in the long term, it would probably make very little difference."
"There will be some loss of institutional memory and expertise, but Iran has other experts, and the decision-makers behind the nuclear programme are likely to double down on investments and on hiring of domestic and foreign experts, if for no other reasons than the fact that they want to save face," he said.
Mohsen Hoseyni, a US-based political expert, told Al-Mashareq the three pillars of the Iranian regime's policy are regional influence, ballistic missiles and the nuclear programme.
Fakhrizadeh's assassination is a major blow to the nuclear programme -- just as Soleimani's killing was a significant blow to its regional influence. Likewise, the death of IRGC officer Hassan Tehrani-Moghaddam in 2011 was a major setback for the regime's missile programme, he said.
Who was Fakhrizadeh?
A former member of the IRGC, Fakhrizadeh was deputy defense minister and head of the ministry's Organisation of Defensive Innovation and Research (SPND).
Referred to as "the mysterious nuclear man", Fakhrizadeh had founded the Iranian nuclear programme, which has thus far been unable to produce a nuclear weapon. However, he reportedly had aspirations to make this possible.
The US slapped sanctions on Fakhrizadeh in 2008 for "activities and transactions that contributed to the development of Iran's nuclear programme".
Fakhrizadeh was senior enough to meet with Khamenei in January 2019, based on official pictures released after his death.
For his assassins, Fakhrizadeh also was important enough to be killed in a brazen, daylight attack on a major road just outside Tehran, AFP reported.
Karim Sadjadpour of the Carnegie Endowment for International Peace said it "will likely take months if not years to appreciate" the full impact of his death.
"Those who truly understood his precise day-to-day role in Iran's nuclear activities do not talk, and those who talk do not know," he wrote on Twitter.
'Mossad's top target'
Fakhrizadeh has been dubbed "the number one target" of Israeli intelligence agency Mossad and the "mastermind of Iran's nuclear programme".
"We knew that he had been threatened with assassination on several occasions and that he was being followed," Hatami said.
Fakhrizadeh had appeared in an International Atomic Energy Agency (IAEA) document in December 2015.
The IAEA suspected him of directing from the early 2000s "activities to be undertaken in support of a possible military dimension to (Iran's) nuclear programme" that the UN agency said had begun in the late 1980s.
The IAEA's report said such activities were reorganised under his direction, under a project called "AMAD", until it was abandoned in late 2003.
In March 2007, Fakhrizadeh was targeted by UN Security Council sanctions along with other "persons involved in nuclear or ballistic missile activities" for Iran.
UN Security Council Resolution 1747 identified him as a defence ministry "senior scientist" and "former head of the Physics Research Centre (PHRC)".
It noted that the IAEA had "asked to interview him about the activities of the PHRC over the period he was head but Iran has refused".
'Soleimani of science'
The UN sanctions were lifted after the 2015 nuclear deal came into force. But after the US withdrew from the accord in 2018, it reimposed its own sanctions on Fakhrizadeh.
According to Iran's Vice-President Ali-Akbar Salehi, who also heads the Atomic Energy Organisation of Iran (AEOI), Fakhrizadeh had a doctorate in "nuclear physics and engineering" and wrote his thesis with Fereydoun Abbasi-Davani, a former head of the AEOI who himself survived an assassination attempt in 2010.
Abbasi-Davani called the slain scientist a "close friend" with whom he had "34 years of close professional collaboration", and said they had fought side-by-side on the front lines during the 1980-88 Iran-Iraq war.
Speaking to state media, Abbasi-Davani said Fakhrizadeh had "worked in all fields to support the country's nuclear activities", notably on uranium enrichment.
He described him as "a prestigious scientist who can be raised to the same rank as the martyr Soleimani, [but] in the field of science and technology".