Iran has a number of difficult decisions to make if it wants to obtain a new commitment to the 2015 nuclear agreement it has been violating.
UN Secretary-General Antonio Guterres on Thursday (January 28) called for the United States and Iran to work together on the deal, the terms of which Iran has repeatedly breached in recent months.
New US Secretary of State Antony Blinken on Wednesday confirmed President Joe Biden's willingness to return to the deal, but rejected Iranian pressure for the United States to act first.
"Iran is out of compliance on a number of fronts. And it would take some time, should it make the decision to do so, for it to come back into compliance and time for us then to assess whether it was meeting its obligations," Blinken said.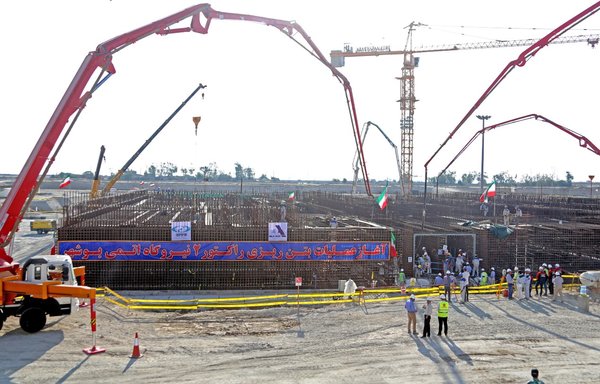 "We are not there yet, to say the least."
Iran on Thursday rejected the US call to return to full compliance.
The United States is not the only country insisting Iran must comply with the nuclear deal, known as the Joint Comprehensive Plan of Action (JCPOA), in order to see a US return and lifting of sanctions.
The French presidency on January 25 said if Tehran is serious about negotiations to return to the deal, it must refrain from further provocations.
"If they are serious about negotiations and want to obtain a new commitment from all participants in the JCPOA, first they must refrain from further provocations and second they must respect what they are no longer respecting" in terms of commitments, an official with the French presidency said.
The JCPOA was agreed on among Iran, the United States, China, Russia, Britain, France and Germany in 2015. It offered sanctions relief in exchange for curbs on Tehran's nuclear ambitions and guarantees it would not seek an atomic bomb.
Washington, along with Paris and Berlin, have expressed a desire to negotiate more broadly with Tehran, notably on its missile programme and regional influence.
Concern over Iran's actions
As part of the nuclear deal, Iran agreed to a 15-year ban on "producing or acquiring plutonium or uranium metals or their alloys".
But on January 13, the International Atomic Energy Agency (IAEA) said Iran had notified it that it was advancing research on uranium metal production, aiming to provide advanced fuel for a research reactor in Tehran.
European powers voiced deep concern over Iran's plans, warning that Tehran has "no credible civilian use" for the element.
"The production of uranium metal has potentially grave military implications," the foreign ministers of Britain, France and Germany said in a joint statement on January 16.
"We strongly urge Iran to halt this activity, and return to compliance with its JCPOA commitments without further delay if it is serious about preserving the deal," the ministers said.
Earlier, on January 4, Iran also announced it has started the process to enrich uranium to 20% purity at its underground Fordow facility, going well beyond the threshold set by the 2015 deal.
On Thursday, Iranian parliament (Majles) speaker Mohammad-Bagher Ghalibaf claimed Iran has produced 17kg of 20%-enriched uranium in the past month -- the biggest break yet from its commitments under the deal.
What Iranian leaders have said
Iran has maintained it would return to full compliance with the deal if sanctions were lifted and it could benefit from economic relief under the JCPOA.
Yet in a January 9 speech, supreme leader Ali Khamenei said, "We are in no rush for the US to return to the JCPOA. Our logical demand is the lifting of sanctions. If sanctions are lifted, the US's return to the JCPOA would make sense."
The same day, Iranian MP Ahmad Amirabadi-Farahani said Iran will expel IAEA inspectors unless US sanctions are lifted by a February 21 deadline set by the hardline-dominated parliament.
On January 10, Ghalibaf reiterated the same demand, saying Iran will consider that sanctions are lifted when it is able to sell its oil again and its citizens are able to do business around the world.
In a January 22 op-ed in US magazine Foreign Affairs, Iranian Foreign Minister Javad Zarif urged the United States to make the "fundamental choice" to end its sanctions regime.
Zarif, considered one of the architects of the 2015 nuclear deal, cautioned that any US efforts to extract additional concessions would ultimately end in failure.
He reiterated Iran's position while in the Russian capital January 26, saying that if Washington cancels its penalties on Tehran, then Iran will not restrict the work of IAEA inspectors and will return to its obligations under the accord.
"We will resume their complete implementation," Zarif said.
Russia pressures Iranian regime
Since the US exit from the nuclear deal, Russia and European signatories had advocated efforts to save the accord and cautioned Iran against bolstering its nuclear enrichment.
Russia's Deputy Foreign Minister Sergei Ryabkov in December called on Iran to take "maximum responsibility" after Tehran announced plans to install advanced centrifuges in the country's main nuclear enrichment plant.
Moscow appears cautiously optimistic over the fate of the deal under the new US administration, with arms control negotiator Mikhail Ulyanov describing its position as "businesslike and pragmatic".
Meanwhile, EU foreign policy chief Josep Borrell on January 19 warned the deal is at a "critical juncture", as Tehran's moves to breach it threaten efforts to get the United States back on board.
"We have seen very concerning developments on the nuclear side as well as new rounds of US sanctions," Borrell wrote to EU foreign ministers in a letter seen by AFP.
"That risks undermining diplomatic efforts, including ours, to facilitate a US return to the JCPOA and to bring back Iran to the full implementation of its JCPOA commitments," the letter said.