Hizbullah operative Sheikh Muhammad Kawtharani, regarded as Iran's most powerful point man in Iraq and Lebanon, appears to have gone into hiding after a $10 million bounty was placed on his head, Iranian affairs experts said.
Kawtharani, who is Lebanese Hizbullah's senior military commander in Iraq, is one of the key regional operatives of Iran's Islamic Revolutionary Guard Corps (IRGC), and holds sway in the Iraqi and Lebanese arenas.
Once a prominent figure who made appearances at religious and political events, he vanished from view after the US State Department in April offered a $10 million award for information about his activities, networks and associates.
Since then Kawtharani -- named a Specially Designated Global Terrorist in 2013 by the US Treasury -- has made no further appearances in Iraq or Lebanon.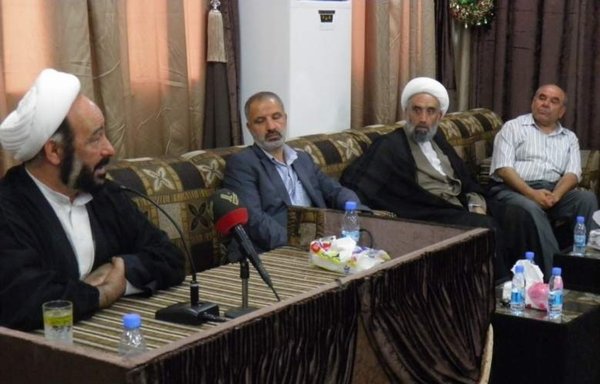 After IRGC Quds Force commander Qassem Soleimani was killed last January -- leaving behind a trail of bloodshed across the region and beyond -- Kawtharani took over some of the political co-ordination of Iran-aligned militias in Iraq that had fallen under Soleimani's command, the State Department said.
With Kawtharani at the helm, these militias violently suppressed protests, attacked foreign diplomatic missions and engaged in wide-spread organised criminal activity, it said.
"As a member of Hizbullah's political council, Kawtharani has worked to promote Hizbullah's interests in Iraq, including Hizbullah efforts to provide training, funding, political and logistical support to Iraqi Shia insurgent groups," it added.
Key operative in Lebanon, Iraq
Kawtharani, known as "the Sheikh" or "Jaafar" to his close associates, is a first-generation member of Lebanese Hizbullah and has been a key operative in both Iraq and Lebanon, Lebanese activist Salah Mansour said.
Born to Lebanese parents in the Iraqi city of Najaf, Kawtharani has roots in the southern Lebanon village of Kawthariyet al-Siyad in Sidon district. The year of his birth is not certain, with conflicting reports placing him anywhere between the age of about 60 and 76. He is married to an Iraqi woman, and has four children.
Following Hizbullah's inception in the 1980s, Kawtharani is known to have traveled extensively between Iraq and Lebanon. Before that, he worked closely with a group of Lebanese clerics who received their religious education in Iraq, particularly in Najaf, and Iran.
These clerics -- among them Hizbullah founding member Ragheb Harb -- were the early founders of the Islamic resistance in Lebanon and oversaw its widespread propagation among that country's Shia community.
Kawtharani "directly supervises the many commercial establishments he established in Iraq in various sectors through a number of Lebanese and Iraqi businessmen", Mansour said.
These businesses "constitute a major source of the party's funding", he said.
Close to Iranian leaders
"The tasks entrusted to Kawtharani are many and varied, owing to his presence in Iraq, which serves as a conduit between the IRGC and the forces deployed in Iraq, Syria and Lebanon," said Iranian affairs researcher Sheyar Turko.
"After playing a principal role in Hizbullah's establishment [in Lebanon], he moved to Iraq, to play basically the same role in the establishment, arming and training of militias," Turko said.
It helped that he had been born in Iraq, spoke the Iraqi dialect and was a Shia cleric, as well as being close to the Iranian leaders, he said.
"The information available about him is somewhat sparse, which is normal and true of most first-line figures in Hizbullah," he said. "But what is certain is that he played the primary role in the establishment of IRGC-affiliated Shia armed militias."
Kawtharani also played a key role in unifying these militias in 2018 after disputes broke out among them, which "qualified him to become Iran's top man in Iraq after the killing of both Qassem Soleimani and Abu Mahdi al-Muhandis".
With Soleimani's death, Kawtharani has taken on an elevated role, he noted.
Distrust among militias
Kawtharani "had a primary role in the suppression of the demonstrations that took place in Iraq", said Abdo Amin, a professor at Sulaymaniyah University's faculty of Islamic studies.
He was a visible presence in Iraq as he attempted to form alliances and quell tensions between IRGC-aligned militias and various political figures.
"His support of the militias kept the tension simmering in Iraq, with his inflammatory rhetoric and involvement in masterminding armed attacks that resulted in the killing of a number of US soldiers in Iraq," he said.
Yet immediately after the $10 million reward was announced, Kawtharani "vanished from the general political scene", Amin said, in a move that "indicates that IRGC commanders do not trust the militia members around them".
This climate of distrust stems from the ongoing disputes between the various militias, on the one hand, he said, and on the other, the allure of the award, especially given the financial problems the IRGC is facing in paying militiamen.