The Egyptian government has stepped up efforts to complete a large number of development projects in North Sinai, where it is conducting a campaign to uproot the "Islamic State of Iraq and Syria" (ISIS).
Earlier this month, President Abdel Fattah al-Sisi announced that with a "significant improvement" in the security situation, the comprehensive development process in Sinai is moving forward with "tangible steps".
"The people of Sinai have the right to security, safety and stability," he said in an October 13th statement, noting that co-operation between state agencies and Sinai residents is necessary to achieve comprehensive development.
The state and the people of Sinai share the same interests, he added.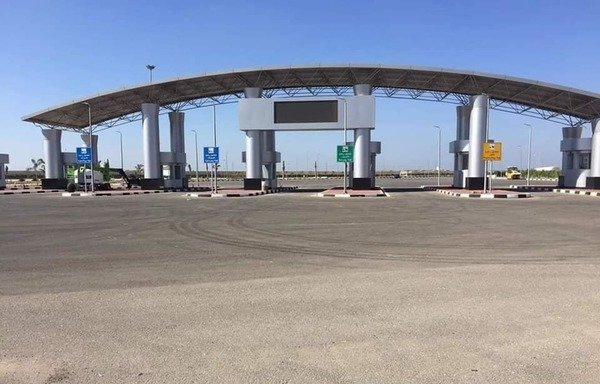 Over the past five years, there has been significant government investment in developing Sinai, he said, stressing that improving the situation and achieving these objectives will require further effort and co-operation from all sides.
The Sinai development projects aim to improve living conditions on the peninsula and establish agricultural, industrial and urban communities to attract new residents from the Nile Valley, he said.
Developing water resources
A few days after al-Sisi's statement, the Ministry of Water Resources and Irrigation on October 19th announced it would begin pumping treated water in the Sheikh Jaber canal in North Sinai.
This will help with the reclamation and cultivation of some 400,000 feddans (168,000 hectares) of agricultural land, and is part of the state's comprehensive development strategy for North Sinai, the ministry said in a statement.
Egypt aims to "build up and develop Sinai by providing water sources utilizing groundwater and desalinated sea water, harvesting rainwater and reusing treated water", it said.
The project is part of a broader plan to provide pure water resources to North Sinai, ministry spokesman Mohammed al-Sebai told Al-Mashareq.
"The Ministry of Water Resources and Irrigation is concerned with delivering water to areas in Sinai where the infrastructure has been completed," he said.
In South Sinai, a number of groundwater wells have been drilled, several large water treatment plants have been established and a large number of rainwater harvesting barriers have been built, he said.
"These include 59 dams and levees, 19 underground reservoirs and 15 artificial lakes, all in the first phase, and work is ongoing to complete the second phase contracts," al-Sebai said.
As for North Sinai, the ministry has completed the construction of eight dams and levees and 15 underground reservoirs, he said.
Work has been completed on a redirection barrier and an industrial canal in the Abu Tarifa area to protect the city of Nakhl from floods, he added.
Connecting Sinai to mainland
"The national strategy for developing Sinai is based on turning the Sinai peninsula into an attractive area for investment," finance and investment expert Hisham Ibrahim told Al-Mashareq.
This is being achieved "by deriving maximum benefit from its strategic location and natural resources", he said.
For the first time in Egypt's history, tunnels will connect Sinai to the rest of the country to facilitate transit, travel and trade, which will in turn encourage investors, Ibrahim said.
The tunnel projects are accompanied by a large number of projects to develop and build new roads linking all provinces with Sinai, he said.
These include the Tunnel-Sharm el-Sheikh road, which cuts the distance between Cairo and the tourist resort of Sharm el-Sheikh to only 342 kilometres, and travel time to just four hours.
"The success of the military campaign against terrorist groups in North Sinai, and the stabilisation of the situation there, contributed to the completion of a large number of development projects in Sinai," Ibrahim said.
These efforts come as part of the state's "comprehensive plan to move this region forward and make it a fertile environment for investment", he said.
Tunnels expedite shipping
Construction work has recently been completed on two tunnels which connect Port Saeed province to the Sinai peninsula.
The new tunnels, which run under the Suez Canal, are four kilometres long and connect southern Port Saeed directly to Sinai.
Before the tunnels were opened, it took between two and five days to transport goods between the mainland and the peninsula.
The tunnels, which each have a traffic capacity of 2,000 vehicles per hour, with an average of 40,000 vehicles passing through per day, have shortened the trip to a mere 20 minutes.
The project aims to revive development and commercial activity to and from Sinai, which previously had been confined to the Suez Canal Authority-operated crossings, al-Salam bridge and Martyr Ahmed Hamdi tunnel.
In May, al-Sisi inaugurated two tunnels that connect the city of Ismailia, which overlooks the Suez Canal, to Sinai, to facilitate traffic and commercial activity.
The new tunnels help to connect Sinai to the rest of the country.