Operation Sinai 2018 has destroyed the extremists' infrastructure and achieved major success, including eliminating a number of top terror leaders, Egypt's armed forces spokesman said last week.
In his first-ever lengthy interview about the military operation in Sinai published in Al-Ahram al-Araby Weekly Saturday (July 28th), Brig. Gen. Tamer al-Refaie said the operation has destroyed terrorists' hideouts, trenches, tunnels, weapons, ammunition and improvised explosive device (IED) caches.
It also has destroyed their administrative supplies, media and communications centres, and has netted a large number of vehicles and motorcycles, and massive quantities of explosives, weapons, ammunition, landmines and rockets.
Since the launch of the operation in February, army forces have killed more than 321 terrorists and confiscated more than 1,000 IEDs, according to al-Refaie.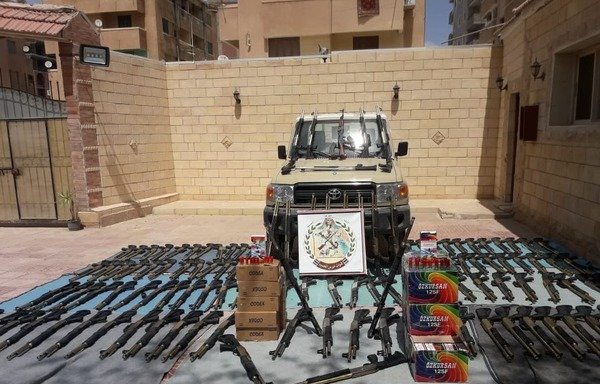 The operation was launched almost three months after more than 300 people died in a devastating attack on a Sinai mosque some 40 kilometres from al-Arish.
The carnage, the deadliest in Egypt's history, has gone unclaimed but authorities point to the "Islamic State of Iraq and Syria" (ISIS) as the main suspect.
The operation aims to put an end to terrorist groups in North and Central Sinai, and other areas in the Delta and desert, west of the Nile.
It also features training and operational missions and manoeuvres on all fronts to tighten control over Egypt's crossings.
"It has now become difficult for those elements to carry out operations whether inside or outside Sinai, as their supply routes were cut off and their attempts to smuggle weapons and ammunition, and to move terrorists between Egypt's provinces, were foiled," al-Refaie said.
"The terrorist groups' ability to carry out operations has been significantly undermined, and it is now difficult for them to recruit new elements or communicate with elements outside Sinai," he added.
The armed forces are currently targeting sleeper cells and foiling their attempts to resume activities or carry out terrorist operations against Egyptian forces or civilians, he said.
"As this major progress is being made and stability is being established on the ground, the civilian police has taken over security from the armed forces so life can return to normal in areas of operations,"al-Refaie said.
Life returns to normal
The wheels of life are turning again in Sinai, with students resuming classes at al-Arish University in North Sinai and secondary school students sitting for their final exams, al-Refaie said.
"Other manifestations [of the return of security] include securing trucks en route to Sinai loaded with fresh foods and dairy products on a daily basis," he said.
"We also secure people as they move to and from Sinai," he noted.
Prime Minister Mustafa Madbuli's government has vowed it would focus on development and infrastructure projects in Sinai to reconstruct the peninsula and boost investments there.
The Armed Forces Engineering Authority has completed 134 projects worth 175 billion Egyptian pounds ($9.8 billion), out of the 290 included in the development plan for Sinai.
The Egyptian government has considerably developed its counter-terrorism strategy, which now includes security, cultural, developmental and economic aspects, said Maj. Gen. Adel al-Omda, a military expert and advisor at Nasser Military Academy.
"At the end of 2017, President Abdel Fattah al-Sisi said 100 billion Egyptian pounds would be allocated for Sinai's reconstruction and development projects," he told Al-Mashareq.
"Developing Sinai will be the real bulwark against the return of terrorism," he said. "Development will help provide job opportunities for the youth and keep them safe from being recruited by terrorist groups."