Egypt's army on Thursday (May 16th) said 47 militants and five of its troops were killed in the past period as part of its military offensive in the restive Sinai Peninsula, where it is fighting the "Islamic State of Iraq and Syria" (ISIS).
The suspected militants had "guns of different makes, ammunition, explosive devices in their possession in northern and central Sinai", according to a video statement posted on the armed forces' social media accounts, AFP reported.
As part of the wide-ranging operation to secure Egypt's borders, 158 "criminal elements" were arrested, the statement added.
Two Egyptian officers and three soldiers also were killed, while four others were wounded in the operation.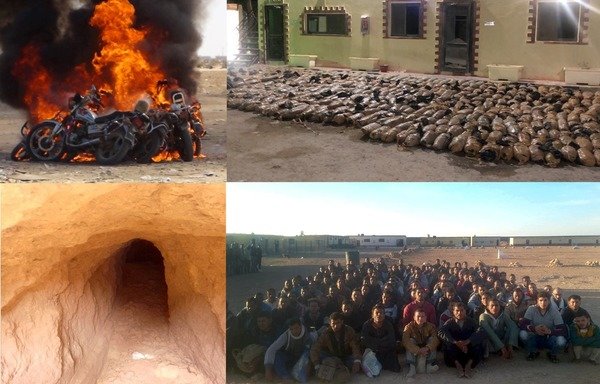 "In a high-level operation, our air force destroyed 29 hideouts and shelters used by terrorist elements, and 97 four-wheel-drive vehicles," the statement said.
A military engineering unit detonated 385 improvised explosive devices (IEDs) planted to target Egyptian forces in the areas of operations, it said.
"In addition, the entrances of two tunnels were discovered and destroyed in co-operation with the Border Guard forces," it said.
During raids and combing operations, the unit uncovered 33 vehicles and eight motorcycles without license plates used by the extremists, it added.
"Meanwhile, [Egyptian] naval forces are executing their planned missions in the theatre of operations in the Mediterranean and Red seas to secure economic targets and the coastline against maritime infiltrations," the statement said.
Improved security, development efforts
MP Tareq al-Khawli said big progress has recently been made by the armed forces against terror groups in Sinai.
It has now become difficult for extremists to carry out any operations, whether in Sinai or in other governorates of Egypt, he told Al-Mashareq.
Security operations against terror groups are coupled with efforts to develop Sinai's infrastructure in order to link the peninsula to the rest of the country, he said.
One of the recent development projects was the opening of tunnels under the Suez Canal to facilitate movement between Sinai, the capital Cairo and the Nile Delta region, al-Khawli said.
The new project "will facilitate trade and stimulate investments", he said.