Egypt took the helm of one of the newer task forces of the multinational Combined Maritime Forces (CMF) in December, leading its international maritime security and capacity building efforts in the Red Sea, Bab al-Mandeb and Gulf of Aden.
The move is a significant step for Egypt, which joined CMF in 2021 as the 34th and most recent addition to the maritime coalition.
Combined Task Force 153 (CTF 153), under Egyptian leadership since December 12, is one of five task forces operated by the 34-nation CMF, which is the largest international naval partnership in the world.
Staffed by up to 15 US and international military personnel from CMF member nations, CTF 153 was established April 17, 2022, and is headquartered in Manama, Bahrain.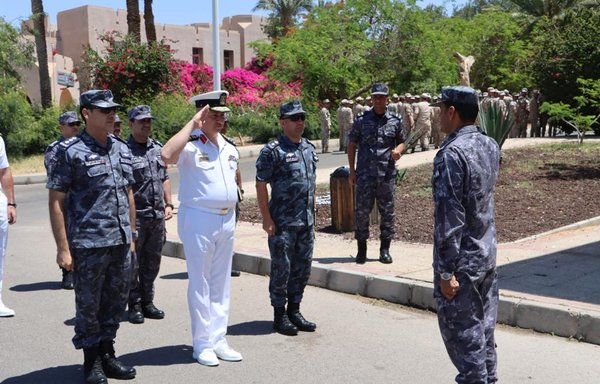 It works to promote international maritime security and capacity building efforts in the Red Sea, from the Suez Canal to Bab al-Mandeb and into the Gulf of Aden.
Its operating area "basically ends at the Oman-Yemen border", said CMF commander Vice Adm. Brad Cooper during a May 11, 2022, briefing.
"This is the first time in 13 years that we established a new combined task force in the Combined Maritime Forces," he said of CTF 153, which was initially helmed by the US Navy.
CTF 153 is focused on the vital trade conduit and its key choke points, Cooper said, adding that "as everyone can appreciate, those waters are critical to the free flow of commerce throughout the region".
The continued presence of CMF in these waterways "provides security and stability to support that free flow", he said.
Red Sea security
CTF 153 was formed as "we're always looking to strengthen and expand our international co-operation because it forms the cornerstone of maritime security in the region, as has been demonstrated many times over", Cooper said.
It is focused on strengthening maritime security co-operation to collectively address the regional threats on the water, he added, noting that the three other task forces operating under the CMF umbrella are "highly successful".
These are CTF 150, which handles maritime security operations outside the Arabian Gulf, CTF 151, a counter piracy effort and CTF 152 which focuses on maritime security in Gulf waters.
Since then, a fifth task force was created on May 22. CTF 154 will lead multinational maritime training at locations across the Middle East.
Given previous successes, Cooper said, "we have applied them to a new model that's going to be focused more vibrantly than we have done in the past on the vital strategic choke points" from the Suez Canal to Bab al-Mandeb.
Maritime security in the Red Sea off the coast of Yemen remains a significant concern, with renewed violence in Sudan contributing to the region's volatility.
CTF 153 will target the smuggling of weapons, drugs, people and coal, which is a source of revenue for Somalia-based al-Qaeda affiliate al-Shabaab, the Middle East Institute (MEI) said, quoting Cooper in a report published May 11, 2022.
Illegal arms trade
"Although Yemen's Houthis were not explicitly mentioned, the weapons in question are largely being smuggled to them," the MEI report said.
Forces operating as part of CMF have seized Iranian arms headed to the Houthis on numerous occasions, and the Houthis are known to use Red Sea islands as staging points for their operations.
The trade in illegal arms also extends into Africa, with the United States in November blacklisting a multi-million-dollar arms trafficking enterprise that funneled weapons between Iran, Yemen and the Horn of Africa.
The illicit network allegedly transferred arms to al-Shabaab and the "Islamic State of Iraq and Syria" in Somalia (ISIS-Somalia).
Iran also operates a spy ship, Behshad, in the Red Sea to provide logistics and intelligence support to arms and drug smuggling gangs, Abaad Centre for Strategic Studies director Abdul Salam Mohammed told Al-Mashareq in August.
"The containment of Iranian-associated destabilising activities also represents a common priority," the MEI report said. "For the United States and the Gulf states, [CTF 153] is a win-win."