Combined Task Force (CTF) 150 has been key in ensuring safe maritime navigation for all commercial vessels passing through regional waters, Gulf experts told Al-Mashareq.
CTF 150 works to deter and deny terrorist groups any benefits from employing the high seas for smuggling illicit cargo including narcotics and weapons, they said.
Most recently, the UK Royal Navy destroyer HMS Dragon concluded its operations under the command of CTF 150 with two final drug seizures before heading back to its homeport of Portsmouth, England.
On March 14th, the Type 45 destroyer completed its seventh drug bust when the crew spotted a dhow while passing through the northern Arabian Sea. After a boarding and search of the vessel, 224 kilogrammes of heroin was seized.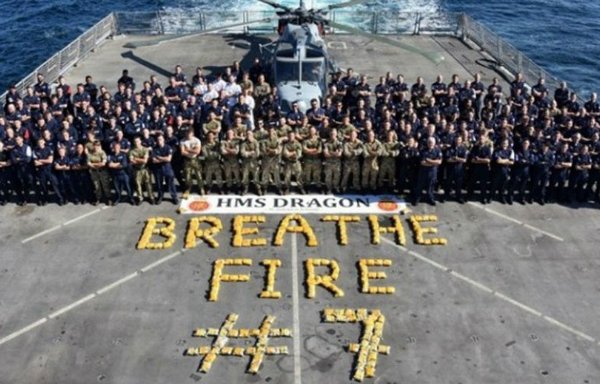 A few days later, on March 17th, while transiting home off the coast of Oman, HMS Dragon spotted another dhow they suspected was smuggling drugs. A search of the vessel resulted in a seizure of 125 bags of hashish, totaling in 2,560 kilogrammes.
The destroyer now holds the record both for the number of successful busts and the total weight of drugs seized by a Royal Navy ship in the Middle East, according to a statement by the Combined Maritime Forces (CMF).
Since deploying last September, HMS Dragon has racked up 15,246 kilogrammes of hashish, 455 kilogrammes of heroin and 9 kilogrammes of crystal meth. The sale of these drugs is a known source of funding for terror groups and criminal networks.
Deterring terror groups, criminals
Based in Bahrain, CTF 150 is a multinational coalition naval task force working under the CMF, a 33-nation force that promotes security across approximately 3.2 million square miles of international waters and some of the world's most important shipping lanes.
"CTF 150 has made enormous efforts to protect the coastlines and communities in the region stretching from the Arabian Gulf, through the Arabian Sea to the Horn of Africa, from terror groups," said political affairs analyst and former member of the Shura Council in Saudi Arabia Mohammed Al Zalfa.
These groups traffic in drugs, weapons and people, he told Al-Mashareq, adding that CMF has become "an absolute necessity to ensure that territorial waters are protected from illegal activity".
CMF member states "are undertaking enormous tasks and have foiled numerous attempts to smuggle drugs, weapons and explosives" through territorial waters, Al Zalfa said.
Iran remains the most prominent threat to these waters, he said, as it "engages in all sorts of illegal activities such as the smuggling of all kinds of drugs, weapons and explosives used in terrorist attacks".
The Iranian regime poses a constant threat to all countries of the world and not only the region, he stressed.
Drug trade benefits terror groups
"The Gulf region and the Horn of Africa have massive bodies of water, and if it were not for CTF 150, regional states would not have been able to curb illegal activities," said Bahraini journalist Tamam Abu Safi.
"The combined task force has for years been committed to the safety and security of territorial waters in the region and has foiled numerous illegal operations there," she told Al-Mashareq.
It has contributed significantly to deterring pirate attacks in the Horn of Africa and ensuring the safety of shipping lanes and the uninterrupted passage of commercial vessels and oil tankers, she said.
"The combined task force also has played a humanitarian role in rescuing fishermen and disabled fishing boats in Gulf waters, including Iranian fishermen," said Abu Safi.
Last September, a French frigate operating under CTF 150 seized 7,000 kilogrammes of hashish that was intended for Yemen.
Also, 1,500 kilogrammes of heroin and 4,000 kilogrammes of hashish believed to be destined for Yemen were seized in 2017, she said.
The profit generated by the drug trade, which has boomed since the outbreak of the war in Yemen, serves to finance terror activities in east Africa and Yemen and support the Iran-backed Houthis (Ansarallah), said Abu Safi.
CTF 150 is making great efforts to combat terrorism in the high seas and deter maritime crimes in the south of the Red Sea, "particularly the Bab al-Mandeb strait, the Gulf of Aden and the Arabian Sea", said Bahraini journalist Waleed Sabri.
The presence of CTF 150 "provides security and stability and some level of reassurance to the maritime community by ensuring a stable and safe environment for the passage of commercial vessels and maritime fishing in the region", he told Al-Mashareq.