MANAMA -- Combined Task Force 151 (CTF 151), a multinational naval task force, is continuing to protect the Gulf of Aden and the eastern coast of Somalia from piracy attacks.
Ships from the South Korean and Italian navies sailed together and conducted combined training in the Gulf of Aden on May 17.
South Korean naval vessel Chungmugong Yi Sun-sin and Italian naval frigate Luigi Rizzo "rehearsed ship and helicopter maneuvers while sharing best practices on vessel boarding procedures to enhance collaboration on combating maritime piracy," Combined Maritime Forces (CMF) said in a news statement published Sunday (May 21).
"The Korean and Italian ships collaborated, from the planning to execution, making this a very successful interaction," said Capt. Yoon Sung-won, the commanding officer of the Chungmugong Yi Sun-sin.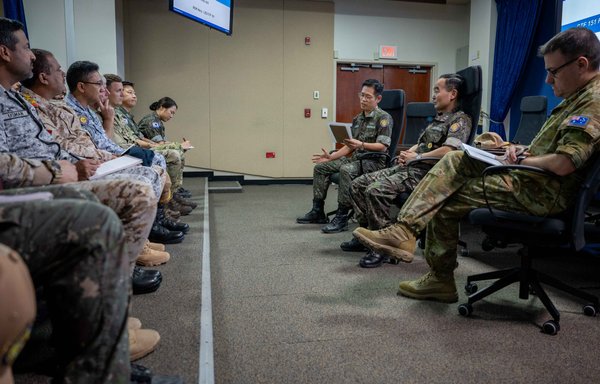 "We have demonstrated seamless teamwork and the ability to respond promptly in any situation."
The Chungmugong Yi Sun-sin is operating in support of CTF 151, which includes 38 member-nations and partners.
"Our warships have once again joined forces. Through continuous training, we will strengthen the combined operational capabilities," said South Korean Rear Adm. Ko Seung-bum, the current rotating commander of CTF 151.
Luigi Rizzo took part while operating under Task Force 465 (Operation Atalanta), a European Union Naval Forces (EUNAVFOR) multinational naval unit that also focuses on countering piracy in the Middle East.
Targeting piracy
Since its establishment in 2009, CTF 151 has reinforced maritime security and deterred piracy and armed robbery off the coast of Somalia.
CTF 151 is one of five task forces under CMF, the largest naval partnership in the world with 34 member-nations.
Its creation was necessitated by the rise of Somali piracy in the early 2000s, which hindered free flow of international trade on some of the world's busiest shipping routes.
In conjunction with forces from EUNAVFOR and other independent nations, CTF 151 helps patrol the Internationally Recommended Transit Corridor (IRTC) in the Gulf of Aden and the Somali Basin.
Its area of coverage includes the Maritime Security Transit Corridor that comprises the IRTC and extends through Bab al-Mandeb into the Southern Red Sea.
In addition to serving as a deterrent, CTF 151 promotes measures that shipping companies should take to reduce the vulnerability of their vessels to attacks.
It has undertaken medical evacuation support to the merchant community, according to United Kingdom Maritime Trade Operations (UKMTO).
Command of CTF 151 rotates among participating nations on a three- to six-month basis.
Countries that have led CTF 151 include Pakistan (10 times), Türkiye (6), South Korea (6), Singapore (5), Japan (4), Kuwait (3), the United States (3), New Zealand (2), Thailand (2), Brazil (2), Denmark (2), Jordan (1), Bahrain (1) and the United Kingdom (1).
Working together
Operation Atalanta, the first naval operation conducted by the EU since 2008, also combats the trafficking of illicit weapons, drugs and human beings.
In late 2022, Operation Atalanta, which is based at Naval Station Rota in Spain, was extended for two years till December 2024.
Its area of operation includes the Gulf of Aden, port and city of Muscat (Oman), Somali Basin, Red Sea, Gulf of Suez and Gulf of Aqaba.
Operation Atalanta, in co-operation with its counter-piracy partners, has so far protected 2,210 World Food Programme (WFP) vessels delivering humanitarian aid to internally displaced persons and refugees in Somalia, as well as other vulnerable shipping.
It contributes to deterring and disrupting piracy and armed robbery at sea, monitors fishing activities off the coast of Somalia and disrupts illicit maritime trade financing criminal and terrorist networks.
Operation Atalanta and CTF 151 co-ordinate their efforts to ensure mutual support and to prevent the operation of too many ships and aircraft in the area at the same time.
Earlier on April 8, Japanese and Italian naval vessels -- operating as part of CMF and EUNAVFOR -- sailed together and conducted combined training in the Gulf of Aden.
The Japanese destroyer Makinami and Italian navy frigate Carlo Bergamini transferred personnel and conducted professional exchanges on topics related to vessel boardings and maritime security.
"The combined training instilled a firm belief that our ships performing maritime operations can work together anytime and anywhere," said Capt. Kenichi Fujii, commander of Japan's 7th Escort Division, which is in charge of the destroyer.
During the training, the Japanese destroyer operated in support of CTF 151.
"Training opportunities that enable multinational naval forces to work together more closely enhances maritime security and stability in the Middle East. That's why we are here," said Ko, the South Korean rear admiral now commanding CTF 151.
The International Maritime Security Construct (IMSC), a US-led naval coalition, contributes to this maritime security network.
IMSC was launched in Bahrain in November 2019 to protect shipping in the troubled waters of the Gulf, after a string of attacks that Washington and its allies blamed on Iran.
'A tremendous job'
CTF 151 is doing "a tremendous job each and every day", said US 5th Fleet commander Vice-Admiral Brad Cooper, who heads CMF and the US Naval Forces Central Command (NAVCENT).
"Their presence throughout the region is both a deterrent to piracy and helps really reinforce the importance of maritime security," he said last May.
Prior to 2016, CTF 151 operated in conjunction with Operation Ocean Shield, NATO's contribution to international efforts to combat piracy off the Horn of Africa.
Its mission was terminated in December 2016, but NATO remains engaged in the fight against piracy by maintaining maritime situational awareness and continuing close links with other international counter-piracy actors.
NATO is maintaining its counter-piracy efforts at sea and ashore, by helping countries in the region build the capacity to fight piracy themselves.