Two fishing vessels that departed from the Iranian port of Chabahar in mid-May carrying massive shipments of potentially deadly illegal drugs never made it to their final destination, thanks to the vigilance of a multinational task force.
As the vessels transited the Gulf of Oman, on May 8 and May 10, they were interdicted by a US Coast Guard fast response cutter, operating as part of Combined Task Force 150 (CTF 150).
CTF 150 is one of four task forces operated by the multinational Combined Maritime Forces (CMF) -- a 34-national maritime coalition. It focuses on counter-terrorism and counter-narcotics, with notable results.
During the May 10 interdiction, a boarding team from US Coast Guard cutter Glen Harris seized $80 million worth of heroin (1,964kg), later sharing a photo that showed a heap of sacks of the illegal drug piled as high as the ship's railing.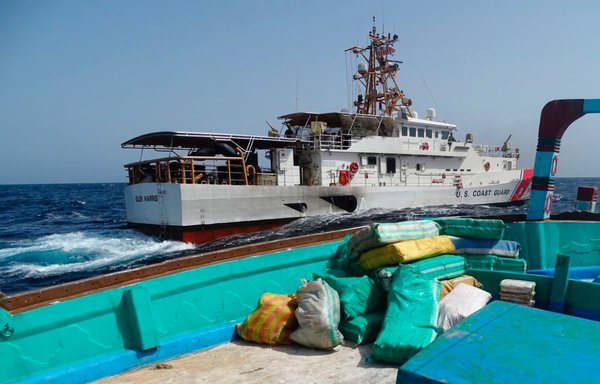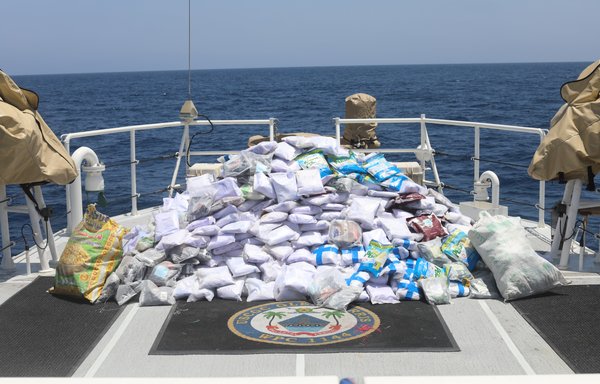 Two days earlier, a boarding team from the cutter seized $30 million worth of heroin and methamphetamine -- commonly known as "crystal meth" -- from another fishing vessel that had departed from the same port in Iran.
The same day, a frigate from the British Royal Navy -- also operating as part of CTF 150 -- seized $6 million (3,000kg) worth of hashish from a fishing vessel transiting the Arabian Sea.
On April 19, a warship operating in support of CTF 150 seized 507kg of heroin with a total estimated street value of $23 million from a fishing vessel transiting international waters in the Indian Ocean.
On April 21, the guided-missile destroyer USS Paul Hamilton intercepted a fishing boat transiting the Gulf of Oman, seizing $42 million worth of methamphetamines and hashish.
Before US Navy and Coast Guard personnel seized the vessel, five smugglers on board attempted to discard 50 bags of methamphetamine weighing 35 pounds (15.9kg) each by throwing the drugs overboard.
Some of the bags were recovered from the water.
The vessel's crew members identified themselves as Iranian nationals.
In February, a US Coast Guard cutter boarding team seized 1,350kg of hashish, 276kg of methamphetamine and 23kg of amphetamine pills on a fishing vessel in the Arabian Sea, with a combined total value of $20 million.
So far this year, naval forces supporting CTF 150 have seized illegal drugs worth a combined estimated US street value of more than $250 million.
Since 2021, the CMF has seized more than $1 billion in illegal drugs while patrolling waters across the Middle East.
Focus on maritime security
Serving the Middle East since 1991, CTF 150 is based in Manama, Bahrain, and is commanded in rotation by participating maritime forces, with the British Royal Navy currently at the helm.
Participating nations have included Australia, Canada, Denmark, France, Germany, Italy, the Netherlands, New Zealand, Pakistan, Spain, Saudi Arabia, the United Kingdom and the United States.
As of March 2023, CTF 150 has been commanded by Pakistan, France, the United Kingdom, Australia, Canada, Saudi Arabia, the Netherlands, Spain and Italy.
CTF 150's mission is to disrupt the activities of criminal and terrorist organisations by restricting their freedom to operate in the maritime domain as they transport personnel, weapons or income-generating narcotics and charcoal.
The task force focuses on maritime security outside the Arabian Gulf -- the Red Sea, Gulf of Aden, Indian Ocean and Gulf of Oman -- ensuring that legitimate commercial shipping can transit the region, free from non-state threats.
This area is a vital artery of world trade, with thousands of shipping movements per year including the transportation of more than 27 million barrels of oil.
It includes the approaches to three narrow waterways where vessels are required to pass closely between two shorelines: the Strait of Hormuz, Bab al-Mandeb and the Suez Canal.
The profit generated by the drug trade, which has boomed since the outbreak of the war in Yemen, has been used to finance terror activities in east Africa and Yemen and to support the Iran-backed Houthis.
With CTF 150 partner nations working together to restrict illicit activities, regional waters are safer for commercial vessels -- but much more risky for groups that choose to engage in malign or illegal activity.