A US Coast Guard fast response cutter operating as part of a multinational maritime task force on Sunday (May 15) seized illicit narcotics with an estimated street value of $17 million from a fishing vessel in the Gulf of Oman.
While conducting patrols in the Gulf of Oman, USCGC Glen Harris seized 182kg of heroin, 182kg of methamphetamine, 27kg of amphetamine pills and 568kg of hashish, the US Navy said.
It did not provide further information about the origin of the fishing vessel's cargo and crew or its ultimate destination.
The cutter was operating as part of Combined Task Force 150 (CTF 150), one of four task forces within the 34-nation Combined Maritime Forces (CMF).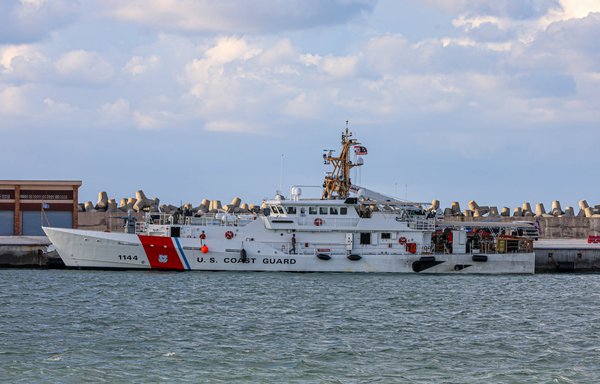 CTF 150 focuses on maritime security, and with the recent creation of a new task force to patrol the Red Sea, is now concentrating its efforts on the Gulf of Oman and northern Arabian Sea.
The CMF, which is headquartered in Bahrain, has increased regional patrols to locate and disrupt unlawful maritime activity, the US Navy said.
On May 12, it said, USCGC Emlen Tunnell interdicted a separate fishing vessel in the Gulf of Oman and seized methamphetamine and hashish worth $10,000.
British frigate HMS Montrose, also operating as part of CTF 150, on May 5 seized 95kg of heroin with an estimated street value of $4 million from a fishing vessel while conducting patrols in international waters in the Gulf of Oman.
"This successful seizure by HMS Montrose is the testimony of vigilance and enhanced patrolling by CTF 150 units against illicit activities in the maritime domain," said CTF 150 commander Commodore Vaqar Muhammad of the Pakistan Navy.
Command of CTF 150 generally rotates between nations on a four-month basis, with Pakistan currently at the helm.
CTF 150 reported record illegal drug seizures in 2021, interdicting more than 67 tonnes of drugs worth more than $189 million in operations near the Arabian Gulf.
The value of the drugs exceeded the past four years combined, said CMF spokesman Tim Hawkins.
Drug busts in regional waters and at air, land and sea ports and crossings regularly reveal the involvement of Iran and its proxies, including Lebanese Hizbullah, in the smuggling of illicit narcotics.
In addition to the stepped-up maritime patrols carried out by the CMF, nations such as Saudi Arabia have increased their vigilance at ports of entry to block the flow of illegal drugs, enlisting the help of the civilian population.