MANAMA -- The US Navy confiscated hundreds of kilogrammes of heroin in late December from a stateless fishing boat in the Arabian Sea, whose crew identified themselves as Iranians, the US Navy's 5th Fleet said.
"Two US Navy ships seized 385 kilogrammes of heroin worth approximately $4 million" from the vessel transiting the Arabian Sea on December 27, said a statement from the US Navy's 5th Fleet, based in Bahrain.
US Coast Guard personnel aboard USS Tempest and USS Typhoon discovered the illegal shipment while conducting a flag verification boarding in accordance with international law, the US Navy said.
The confiscated drugs were destroyed at sea by US forces, it said.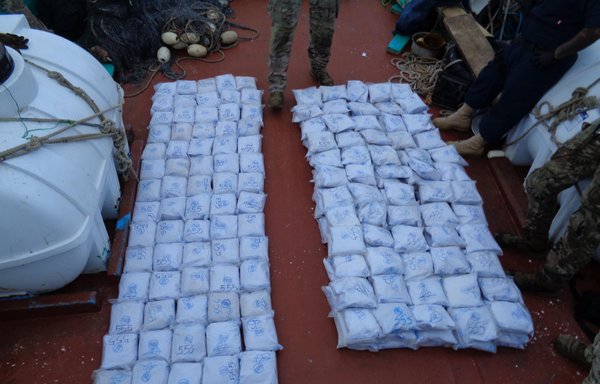 "The US Navy released the stateless fishing vessel and its nine crew members, who identified themselves as Iranian nationals, after seizing the drugs," it added.
"This interdiction highlights the incredible work of our ships and sailors and serves as a reminder of the value in having forward-deployed naval forces on scene and ready," said Typhoon commanding officer Lt. Cmdr. Jordan Bradford.
The ships were operating as part of the Bahrain-based Combined Task Force 150 (CTF 150), which is one of the three principal task forces of the multi-national Combined Maritime Forces (CMF).
Vessels of the 34-nation CMF patrol 3.2 million square miles of international waters to provide security for civilian maritime traffic.
In 2021, CTF 150 seized and destroyed illegal drugs worth more than $193 million (at regional wholesale prices) during counter-narcotics operations near the Arabian Gulf, the US Navy said.
The seizures of illegal drugs last year -- heroin, methamphetamine and hashish -- exceeded the total of the past four years combined, a spokesman said.
In mid-December, US Navy personnel rescued five injured Iranian mariners after an explosion erupted on their vessel as it transited the Gulf of Oman.
US sailors confiscated more than two tonnes of hashish, methamphetamine and heroin from that vessel, the Navy said.