At a time when threats of nuclear weapons are rising steadily across the world, US Strategic Command (STRATCOM) is prepared to launch hundreds of nuclear weapons from the air, land and sea if called upon to do so.
STRATCOM has under its command a host of nuclear weapons known as the US nuclear triad, which includes ballistic missile submarines (SSBNs), land-based intercontinental ballistic missiles (ICBMs) and land-based long-range bombers.
Ohio-class SSBNs serve as an undetectable launch platform for intercontinental missiles, and are designed for stealth and the precise delivery of nuclear warheads.
Each submarine carries 20 nuclear missiles that can be fired from underwater to strike at targets more than 11,265km away depending on the load.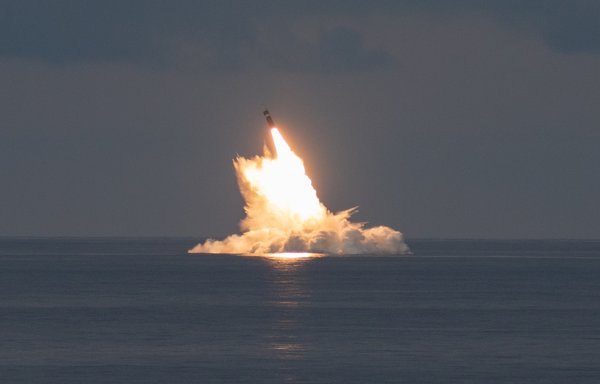 The Trident II D5 missile splits into up to eight independent re-entry vehicles, each with a 100- or 475-kilotonne nuclear warhead.
A full salvo from an Ohio-class submarine can be launched in less than one minute.
With 12 SSBNs active at one time, STRATCOM has the ability to fire 240 missiles, totaling over 1,000 warheads.
Meanwhile, the Minuteman III ICBM is the sole land-based component of the US nuclear triad.
The three-stage, solid-fueled ballistic missile has a short launch time and backup airborne launch controllers to preserve retaliatory capabilities, according to the Centre for Strategic and International Studies, a think-tank in Washington.
The current ICBM force consists of up to 400 Minuteman III's, each deployed with one warhead and spread out amongst 450 operational launchers.
Missiles are dispersed in hardened silos to protect against attack and connected to an underground launch control centre through a system of hardened cables. Launch crews, consisting of two officers, perform around-the-clock alerts in the launch control centre.
Should command capability be lost between the centre and remote missile launch facilities, specially configured E-6B aircraft automatically assume command and control of the isolated missiles, according to the US Department of Defence.
Long-range bombers
The nuclear triad's bomber fleet is the most flexible leg of the triad, capable of providing massive firepower in a short time anywhere on the globe.
The long-range bombers consist of 46 nuclear-capable B-52H Stratofortress and 20 B-2A Spirit aircraft, according to the US Department of Defence.
The B-52 can perform a variety of missions, including strategic attack, close-air support, air interdiction and offensive counter-air and maritime operations. It has an unrefuelled combat range in excess of 14,080km.
Two B-52s, in two hours, can monitor 364,000 square kilometres of ocean surface.
The B-52s are currently upgrading from the Litening Advanced Targeting Pod to the Sniper Advanced Targeting Pod.
Sniper pods provide improved long-range target detection and identification and continuous stabilised surveillance for all missions, including close air support of ground forces.
The B-2 Spirit is a stealth bomber designed to penetrate dense anti-aircraft defences and capable of delivering both conventional and nuclear munitions.
The B-2's low observability is derived from a combination of reduced infrared, acoustic, electromagnetic and visual and radar signatures. These signatures make it difficult for sophisticated defensive systems to detect, track and engage the B-2.
The bomber's composite materials, special coatings and flying-wing design all contribute to its "stealthiness".
In December, the United States unveiled its newest nuclear stealth bomber, the B-21 Raider, which will eventually replace the Air Force's strategic bombers.
US strategic bombers are able to carry nuclear precision guided munitions, such as the AGM-86 Air Launched Cruise Missile (ALCM).
The ALCM aims to dilute an enemy's forces and complicate defence of its territory. An enemy force would have to counterattack each of the missiles, making defence against them costly and complicated, according to the Air Force.
"The enemy's defences are further hampered by the missiles' smallness and low-altitude flight capability, which make them difficult to detect on radar," it said.
AGM-86 is scheduled to be replaced by new long-range stand-off missiles (LRSO), the AGM-181, by the late 2020s.
Rising threats from Russia, China
Fears of a nuclear war have been rising since Russia's invasion of Ukraine in February 2022.
Russian President Vladimir Putin on March 25 said he would deploy tactical nuclear weapons in neighbour and ally Belarus, bringing the arms to a country at the gates of the European Union, AFP reported.
Belarusian President Alyaksandr Lukashenka on March 31 said he was ready to host the "strategic" Russian nuclear weapons.
Putin has previously issued thinly veiled warnings that he could use nuclear weapons in Ukraine if Russia were threatened.
Putin said that Russia had helped equip Belarusian planes "without violating our international agreements on nuclear-non-proliferation ... 10 planes are ready for this type of weapon to be used".
Russia has given Belarus an Iskander system that can carry nuclear weapons, he added.
Moscow planned to start training crews April 3 and to finish the construction of a special storage facility for tactical nuclear weapons by July 1.
In February, Putin also announced that Moscow would suspend its participation in the New Strategic Arms Reduction Treaty (New START), the last remaining nuclear arms control treaty between Russia and the United States.
Meanwhile, China is set to have 1,500 nuclear weapons by 2035, and its development of hypersonic weapons, cyber warfare and space capabilities represents "the most consequential and systemic challenge to US national security and the free and open international system", the Pentagon said in its annual China report.
Like the United States and Russia, the two leading nuclear powers, China is building a "nuclear triad", with capabilities to deliver nuclear weapons from land, air and sea, according to Beijing's official plan.
China is also "building the infrastructure necessary to support this major expansion of its nuclear forces".
Nuclear activity in North Korea, Iran
North Korea is also eyeing an expansion of its nuclear arsenal.
Satellite imagery has indicated a high level of activity at North Korea's main nuclear complex after leader Kim Jong Un ordered the production of weapons-grade nuclear material be ramped up, a US think-tank said April 1.
Images from March 3 and 17 suggested that an experimental light water reactor (ELWR) at the country's Yongbyon site was "nearing completion", said Washington-based 38 North.
The images also indicated that a five-megawatt reactor at Yongbyon continued to operate and that new construction had started around the site's uranium enrichment plant, likely to expand its capabilities.
On March 28, North Korean state media unveiled photos of Kim inspecting new, smaller nuclear warheads as he ordered an expansion in "the production of weapon-grade nuclear materials" for an "exponential" increase in the North's arsenal.
The North Korean military has carried out multiple drills in recent weeks, including the test-firing of what state media described as an underwater nuclear-capable drone and the second launch of an intercontinental ballistic missile this year.
Last year, North Korea declared itself an "irreversible" nuclear power, while in March, Kim ordered the North Korean military to intensify drills in preparation for a "real war".
In Iran, uranium particles enriched up to 83.7% -- just below weapon grade -- had been detected at Iran's underground Fordow plant.
The discovery came after Iran had substantially modified an interconnection between two centrifuge clusters enriching uranium, without declaring it to the International Atomic Energy Agency.
This comes amid a deadlock in negotiations on reviving the landmark 2015 nuclear deal, known as the Joint Comprehensive Plan of Action (JCPOA).
Restrictions set out in the deal, including the 3.67% enrichment threshold, were intended to prevent Iran from developing a nuclear weapon.