The US Air Force's B-21 Raider, a long-range strike bomber, is set to usher in an era of new capabilities that will allow it to evade even the most sophisticated air defence systems.
Described by manufacturer Northrop Grumman as a sixth-generation aircraft, the B-21 was unveiled by the Pentagon last December.
It is expected to serve within a larger family of systems for conventional long-range strike, including intelligence, surveillance and reconnaissance; electronic attack; communication; and other capabilities, according to the US Air Force.
It is capable of delivering both conventional and thermonuclear munitions, and is designed to accommodate manned or unmanned operations. Additionally, it will be able to employ a broad mix of stand-off and direct-attack munitions.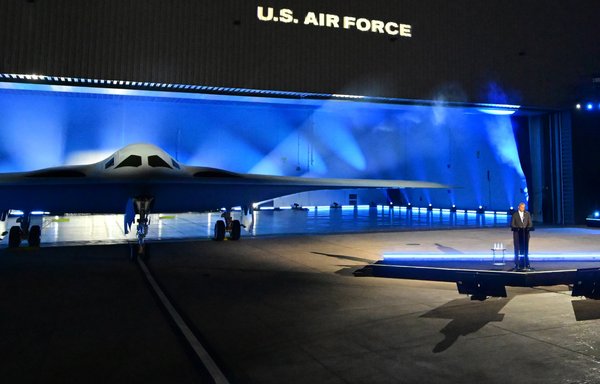 As the first strategic bomber in more than three decades, the B-21 will serve as the backbone of America's bomber force, Secretary of Defence Lloyd Austin said at its unveiling.
The range of the B-21, he said, is unmatched by any other bomber.
With its extended range, "it won't need to be based in-theatre; it won't need logistical support to hold any target at risk", Austin said.
The B-21 Raider is designed to be easily maintained, which will help ensure that the aircraft is always ready to go when it is needed, he added.
"We don't really have a capability unless we can maintain it," he said. "The B-21 is carefully designed to be the most maintainable bomber ever built."
The Raider was also built with an open-system architecture that enables easy upgrades and "makes it highly adaptable", Austin said.
"As the United States continues to innovate, this bomber will be able to defend our country with new weapons that haven't even been invented yet."
"And the B-21 is multi-functional. It can handle anything from gathering intel, to battle management, to integrating with our allies and partners. And it will work seamlessly across domains, and theatres, and across the joint force," he said.
Upgraded stealth capabilities
Like the B-2 Spirit, its predecessor, the B-21 Raider is a stealth aircraft. It will be hard for adversaries to see that it is coming, Austin said.
"Fifty years of advances in low-observable technology have gone into this aircraft," he said. "Even the most sophisticated air defence systems will struggle to detect a B-21 in the sky."
A senior Northrop Grumman official told Air and Space Forces Magazine in December that the B-21 will be "a lot stealthier" than the B-2.
Almost every aspect of the B-21 Raider programme is classified.
But its sixth-generation capabilities include next-generation stealth technology, information advantage and open architecture, according to Northrop Grumman.
Advances likely include new ways to control electronic emissions to spoof adversary radars and disguise itself as another object, and use of new propulsion technologies.
The B-21, equipped with a new inlet and exhaust design, is also expected to demonstrate huge advances in composite construction and material sciences.
The radar-absorbent material used to coat the B-21 is likely one of the country's most closely guarded technological secrets and plays a major role in its ability to survive in highly contested territory.
The new bomber will also feature such improved maintainability and reliability that it will be able to fly in full stealth mode "every day", the Northrop Grumman official said.
The B-21 improves on the B-2, which requires hundreds of man-hours of maintenance for its low-observability surfaces between missions, by eliminating the "special tape" that covers its seams and panel lines, he said.
The new material -- which may be retrofitted to the B-2 -- is far more "resilient", he said.
"It is incredibly low observability," Kathy Warden, chief executive of Northrop Grumman, told AP at the unveiling. "You'll hear it, but you really won't see it."
The Raider
Development on the B-21 Raider began in 2015 when the Air Force awarded the engineering and manufacturing development contract.
At least six B-21 Raiders are in production so far, and the first is on track for its first test flight later this year. The aircraft is set to enter service by 2027.
Each B-21 Raider should cost about $700 million, said military officials quoted by Stars and Stripes.
The Air Force expects to acquire a minimum of 100 of the aircraft. In comparison, there are an estimated 20 B-2s currently in service, which the Air Force plans to operate until 2032, when it will replace them with the B-21 Raider.
The B-21 will also replace the B-1 Lancers and possibly the Boeing B-52 Stratofortress after that.
The B-21 is part of the Pentagon's efforts to modernise its nuclear triad, which includes silo-launched nuclear ballistic missiles, nuclear-capable bombers and submarine-launched warheads, as it shifts to meet China's rapid military modernisation, AP reported.
China is set to have 1,500 nuclear weapons by 2035, and its development of hypersonic weapons, cyber warfare and space capabilities represent "the most consequential and systemic challenge to US national security and the free and open international system", the Pentagon said in its annual China report.
"We needed a new bomber for the 21st century that would allow us to take on much more complicated threats, like the threats that we fear we would one day face from China, Russia," said Deborah Lee James, the Air Force secretary, when the Raider contract was announced in 2015.
"The B-21 is more survivable and can take on these much more difficult threats."