NOUAKCHOTT, Mauritania -- A recent disinformation campaign targeted Niger at a time when the Sahel state was solidifying ties with the United States and France and persisting with its condemnation of Russia's invasion of Ukraine.
In mid-February, social media in the landlocked west African nation were suddenly overrun with disinformation on nonexistent events, ranging from extremist assaults and a supposed coup to a bogus bombardment, AFP reported.
The authors are unknown, but commentators say their style and timing point to a co-ordinated effort to undermine opinion in a crucial ally for France and the United States.
Several Facebook pages that shared the fake news about turmoil in Niger have previously disseminated pro-Russian material or taken aim at the French presence in the Sahel.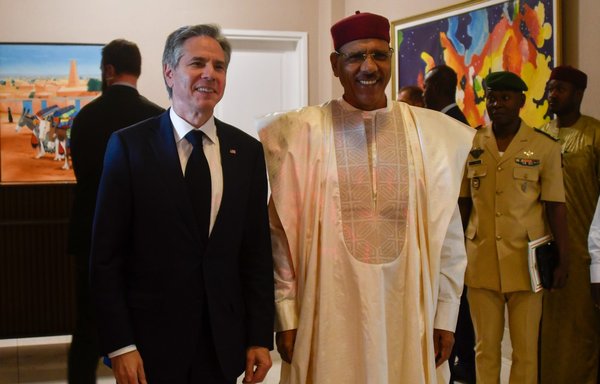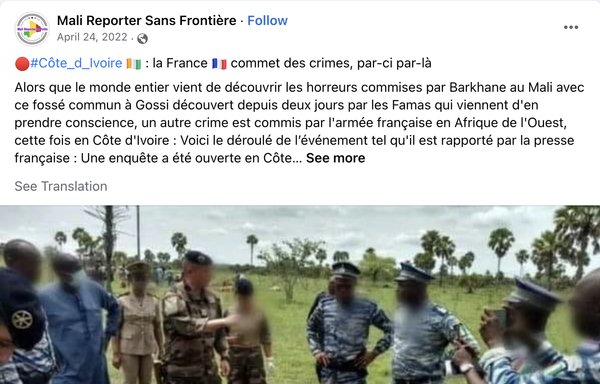 One page, Mali Reporter Sans Frontière, notably joined accusations circulating on Facebook and Twitter last April that said France had committed atrocities in central Mali.
The supposed evidence was pictures of a mass grave dug up at Gossi, near a French military base that had just been handed back to the Malian army.
The French army denied involvement and put out pictures taken by a drone that it said showed Russian mercenaries burying corpses several days earlier.
Seidik Abba, a Nigerien writer and political analyst in Paris, said the recent disinformation campaign was "probably designed to destabilise the country and show that Niger, which has remained France's ally in the region, made the wrong decision".
The goal, he said, was to "drive a wedge between public opinion and the government".
$150 million for Sahel
Earlier this month, US Secretary of State Antony Blinken travelled to Niamey, marking the highest-level visit ever by an American official to Niger.
After talks with Nigerien President Mohammed Bazoum on March 16, Blinken announced $150 million in new humanitarian aid for the Sahel region, including Niger.
This brings the total value of US aid to the Sahel to $233 million for the fiscal year.
The visit was seen by many political and security analysts in the region as a reinforcement of the pledge US President Joe Biden made during the US-African Leaders' Summit in December to be "fully supportive" of Africa.
"This means that the United States is committed to deep, interactive and real partnerships on the continent," Blinken said in Ethiopia in March.
The choice of Niger from among the Sahel countries "is not without significance, as it is ... the most stable country", amid the unrest in neighbouring countries, said Nigerien journalist Karim Mega.
"Stability in Niger does not come from a vacuum but is rather the result of two factors," he said.
"The first relates to the great vision of the current president, Mohammed Bazoum, and his extensive experience in managing the crises that Niger has faced over the past years," he said.
"The second factor is related to the lesson learned by the people of Niger from the years of civil war in the 1990s."
It is "a lesson that made all components of the Nigerien people realise that their interest lies in preserving stability, rejecting terrorism and extremism, and being keen to associate with countries that serve their interests, such as the United States and its allies", Mega said.
Democracy can defeat terrorism
Niger, one of the world's poorest countries, has seen stability since a democratic restoration in 2011, even as military regimes have taken over in neighbouring Mali and Burkina Faso.
Mali has shifted decisively into Russia's orbit, hiring the mercenary Wagner Group after French troops withdrew.
Burkina Faso, which saw two coups last year alone, has also fallen out with France.
Although both the country's military leader and Russia have denied claims that Wagner is operating there, independent analysts and other regional leaders say the mercenary group will likely deploy to Burkina Faso in the coming months.
Nigerien Foreign Minister Hassoumi Massoudou, speaking alongside Blinken March 16, said he had no proof of Wagner activities in Burkina Faso but he warned against any association with the group.
"Our wish is that this country ... does not continue this trajectory towards this organization which we qualify as criminal, mercenary," he said, according to a State Department translation.
"Wagner is present only in failed or soon to be failed states," he said.
"Our democratic institutions can defeat terrorism. In fact ... there are no other alternatives," he added.
Unlike many African diplomats, he also offered a full-throated condemnation of Russia's invasion of Ukraine.
Blinken praised the democratic experience of Niger, saying, "Niger has been quick to defend democratic values under threat in neighbouring countries."
Russia undermining Africa security
If one reads between the lines, Blinken's praise was "an indirect reference to countries that are ruled by coupist military regimes, as is the case in Mali and Burkina Faso, and are allied with Moscow to protect them", Mauritian journalist and political analyst Bashir Ould Babana said.
The Biden administration launched its bid for greater engagement in Africa in the face of rising investment by China, but concerns have also grown more recently about Russia.
Mali, a state that borders Niger to the west, has engaged in rapprochement with Russia, marked by the presence of Wagner mercenaries.
"Everywhere Wagner goes, bad things tend to follow," Blinken told AFP March 17 in Niamey.
"Where we've seen it act, it hasn't improved security; on the contrary, we've actually seen things get worse," he said. "And the exploitation of resources, the corruption, the violence that it brings are a plague on people in the countries that have chosen to work with them."
Russia's presence "has become more detrimental to security and stability in the Sahel region", Babana said.
"It is natural, in light of Moscow's increasing influence in some coastal countries, that the United States would throw its weight in the region to counter Russia's penetration," he added.
Wagner, run by Yevgeny Prigozhin, a close ally of Russian President Vladimir Putin, has been accused of human rights abuses and war crimes in the Central African Republic (CAR), Libya, Mali, Syria and most recently in the Ukraine war.
In mid-March, Italian officials even accused Wagner of being behind an increase in attempted migration to Europe from Africa.
The United States and France are united on a new approach to West Africa that emphasises democracy, development and good governance, Blinken told AFP.
"If you have profound problems and insecurity, there has to be an answer to them. And if there is no answer to them, then groups like Wagner will try to plunge in and take advantage," he said.
Blinken's visit also included meeting with former fighters who renounced extremism and have been rehabilitated through vocational training backed by $20 million in US funding.