Two Italian government ministers in recent remarks blamed the Kremlin-affiliated Wagner Group for fuelling a rise in migration from Africa to Italy, describing it as a "clear strategy of hybrid warfare".
They accused the mercenary group, led by Russian businessman Yevgeny Prigozhin, an ally of Russian President Vladimir Putin, of being behind an increase in the number of migrant boats attempting to cross the Mediterranean.
They claimed the marked increase in attempted migration to Europe from African countries where the Wagner Group has a presence is part of a Russian strategy to retaliate against countries supporting Ukraine.
Their comments follow a massive influx of migrants arriving on Italian shores in recent weeks.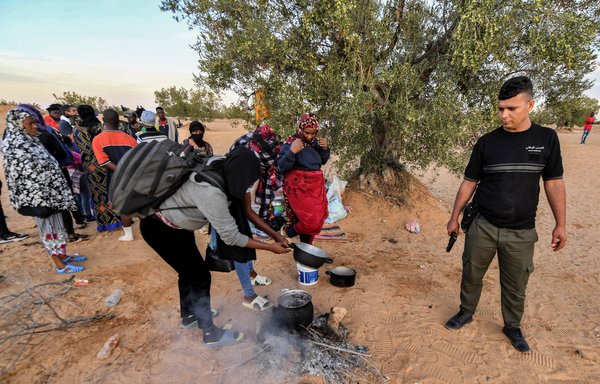 More than 20,000 migrants have arrived in Italy so far this year, more than triple the number registered during the same period last year, news agencies reported March 13.
Most set off from north African coasts of Tunisia and Libya in overcrowded boats, and many lose their lives.
Hybrid warfare
Italian Defence Minister Guido Crosetto attributed the "exponential increase in the migratory phenomenon departing from African shores" to "a clear strategy of hybrid warfare" implemented by the Wagner Group "using its considerable weight in some African countries", news agencies reported.
Italian Foreign Minister Antonio Tajani also remarked on the increase in migration, pointing out that many migrants have been coming to Italy from areas "controlled by the Wagner Group".
Prigozhin issued an angry retort on Telegram in an expletive laden message.
"We have no idea what's happening with the migrant crisis; we don't concern ourselves with it," he said.
Thousands of Wagner mercenaries are active in a number of African countries, supporting Russia's political and business interests.
At least 1,200 Wagner mercenaries have been fighting in Libya since 2018 to buoy the Russian-backed Libyan National Army led by strongman Gen. Khalifa Haftar.
In the Central African Republic (CAR), 1,890 so-called "Russian instructors" are supporting government troops in the ongoing civil war.
Wagner fighters have been accused of involvement in armed activities in the CAR, exploiting the country's gold and diamond resources, and recruiting prisoners from the CAR and sending them to fight in Donbas, Ukraine.
Wagner mercenaries are accused of carrying out an arson attack earlier this month on a French brewery in Bangui, the capital of the CAR. The attack, say sources familiar with the incident, bears the hallmarks of a ruthless campaign to carve out Russian influence in the CAR.
In Mali, the pro-Russian junta has also brought hundreds of Wagner fighters into the country.
Wagner fighters are accused of war crimes, human rights abuses and meddling in conflicts across Africa -- including in Chad, Sudan and Mozambique -- as well as in Syria, Venezuela and Ukraine.
Repercussions beyond Africa
By fomenting instability in poor African countries with vast untapped natural resources, the Wagner Group is helping Russia reap the benefits of supporting corrupt governments.
As part of this cynical plot, it is causing economic difficulties and political strife in the European Union (EU), analysts say.
The thousands of desperate Africans who attempt the difficult Mediterranean Sea crossing on overcrowded vessels often pay with their lives, and the issue has become a hot button issue in EU politics.
Crosetto's statements reveal that Russia's intervention in Africa is no longer confined to the African countries with which the Kremlin has relations, said Mauritanian journalist Qarini Amino.
"The repercussions of the Russian invasion have extended beyond the borders of the African continent," he said.
Russia's strategy against the EU is executed through various means, including facilitating irregular migration as a result of its presence in Africa, said Mauritanian political analyst Bashir Ould Babana.
Russia is facilitating the flow of migrants from countries where it has an active presence to African shores where security measures are weak, such as in Libya, he said.
At the same time, he said, the Kremlin is further undermining the security situation in fragile regions of Africa to fuel internal displacement and migration.