Iran's Islamic Revolutionary Guard Corps (IRGC) in January began a new round of training to teach members of its allied militias in eastern Syria how to operate unmanned aerial vehicles (UAVs), known as drones, Syrian sources said.
Around 70 members of the Fatemiyoun Division, an IRGC-led Afghan militia, have completed a two-month training course on the use of UAVs in Deir Ezzor province, eastern Syria.
The training also included lessons in the use of light and medium weapons, the Syrian Observatory for Human Rights said.
According to the Observatory, 26 of the Fatemiyoun Division trainees were sent to Iran for further military training on drones and intelligence.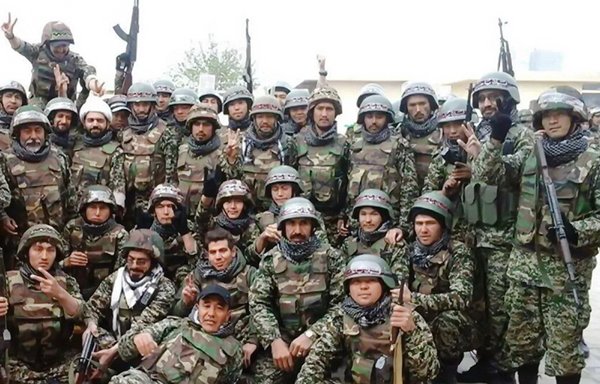 Iran has been supplying its Afghan, Pakistani (Zainabiyoun Brigade) and Iraqi proxies with drones to use to threaten regional security. It also supplies UAVs to Lebanese Hizbullah and the Houthis, its proxies in Yemen.
In addition to supplying weapon-capable drones to its proxies, Iran has been teaching them how to remotely operate them; master direction, control and aerial reconnaissance technology; and carry out attacks on specific targets.
Drone training in desert
Last March, under the supervision of IRGC instructors, Iran kicked off intensive training on the use of drones in the desert area around al-Tabani, in western Deir Ezzor province.
Commanders and elements of Lebanese Hizbullah, the Fatemiyoun Division and Harakat al-Nujaba, an Iraqi militia, took part in the training.
"Ten Iranian-made drones were brought from Palmyra warehouses in the central Syrian desert for use in the training," Eye of the Euphrates sources said at the time.
Over the past two years, Iran has transported dozens of drones, especially from the Mohajer and Ababil series, via Ilyushin cargo planes from Tehran to Damascus, and then to Syrian military airports.
These include the Tiyas military air base in rural Homs (T-4), the Shayrat air base in Homs and Hama military air base.
In June, Eye of the Euphrates reported, the IRGC flew a shipment of seventh generation drones from Damascus to the al-Hasakeh town of Qamishli.
It is possible that some of those drones have been used for training purposes.
The IRGC has dispatched 30 officers and commanders, including drone instructors, to Syria, to be stationed at the Deir Ezzor headquarters of Iran-backed militias, according to Eye of the Euphrates.
In October, the IRGC reportedly dispatched some 100 Iraqi militiamen to the desert around al-Tabani to take part in a two-week intensive training course on how to operate drones, 15 of which reportedly had been smuggled in from Iraq.
In addition to the Iraqis, 50 members of IRGC-aligned Syrian militias took part in the training.
Attacks on al-Tanf garrison
Iran relies heavily on drones to launch attacks across the region, via its proxies.
Drones operated by Iranian proxies often attack al-Tanf garrison in southeastern Syria, where international coalition forces fighting the "Islamic State of Iraq and Syria" (ISIS) are stationed.
Such attacks threaten international efforts to counter ISIS in Syria, and undermine efforts to restore stability and a sense of normality to the area.
The most recent attack, on January 20, involved three explosive-laden drones.
"The latest attack on al-Tanf was launched from Iranian militias' bases in Deir Ezzor," said Mudhar al-Asaad, spokesman for the Council of Syrian Tribes and Clans.
"It's part of Iran's plans to seize control over Syria through the deployment of more allies and opening of new bases and camps on Syrian soil," he told Al-Mashareq.
"The IRGC is actively bringing drones from Iran to its bases in Syria to train militia elements on their use and the use of other weapons," he said.
Al-Asaad warned of the danger of a continual flow of Iranian drones and missiles into Syria, and of Iran's enticement of potential new recruits.
"The goal is to wreak havoc, prevent Syria from realising stability and peace and spread destruction across the region," he warned.