BISHKEK -- The Wagner Group is desperately seeking new cannon fodder to fight in Ukraine, and has started raiding the prisons of the Central African Republic (CAR) for recruits, according to local sources.
The Russian private military company (PMC) is releasing prisoners in the CAR and sending them to Donbas, Ukraine, The Daily Beast reported in late November, citing local military officials.
Men incarcerated for crimes including rape and murder are being released en masse to join Wagner's forces, they said.
The PMC's Central African "wing" has hundreds of fighters, known insultingly as "Black Russians", according to the officials.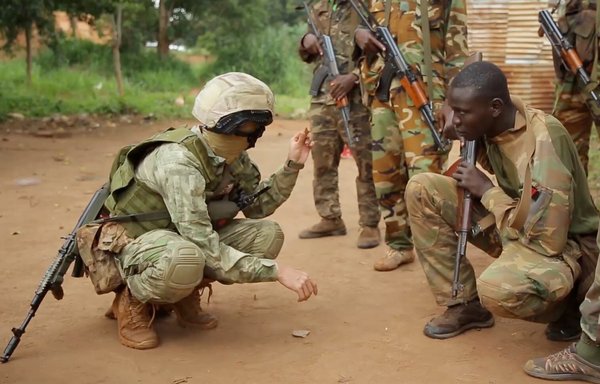 Many of these recruits, in particular, were convicted of carrying out violent acts against civilians and the armed forces in order to achieve their political goals.
"Since October, they [Wagner paramilitaries] have been walking into military and police cells and releasing rebels, including those held for attacking Bokolobo village [in southern CAR] in May and for raping women and girls," an officer serving at the military headquarters in the CAR capital Bangui told The Daily Beast.
"Nobody can stop them because the government has given them so much power to act the way they want."
Rebels convicted of killing CAR soldiers -- Wagner's supposed allies -- during an April attack on a military camp in the southeastern city of Bakuma were also released, said another officer.
"They [Wagner] said they needed urgent manpower in Mali and Ukraine," the officer, who works with CAR's army, told The Daily Beast. "I think more than 20 people we've been holding [for very serious crimes] have been released."
Wagner recruiters promised the new fighters from the CAR not only freedom but also earnings that are fabulous by local standards -- about $1,000 a month.
However, salaries are being paid irregularly or not at all, according to ex-prisoners from the CAR who joined the Russian PMC and have since left.
Dozens of their colleagues, particularly those recruited from prison, began to disappear in recent months purportedly to fight for Russia in Ukraine, they said.
'All sorts of rabble'
Led by Yevgeny Prigozhin, the Wagner Group is notorious for furthering Russian President Vladimir Putin's objectives under the guise of plausible deniability.
The Wagner Group is accused of war crimes, abuses and meddling in conflicts across Africa -- including in Mali, Libya, Chad, the CAR, Sudan and Mozambique -- as well as in Syria, Venezuela and Ukraine.
Prigozhin in September disclosed for the first time that he founded the Wagner Group in 2014 to fight in Ukraine and acknowledged its presence in Africa, the Middle East and Latin America.
This admission came after he and the Kremlin had long denied the group existed. Serving as a mercenary remains illegal for Russians.
Since the start of the invasion in February, the Kremlin-controlled paramilitary organisation has suffered huge losses and must recruit whom and where it can.
The BBC's Russian service reported that the Wagnerites began widespread recruitment of mercenaries for fighting in Ukraine back in the spring.
A source who at the time was a Wagner Group mercenary told the BBC in March that there were no hiring criteria, so recruiters hired the "dregs" and "all sorts of rabble".
Wagner's dragnet recruiting has picked up recruits from around the world.
On November 14, Zambian Foreign Minister Stanley Kakubo said a Zambian student who had been jailed in Russia died "at the battlefront" in Ukraine on September 22.
"We call on African Union and all African states to demand that Russia stop press-ganging their nationals," Ukrainian Foreign Ministry spokesman Oleg Nikolenko wrote on social media.
"Africans shouldn't die for Putin's sick imperial ambitions," he said.
Independent media outlets previously have also reported on the recruitment of Afghan and Syrian mercenaries by the Wagner Group.
'Serial killers, robbers and at least one cannibal'
In June, the Wagner Group started actively recruiting inmates at Russian prisons, preferring hardened criminals who are prone to violence.
Berlin-based Olga Romanova, director of Russia Behind Bars, a human rights organisation, told The Daily Beast in September that the Kremlin's recent recruitment tactic in the war against Ukraine is part of her "worst nightmares".
"Putin's plan is to recruit at least 50,000 convicts, and Prigozhin, who is an ex-convict himself, already has sent more than 3,000" inmates to Ukraine, including "serial killers, robbers and at least one cannibal" who was serving a prison sentence in Saratov, Russia, Romanova said.
In some cases, the Wagnerites are kidnapping rather than recruiting inside prisons.
At the end of October, Marfa Smirnova, a journalist for Dozhd TV, reported that Wagner personnel came to a Saratov prison, took inmate Sergey Serbezov, a Ukrainian citizen, and "forced [him] into a helicopter and sent [him] to the front".
Later, Serbezov was shot while trying to escape, at least by Wagner's account. His widow received a text message asking her for $1,000 in exchange for her husband's body.
In September, leaked video verified by the BBC showed Prigozhin meeting with convicts and assuring them that they could do "whatever they want [with Ukrainians], and they won't get anything for it".
However, in reality, the Wagner recruits themselves are usually the victims of mass slaughter in combat, as well as of the PMC's cynical recruitment campaign.
The recruited prisoners are nothing more than cannon fodder, untrained and thrown into battle, Romanova told Caravanserai.
"They benefit from hiring prisoners, because many of these recruits die on the battlefield and they generally have no ties with relatives, and ... Wagner does not pay the wages of those who are killed," she said.
'Tough guys'
As Russian troops and mercenaries alike flounder in Ukraine, the reputation of Prigozhin's once-feared private army is noticeably deflating around the world.
Wagner has made covert attempts to recruit in Kyrgyzstan, but very few Kyrgyz want to join its ranks, said Islam Baigarayev, a lawyer and director of the Bishkek Bar Association.
"In our country, people don't like Wagnerites. They have a bad reputation here, even among prisoners," he said.
Besides, the recruits are committing "a crime punishabble by loss of citizenship", he said, referring to fighting in a foreign war.
The number of convicts willing to join Wagner may soon plummet after Russian crime boss Sasha Kurara's recent accusations against Prigozhin, said Ukrainian presidential adviser Oleksiy Arestovich in an interview in late November.
At the end of November, Kurara, who lives in Turkey, posted a video in which he claimed that he and Prigozhin were in prison together decades ago.
Prigozhin ranked the lowest in the prison's pecking order and was forced to perform subservient acts for other prisoners, Kurara claimed, adding that anybody who joins Wagner is putting himself on Prigozhin's level or even falling below him in status in the underworld.
His claims could not be independently verified.
"Now 'tough guys' in Russia, such as [National Guard commander Viktor] Zolotov and [Chechen head Ramzan] Kadyrov, will wonder: how can we work with someone like him? Prigozhin is becoming a toxic figure, and his PMC is starting to have problems," Arestovich said.