Iran is penetrating further into the Syrian marketplace, Syria watchers told Al-Mashareq, with bilateral agreements signed between the two governments and dozens of Iranian companies entering all sectors of the Syrian economy.
This will have a far-reaching political and economic impact on Syria, they said, especially given the long-term nature of many of these deals.
In a move that some regarded as an attempt to cash in on the chaos caused by the recent earthquake, Iran sent a parliamentary delegation to Syria on March 1.
Iranian delegation head Abbas Golrou, who is deputy head of the Iranian-Syrian Parliamentary Friendship Association, stressed the need to develop relations between the two countries at all levels.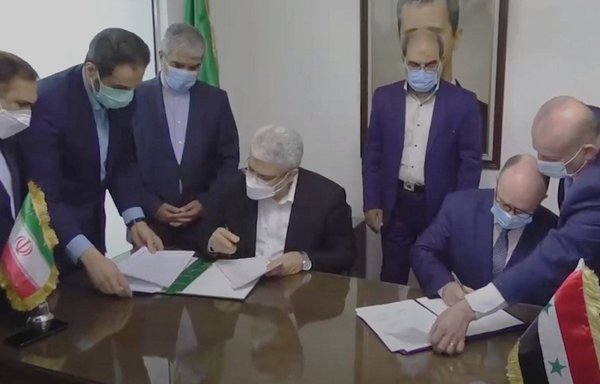 This includes economic and commercial activities, especially in the area of reconstruction, he said, hinting at a possible extension of the Iranian credit line.
"Iran continues to defy the international community and circumvent the sanctions imposed on it by shackling the Syrian economy with a package of bilateral agreements between the two countries," said researcher Fathi al-Sayed.
This also puts Syria in "a dangerous position", said al-Sayed, who specialises in Iranian affairs at the al-Sharq Centre for Regional and Strategic Studies.
Not only does this mortgage the economy to the Islamic Revolutionary Guard Corps (IRGC), he told Al-Mashareq, but it also circumvents sanctions imposed under the Caesar Syria Civilian Protection Act of 2019.
Al-Sayed said the Iranian credit line Golrou floated would leave the Syrian economy "hostage to the IRGC, as it is not possible for the Syrian side to repay it, except with oil revenues, which would become mortgaged to the IRGC".
He warned that "the worst is yet to come" as a consequence of the Iranian companies' invasion of the Syrian market.
Iranian firms flood Syria
"Iran is tightening its grip on the Syrian economy," Syrian economist Mahmoud Mustafa, a lecturer at Damascus University, told Al-Mashareq.
It is doing this via bilateral agreements between the Iranian and Syrian governments, he said, and "by flooding the Syrian market with Iranian companies that are now investing in all sectors".
According to Mustafa, Iran's plan will be "in the sole interest of the Iranian economy, and will weaken the Syrian economy further, since they are all long-term agreements that will allow Iran to benefit greatly".
These agreements began to be inked at the beginning of this year during a visit by an Iranian economic delegation affiliated with the Iranian-Syrian Friendship Association, he said.
They included an agreement to establish a mobile phone company in Syria, and to "potentially establish a project to supply Iranian mobile phones to Syria, or have them assembled in Syria".
There was also a deal to supply Iranian agricultural tractors to Syria, and another that will enable Iran to build bridges and roads in Syria, he said, as well as an agreement to supply foodstuffs from Iran.
Front companies for IRGC
By opening the door wide for all aspects of economic co-operation with Iran, Syria is putting itself at risk of new international sanctions, Ain Shams University economics professor Shaher Abdullah told Al-Mashareq.
"Many of the Iranian companies are merely a front for the IRGC," he said.
For example, he said, one Iranian company was registered in Syria by the son of an IRGC commander.
"This would implicate Syria when the background of these companies is scrutinised, and it becomes clear that they belong to the IRGC or its leaders who are on the international sanctions list," Abdullah said.
It is notable, he said, that many agreements and contracts these companies have signed are at least 50 years in duration, with the possibility of extension.
Abdullah said he believes the Iranian presence in Syria will drive away investments that could come from Arab or Western countries, "because of the direct disputes they have with Iran".
Capital investments require safety as a prerequisite, and this is not available for many reasons, he added, including the security threat posed by the Iranian presence.