The predatory actions of Iran's Islamic Revolutionary Guard Corps Quds Force (IRGC-QF) and its proxies will have harmful consequences for Syria's economy, future and relationship with its neighbours, Syrian analysts said.
Through the IRGC-QF, the Iranian regime has sought to milk Syria's economy and has attempted to establish a foothold in strategic parts of the country by exploiting a dubious set of Syrian property laws, they said.
These actions aim to funnel revenue to the Islamic Republic and expand its influence in Syria, they added, noting that this trend is to the detriment of the Syrian people, who are already suffering the consequences of war.
The actions of IRGC-affiliated militias in Syria will have "devastating consequences for the Syrian economy in the foreseeable future", Syrian economist and Damascus University lecturer Mahmoud Mustafa said.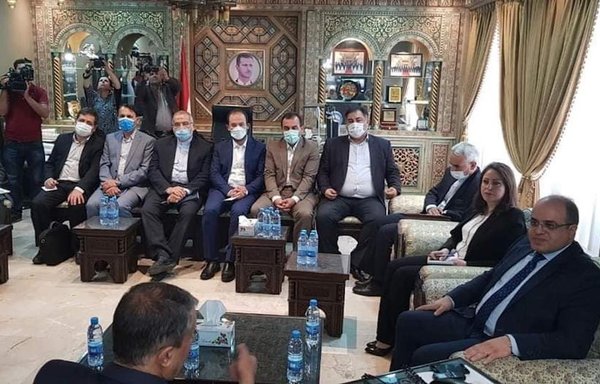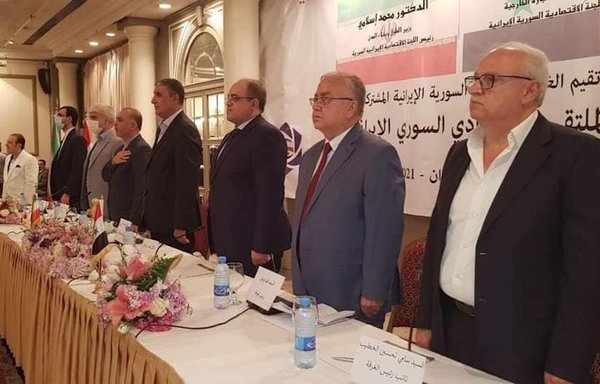 Iran-aligned militias have entrenched themselves in the areas along the borders with Iraq and Lebanon, Mustafa said, "which led to a surge in the smuggling of all types of consumer goods".
Iran has been able to tighten its grip over all sectors of the Syrian economy through a raft of agreements it signed with the Syrian regime, he said.
Many of these agreements are lopsided, he noted, with Iran standing to benefit the most. Iranian markets have been established in Syria, for example, and Iran has gained significant control over Syria's energy and infrastructure sectors.
In a recent interview with Al-Mashareq, Syrian economics professor Shaher Abdullah pointed to a newly established Iranian Trade Centre in the heart of the free zone in Damascus.
With the new centre, Iran is trying to cash in on reconstruction activity revenue and to boost commercial ties, Abdullah said, pointing out that having a presence in the free zone exempts Iranian companies from taxes.
More worryingly, Mustafa said, Iranian companies are allowed to own land in some areas through various legal ploys, "which resulted in a clear onset of demographic change".
Border areas are a particular focus of these efforts, he noted.
In these areas, Iran-aligned militiamen have moved into the homes of displaced families, bringing their own families with them, he said, "which made it impossible for property owners and landowners to return to them".
Seizing land and property
The Syrian regime has been seizing land and property via various means since the onset of the war, said Syrian lawyer Bashir al-Bassam.
It has sought to transfer property ownership documents "from the original owners to the Iranian militias or some of its loyalists", he said, through the issuance of a legally questionable set of decrees.
These include Syria's Urban Renewal Law, commonly known as Decree 10, which allows the government to take private property to create zoned developments, compensating owners with shares of the new projects.
But owners can claim shares only if they prove ownership within 30 days after officials announce the zone.
Human Rights Watch has warned the law does not satisfy international standards and amounts to the "forced eviction" of those unable to prove land ownership.
Decree 19 of 2015, meanwhile, permits the establishment of private joint stock companies, with the stated aim of managing and investing the assets belonging to the various local councils within Syria.
Private joint stock companies can be set up by local councils as holding companies, a move that allows local administrations of provinces, cities and towns to dispose of real estate and issue building licenses, al-Bassam said.
In the border areas, sections of which are under the control of IRGC-affiliated militias, transfer of ownership is taking place through the public auction of property seized by the Syrian regime.
Decree No. 43 of 2011 sets out principles for the creation, transfer, modification and acquisition of real estate rights in lands located within border areas.
The decree permits the transfer of ownership as long as prior permission comes from the regime's security authorities or from the governor, and has enabled the militias to take ownership of hundreds of properties, he said.
This process has in turn enabled them to bring entire areas under their control, he said.
IRGC seeks regional control
Iran's policy in Syria will have negative consequences in the future -- both for Syria and its relations with its neighbours, said Iranian affairs researcher Fathi al-Sayed of al-Sharq Centre for Regional and Strategic Studies.
"The Syrian regime considers Iran and the IRGC to be key allies, entitled to extensive privileges that are offered to them and all of the IRGC's affiliates deployed in Syria," he said.
"Meanwhile, these affiliates are carrying out attacks against many countries on a constant and deliberate basis, which has turned the entire Middle East region into a powder keg that could explode at any moment," he said.
Al-Sayed said the IRGC-QF is executing a "systematic operation aimed at taking control of all the countries in which it has a presence, such as Lebanon, Iraq, Yemen and Syria" via its proxies in these countries.
To this end, he said, it has been "pouncing on their economies, flooding their markets with Iranian goods and taking control of their border areas to ensure the freedom of movement for its military arms and their supplies".
It also has sought to "facilitate smuggling between these countries, in a way that weakens their governments and puts them at the mercy of the militias", he added.