International offers to help Türkiye and Syria with rescue efforts poured in on Monday (February 6) following the most powerful earthquake in nearly a century and a smaller quake that occurred just hours later.
The combined death toll has risen to over 2,300 as of this writing.
The early morning earthquake caused tremors felt in Lebanon and Cyprus, and as far away as Greenland.
Many buildings were leveled by the quake, with the death toll expected to rise as rescue efforts continue, while several historic sites in Türkiye suffered damage, including a 13th century mosque and hilltop castle.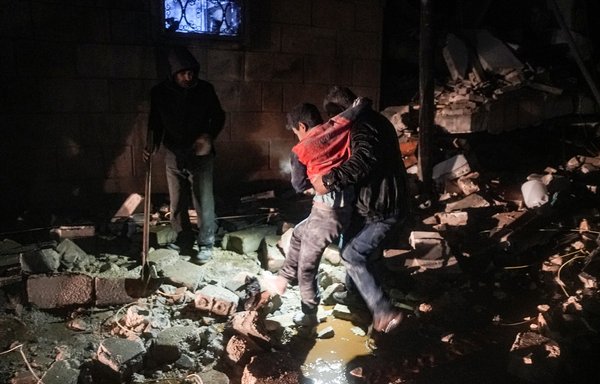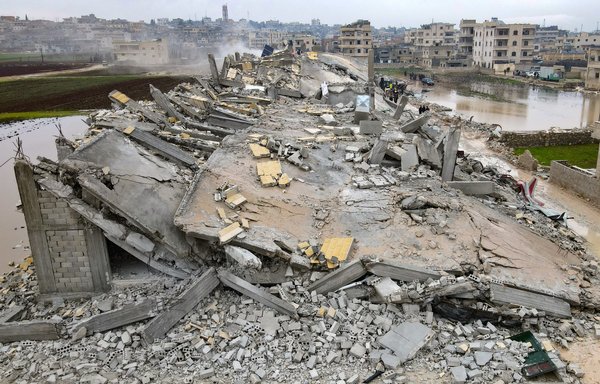 The first quake struck at 4.17am near the Turkish city of Gaziantep, which is home to about two million people, the US Geological Survey said.
The initial tremor, followed hours later by a slightly smaller one and more than 50 aftershocks, wiped out entire sections of major cities in a region of Türkiye filled with millions of people who have fled the war in Syria and other conflicts.
The head of Syria's National Earthquake Centre, Raed Ahmed, called it "the biggest earthquake recorded in the history of the centre".
'More difficult than bullets'
In Syria, the White Helmets said teams were scrambling to rescue people trapped beneath the rubble of buildings and cautioned "the toll may increase as many families are still trapped".
Images on Turkish television showed rescuers digging through rubble in almost all the big cities running along the border with Syria.
Some of the heaviest devastation occurred near the quake's epicentre between Kahramanmaraş and Gaziantep, where entire city blocks lay in ruins under the gathering snow.
The Syrian health ministry reported damage across the provinces of Aleppo, Latakia, Hama and Tartus.
Even before the tragedy, buildings in Aleppo, Syria's pre-war commercial hub, often collapsed because of dilapidated infrastructure, which has suffered from lack of wartime oversight.
At Al-Rahma hospital in northwestern Syria's Idlib province, Osama Abdel Hamid described the massive earthquake that toppled his home in Azmarin, near Syria's border with Türkiye, just hours earlier.
"We were fast asleep when we felt a huge earthquake," Abdel Hamid said.
"I woke up my wife and children and we ran towards the exit door," he said.
"We opened the door, and suddenly the entire building collapsed."
Within moments, Abdel Hamid found himself under the rubble of the building. All of his neighbours died, but the family made it out alive.
They were taken to the hospital in Darkush, a town along the Turkish border.
In the northern city of Aleppo, Anas Habbash said he "ran down the stairs like crazy" when the earthquake struck, carrying his son and ushering his pregnant wife outside the apartment.
"Once we got to the street, we saw dozens of families in shock and fear," he said. Some knelt down to pray and others started crying "as if it were judgment day".
"I haven't had that feeling all through the years of the war," Habbash said.
"This was much more difficult than shells and bullets."
International response
International offers to help Türkiye -- in one of the world's most active earthquake zones -- and Syria with rescue efforts poured in on Monday.
The United States, the European Union, Gulf states and many other nations all immediately sent condolences and offers of help.
The United Arab Emirates said it would set up a field hospital in Türkiye, and Qatar will be sending rescuers and emergency supplies.
The European Union said it was sending rescue teams to Türkiye, while Ukrainian President Volodymyr Zelenskyy offered to provide "the necessary assistance".
France, the United Kingdom, Ukraine, Spain, Poland, Czech Republic and Switzerland also pledged to send assistance, along with Syrian regime allies Russia and Iran.
Spain is sending drones and a contingent from its Emergency Military Unit, a branch of the armed forces responsible for providing disaster relief, to Türkiye, Foreign Minister Jose Manuel Albares said in a tweet.
Poland is sending to Türkiye a search and rescue group of 76 firemen and eight rescue dogs, Polish Interior Minister Mariusz Kaminski announced.
The Czech fire service said it was sending a 68-member urban search and rescue team to Türkiye.