The troubled history and limited capabilities of China's much-touted J-10 fighter jet have prompted aviation experts to suggest that the People's Liberation Army Air Force (PLAAF) should move on and focus development efforts on the J-20.
"The future of the J-10 remains doubtful," wrote Charlie Gao for the National Interest in 2021.
"As the J-10A was fairly obsolete when it was introduced, it was quickly followed up by the J-10B," he said. "However China has been slow to upgrade its fleet to the new J-10B standard, and the majorities of J-10 in service are still J-10As."
"The latest variant of the J-10 is the J-10C, which upgrades the avionics and features ... another new jet engine intake," he noted.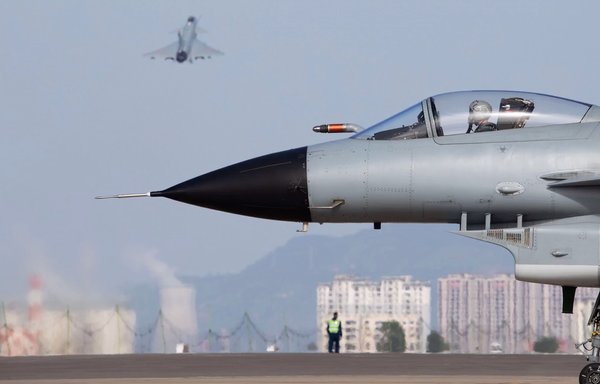 But even with such upgrades, the J-10 remains at a disadvantage compared to other fourth generation fighter jets, especially with airstrikes.
This is an acute issue for Beijing as it continues to threaten to invade Taiwan one day, and makes other numerous claims that may drive it into a conflict involving land-based targets.
Designed primarily as an air-to-air fighter, the J-10 is equipped with a secondary air-to-ground capability that China has spent years developing.
The single engine J-10 is still limited in its ability to carry large amounts of fuel and weapons, especially compared to dedicated ground attack aircraft.
While the J-10 can be equipped with the 500kg LT-2 laser guided bomb, it would most likely have to rely on the KD-88 air-launched cruise missile (ALCM) -- the PLAAF's mainstay -- and the YJ-91 ALCM.
The two missiles are designed to be fired at stand-off distances to avoid adversary air defences.
Vulnerability to upgraded surface-to-air missiles, such as the Patriot missile systems recently purchased by Taiwan and other countries around the world, is another issue hindering the J-10's ground strike capabilities.
Taiwan, for instance, is already equipped with the PAC-2 missile, which has a range of 160km -- near the maximum range of a J-10 firing a KD-88 missile.
An upcoming deal for 100 Patriot PAC-3 Missile Segment Enhancement missiles, which provide increased performance and greater altitude and range than does the regular PAC-3, puts the J-10 in even greater danger.
Already obsolete
Even with an upgraded engine, the J-10 lags behind its Western counterparts.
By common consent, the hardest part of a fighter jet to make is its engine, specifically power turbine blades subject to high pressures and temperatures.
Besides having to operate under demanding conditions, a jet engine has daunting complexity. A Boeing 747 engine, for example, has at least 40,000 parts.
In the matter of jet engine manufacture, even the Chinese admit they have far to go before catching up with the United States.
"It can be said that China's engine technology is about 30 years behind the United States," the Global Security military news site said in a 2021 post.
A Chinese insider recently admitted to a substantial lag, though he provided a much smaller estimate.
"This gap is now being narrowed, possibly to 10 to 15 years," according to Aerospace Knowledge magazine editor-in-chief Wang Ya'nan, the Chinese news site Global Times reported in 2022.
"Chinese military turbofan engines are improving rapidly but are at best only at par with Russian equivalents and are not yet in a position to compete directly with European or American designs," said Justin Bronk, senior research fellow for airpower and technology at the Royal United Services Institute (RUSI) think-tank, who spoke to an aviation magazine in 2019.
"With a light airframe, relaxed stability, decent (although not stellar) thrust-to-weight ratio and large canards, the J-10C is very agile in airshow configuration and the option for thrust vectoring only increases this capability at low speeds," Bronk noted.
"However, the light airframe and small size relative to fighters like the J-20, Typhoon or F-15 mean that external stores and fuel tanks will have a more serious impact on both performance and agility than on larger fighters," said Bronk.
Upgrade needed
To make matters worse, one major problem continues to plague the aircraft: the J-10 has never been tested in combat.
The J-10 has also had its share of growing pains, and between 2014 and 2018, at least eight J-10s crashed, in one incident killing one of China's first female fighter pilots.
These issues are reflected in foreign sales of the J-10.
While the 1980s-era US F-16 -- a plane to which China likes to compare the J-10 -- continues to be exported more than 40 years after its introduction and remains widely operated by more than two dozen air forces, Beijing only recently found its first J-10 export customer: Pakistan, a country over which China has overwhelming economic and political influence.
With the J-10 unable to compete with current fourth and fifth generation aircraft, it makes more sense for the PLAAF to focus its efforts on the J-20, a fifth generation stealth fighter.
The J-20, which was declared "combat ready" and put into production in 2017, is a twinjet all-weather stealth fighter aircraft designed as an air superiority fighter with precision strike capability.
Its reportedly advanced stealth capabilities, superior sensors and avionics, and more advanced weapons systems make it a more potent platform for air-to-air and air-to-ground missions than is the J-10, according to observers.