While Beijing continues to tout the capabilities of its fighter jets, particularly the J-10, in a bid to increase military sales around the world, one major problem plagues China's efforts: the plane has never been tested in combat.
"The latest J-10C model is comparable with modernised variants of the classic American F-16 Fighting Falcon tactical fighter," according to a 2019 article in the National Interest.
But since nobody has ever seen the J-10 perform in combat, only one foreign customer has taken a chance on it.
The Pakistan Air Force (PAF) in March 2022 received the first six of as many as 36 J-10CE aircraft. Another six were delivered in September.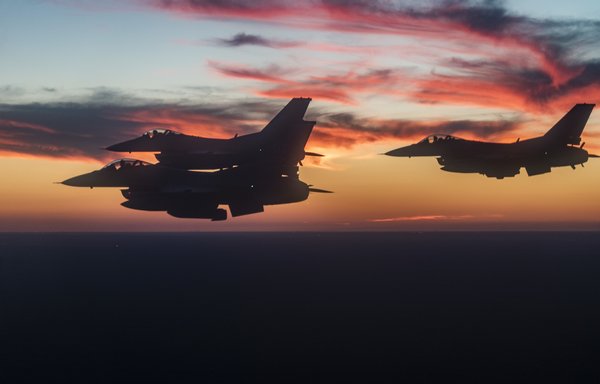 In contrast, more than two dozen air forces use the F-16, the National Interest reported in 2019.
US assembly lines have turned out more than 4,600 F-16s since 1974, while the Chinese have produced more than 540 J-10s since 2002.
The F-16 has built up a substantial order book because foreign air forces have seen it dominate aerial combat -- mostly in the Middle East -- for decades.
The F-16 recorded its first kills in April 1981, when Israeli pilots downed two Syrian Mi-8 helicopters.
A year later, in three days of dogfights over the Bekaa Valley, Israeli F-16s downed 44 Syrian fighter jets.
As of 2019, F-16s had shot down 76 enemy aircraft, the National Interest reported. Only one or two F-16s had been lost by then in aerial combat and only in ambiguous situations.
'About 30 years behind'
By common consent, the hardest part of a fighter jet to make is its engine, specifically power turbine blades subject to high pressures and temperatures.
Besides having to operate under demanding conditions, a jet engine has daunting complexity. A Boeing 747 engine, for example, has at least 40,000 parts.
In the matter of jet engine manufacture, even the Chinese admit they have far to go before catching up with the United States.
"It can be said that China's engine technology is about 30 years behind the United States," the Global Security military news site said in a 2021 post.
A Chinese insider recently admitted to a substantial lag, though he provided a much smaller estimate.
"This gap is now being narrowed, possibly to 10 to 15 years," according to Aerospace Knowledge magazine editor-in-chief Wang Ya'nan, the Chinese news site Global Times reported in 2022.
But many challenges remain.
"The complexity of the materials and metallurgy process, the costs of acquiring and maintaining the scientific and machining expertise, and the reluctance of other countries to assist China for fear of intellectual-property theft are but a few of them," Business Insider reported in 2021.
No combat experience since 1979
China has a severe handicap for a country trying to market its military-industrial prowess: it has not had any combat experience in more than 40 years.
Since a 27-day war with erstwhile ally Vietnam in February-March 1979, nobody has been able to observe the performance of Chinese-made weapons in war.
Chinese engineers and designers have had no chance to witness deficiencies that they need to fix.
In contrast, US troops and US weapons have experience in various conflicts over several decades, enabling the F-16 to distinguish itself when needed.
War watchers in military headquarters worldwide know what the F-16 can or cannot do -- the same cannot be said for the J-10.