For many years, the Islamic Republic has resorted to dangerous, illegal attempts to circumvent international sanctions and achieve its expansionist goals in the region under the guise of commercial activities.
In the latest instance, Iran has imported through questionable means four decommissioned airliners that formerly flew with Turkish Airlines.
On December 28, Tasnim News Agency, affiliated with the Islamic Revolutionary Guard Corps (IRGC), quoted aviation official Hassan Khoshkhou as saying that Iran has purchased four Airbus A340 airliners.
"Many, many more aircraft and helicopters have recently been brought to Iran," he said.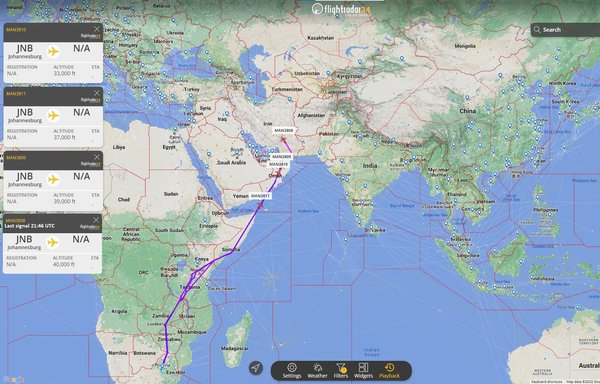 "We do not plan to reveal how many aircraft and helicopters we have purchased," Khoshkhou said, adding that the aircraft have been purchased "in the past 15 months".
But Iranian state media often contradict their own reports.
On the same day the Tasnim report was published, the state-owned Hamshahri daily said Dutch aviation authorities "have claimed" that the four aircraft were kept in Türkiye for a few months after being decommissioned, and were then transferred to Johannesburg, South Africa, in March and April.
The planes left Johannesburg on December 24, apparently bound for Uzbekistan, but upon reaching Iran's airspace, they diverted to Tehran and landed there, it said. These planes have reportedly joined Mahan Air's fleet.
Aviation news website AeroTime reported on January 2 that the four ex-Turkish Airlines planes, which were recently registered in Burkina Faso, disappeared from flight tracking services over Iran as they made their way to Uzbekistan.
The move comes as Iran's government is seeking newer aircraft for its fleet due to its aging equipment.
Using Mahan Air for illicit activities
"Mahan Air aircraft have long been the main means of transporting weapons, military equipment and members of the IRGC's Quds Force (IRGC-QF) to Syria" and other proxies in the region, said aviation expert Sirous Pourmohsen.
Brig. Gen. Nosratollah Hosseinipour, a QF commander, said in 2019 that "transferring forces to Syria was possible using only a large Mahan airplane because it was able to land at Damascus airport under enemy fire", according to Pourmohsen.
Mahan Air's illegal operations prompted the US Treasury Department to sanction the airline for violation of international laws.
Carrying weapons and military personnel under the guise of transferring passengers is prohibited as it endangers civilian lives.
Mashregh News, another IRGC-affiliated media outlet, in 2020 quoted a revealing segment of a book about the life of Qassem Soleimani, the slain commander of the Quds Force.
According to the book, "Born in March", Soleimani had in 2013 transported seven tonnes of weapons and ammunition to Damascus aboard a Mahan Air Airbus aircraft from Tehran along with 200 ordinary passengers.
As the plane was en route to Damascus, Iraq's air traffic control centre requested that it land for inspection in Iraq. Once aware of the request, Soleimani disguised himself as a flight engineer and hid on the flight deck.
After the Iranians bribed the Iraqi inspectors, the book claims, they were able to continue to Syria without having to undergo an inspection.
Although placing weapons in the cargo area of an aircraft that carries ordinary passengers is a "criminal and extremely dangerous" act, Pourmohsen said, transporting weapons and ammunition to Syria for waging war in the region is not Mahan Air's only illegal activity.
The airline has a long track record of transporting illegal drugs as well.
The drug trade is an important source of income for the IRGC, and Mahan Air completes its mission by returning the currency gained from drug sales to IRGC officials in Iran.
Soleimani was a member of the board of trustees of the institution that owns Mahan Air.
The airline is currently the largest Iranian airline in terms of fleet and the number of passengers it transports, and it flies to 20 destinations in Europe, Asia and the Middle East.
Dilapidated planes
In a December 8, 2021 interview with state news agency IRNA, the deputy head of Iran's Airline Association, Alireza Barkhor, revealed that more than half of Iran's fleet of civilian aircraft is grounded for lack of spare parts.
The recent purchase of four Airbus A340 planes has faced ridicule from critics of Iranian president Ebrahim Raisi and domestic reformist newspapers.
The reformist website Taadol wrote that although government officials are touting the plane purchases as an achievement, these planes will definitely need replacement parts as they are already old and dilapidated.
Tehran will face great trouble supplying the parts for these planes, which will most likely end up grounded and scrapped, it wrote.
However, said Pourmohsen, "As long as each plane is able to fly to and return from Syria or another country in the region where the Islamic Republic's proxy forces have influence, the IRGC will use it to carry weapons and drugs."
Because they are old and worn out, many Mahan Air aircraft have had technical issues before take-off or in mid-flight over the years.
"The IRGC does not place even the slightest value on the lives of innocent passengers, a fact that we have seen many times and cannot be doubted," Pourmohsen said.