Saudi authorities are waging a war on drug smuggling and dealing networks, and have succeeded in seizing large quantities of illicit narcotics thanks to constant monitoring operations and civilian tip-offs, officials in the kingdom said.
The sizable amount of drugs that have been confiscated in recent operations proves that the smuggling is directed by "a major player" rather than smaller groups or gangs, they said, pointing to Iran's Islamic Revolutionary Guard Corps (IRGC) as the main culprit.
Co-ordination between the General Directorate of Narcotics Control (GDNC) and the Zakat, Tax and Customs Authority (ZATCA) has seen the most comprehensive and significant operations to date in the battle to stamp out illicit drugs.
During the course of routine narcotics control operations, security personnel tailed a truck carrying illicit drugs until it reached the dry port in Riyadh, Saudi officials said September 1.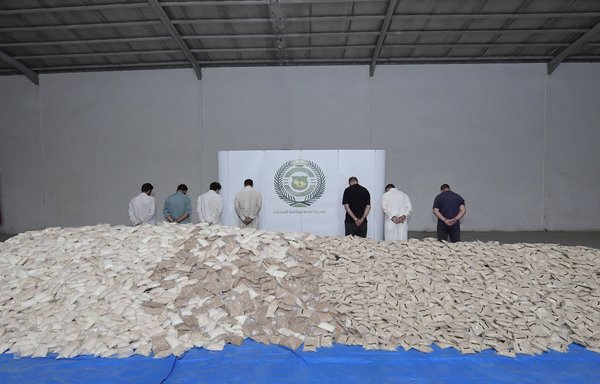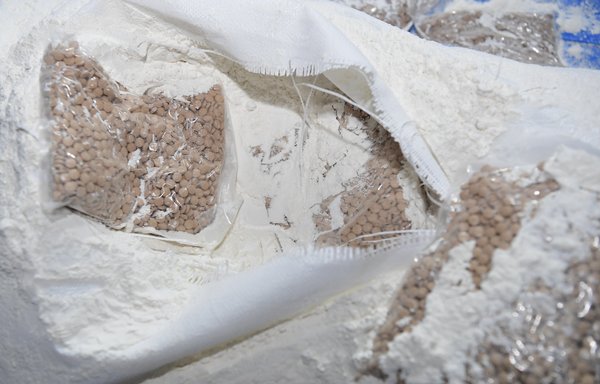 At the terminal, security forces arrested the smugglers -- six Syrians and two Pakistani nationals -- and seized nearly 47 million amphetamine tablets that had been hidden inside a cargo of flour in the truck.
On October, 26, the GDNC said it thwarted an attempt to smuggle over 68 tonnes of qat, 1.5 tonnes of hashish and more than 153,000 tablets of an unspecified substance.
On October 19, Saudi authorities thwarted another attempt to smuggle almost 4 million amphetamine tablets into the kingdom.
The seized narcotic pills were hidden inside a shipment of peppers, said GDNC spokesman Mohammed al-Nujaidi.
In addition to tracking internal drug distribution networks, the GDNC conducts round-the-clock surveillance and monitoring operations to track the smuggling of drugs into the kingdom, said Maj. Jamal al-Nukhaifi of the Saudi police.
Saudi citizens regularly contact the government with tips about drug dealers and other suspicious activities via the Narcotics Control telephone hotline (995) or by e-mailing [email protected], al-Nukhaifi said.
Government agencies act upon tips provided by members of the public, he said, noting that the tip-offs demonstrate societal awareness about this issue.
IRGC's smuggling operations
In addition to arms smuggling, the IRGC and its proxies have been implicated in smuggling illegal drugs into the kingdom and region, al-Nukhaifi said.
"It is every Saudi citizen's duty to take part in providing tips, as these substances have negative health consequences and their presence in the country is a serious problem," he said.
Saudi officials are combatting the smuggling and distribution of all types of narcotic substances, including qat, hashish and narcotic pain medications that could be abused, he added.
Attempts to smuggle drugs into the country are foiled on a near-daily basis, Saudi military expert Mansour al-Shehri said.
"The quantities of seized drugs are very large," he said.
The seized shipment of 47 million amphetamine pills confirms that the smuggling operations are directed by "a major player rather than groups or gangs", he said.
Reports and investigations conducted by the Gulf states show drugs are smuggled into Saudi Arabia from Syria and Lebanon by the IRGC and its regional affiliates, chiefly Lebanese Hizbullah, al-Shehri said.
"It seems that the IRGC is attempting to strike at Saudi society with drugs" in light of its failed attempts at security threats and drone attacks, he said.
To address this, he said, there is high-level co-ordination among the Saudi security services, who follow up on even minor information they receive from citizens and trace it back to larger smuggling networks.
Ongoing war on drugs
The Saudi government has thwarted the majority of recent smuggling attempts by land or sea, al-Shehri noted, while the IRGC has incurred high costs for its actions, at a time when it is already in a weak economic position.
For these reasons, operations to combat drug smuggling will likely decrease in number, as the smuggling itself will be contained, he added.
The success of the kingdom's security forces is testimony to their diligence in the war on drugs, said Fadel al-Hindi, a research supervisor at the Centre for Social Research and Humanities at Saudi Arabia's King Abdulaziz University.
"Another positive point is that citizens are rallying around the security forces and turning into eyes and ears for them in most regions of the kingdom," he told Al-Mashareq, suggesting that this has helped them penetrate smuggling rings.
"What is being smuggled is not just goods for the purpose of evading customs, but materials that are detrimental to the youth, which is why everyone feels that society as a whole is being threatened," he said.