BEIRUT -- As Lebanese families and businesses turn to solar panels to meet their electricity needs and to power air conditioners amid the sweltering heat, many are making sure to avoid obtaining loans from Hizbullah-linked institutions.
As Lebanon grapples with an electricity crisis, and as generator service providers increase their fees, residents have become more inclined to use renewable energy, with new solar panels appearing on rooftops each day.
Generator service providers have increased their monthly charges based on the exchange rate of the dollar on the black market, resulting in a drastic increase in price as the Lebanese pound has continued to decrease in value.
Some generator service providers have introduced rationing plans as well, periodically shutting down generators and leaving customers with no electricity.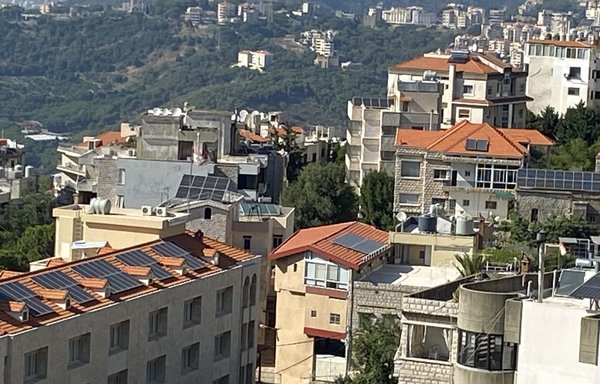 Faced with higher and higher electricity costs, many Lebanese have found an alternative in solar energy. But the initial installation of solar panels costs money, with an average cost of about $50,000, according to local sources.
Unable to withdraw enough from their bank accounts to buy solar panels, many have turned to loan programmes offered by financial institutions such as Banque de l'Habitat.
Banque de l'Habitat launched a solar energy soft loan programme at a time when such loans were being offered only by Hizbullah's al-Qard al-Hasan.
This decision has given borrowers the option of obtaining solar energy, without feeling they are being exploited by Hizbullah or somehow enriching the party, which receives most of its funding from Iran, per Hizbullah chief Hassan Nasrallah's own admission.
Al-Qard al-Hasan -- which Hizbullah has used as a cover "to manage its financial activities and gain access to the international financial system" -- has been offering loans of between $1,000 and $5,000 for individuals.
The largest loan amount is $35,000 for municipalities and large enterprises.
The solar energy loans introduced June 22 by Banque de l'Habitat range between 75 million and 200 million LBP ($50,000 to $132,000) with a 5% interest rate, payable in five years.
The Arab Fund for Social and Economic Development, approved by the Lebanese Council of Ministers and the Arab Fund's Board of Directors, secures these loans.
Gold for Hizbullah loans
The structure and conditions of Banque de l'Habitat loans, which can cover the full cost of the solar panel, have encouraged a large number of applicants.
Meanwhile, a number of Lebanese citizens who spoke with Al-Mashareq said they regret borrowing from al-Qard al-Hasan -- among them a resident of a southern town near Tyre who gave his name simply as Abbas.
"Electricity is the lifeblood of my business," he said. "So I decided to stop using a private generator because of the high cost, and got a loan from al-Qard al-Hasan two months ago by using all the gold my family owned as collateral."
"The value of the gold exceeded the amount I borrowed to install six solar panels and four batteries," he told Al-Mashareq.
The $5,000 he borrowed is payable over three years, he said, but "by borrowing money in exchange for gold from al-Qard al-Hasan, I made the mistake of my life," as "I could lose my wife and daughters' gold, like many others."
Radwan, a resident of the southern suburb of Beirut who asked that only his first name be used, told Al-Mashareq that he "fell into Hizbullah's trap" by borrowing money from al-Qard al-Hasan.
"If I had known that Banque de l'Habitat would be offering loans for solar energy, I would have waited to get that loan, because I prefer to borrow from a legitimate financial enterprise, not a party-affiliated institution."
"I prefer darkness to borrowing from al-Qard al-Hasan to have electricity," Mohammed Nasser, a resident of Tariq al-Jadida who installs television cables, said.
He has recently inquired about Banque de l'Habitat solar energy loans and has begun preparing the required documents to apply for one, he told Al-Mashareq.
Exploiting the power crisis
Hizbullah "exploited the electricity crisis and launched the al-Qard al-Hasan solar energy loan campaign", Shia opposition figure Hussein Ezzeddine said.
"Although the loan is soft and enables people to obtain electricity, Hizbullah's programme was not successful for several reasons," he told Al-Mashareq.
This is because many borrowers are unable to repay the loan, he said, "as one may not miss a single monthly payment to al-Qard al-Hasan, and most [borrowers] do not own $5,000 worth of gold".
Borrowers are afraid of losing their gold if they use it as collateral, he explained, because a large number of those who borrowed from al-Qard al-Hasan have been unable to regain their gold, even after paying off their loans.
"As of July 1, 138,000 visitors have visited the website and tens of thousands have applied for the loan," said Banque de l'Habitat chairman and general manager Antoine Habib.
The bank has started using its own holdings to fund the loan requests while awaiting the outcome of communications with the ambassadors of Arab Fund members and other countries, said Habib.
Kuwaiti Ambassador to Lebanon Abdel Aal al-Qenai has promised to take up the matter with his government, Habib said.
The energy loan offered by Banque de l'Habitat "has credibility because the institution is registered with the Association of Banks and managed by a well-known board of directors", he said.
It has "no connections to the Lebanese government or any political party", he added.