CAIRO -- In the Syrian capital of Damascus, recently ranked as the world's "least livable city", many residents point the finger at the regime of Bashar al-Assad for the deprivation and despair they face on a daily basis.
While city residents queue for bread and endure the discomfort of life without functioning services, the regime has been siphoning off international aid intended for the Syrian people, observers said.
Taking humanitarian aid out of the mouths of civilians and selling it to fund its forces and enrich its cronies, it has augmented the support it receives from Iran and Russia, as the public continues to grapple with extreme hardship.
All this adds up to a low-ranking number on the livability list.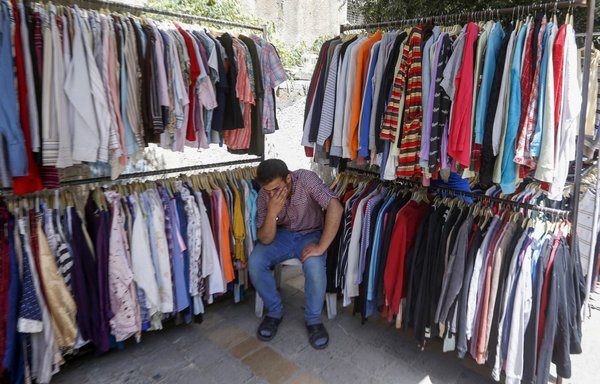 In its annual Global Liveability Index, a report on the living situations in world capitals, the Economist Intelligence Unit (EIU) research organisation ranked Damascus the world's worst city to live in.
The EIU released the index at the end of June.
Syria's dire financial and social conditions are likely to get worse in the areas controlled by the Syrian regime, Syrian economist and Damascus University lecturer Mahmoud Mustafa told Al-Mashareq.
"Rather than Syrians benefitting from the support provided by Russia and Iran, those countries are deriving economic, political and military benefits from Syria", he said.
Unattainable dreams
Prices have increased by 75% since January, crushing the public's purchasing power, he said.
The minimum amount a family of four needs for food is 1.2 million SYP ($477) per month, as the price of a 1kg of meat starts at 40,000 SYP ($15), Mustafa said, noting that the average salary in Syria cannot support this.
A United Nations (UN) report published on the economic state of the country in 2021 estimated the number of Syrians in need of assistance at 14.6 million of the total population, which is 18 million, he said.
According to recent findings, 47.2% of Syrians are living in moderate food insecurity, while 39.4% have adequate food security but are vulnerable and cannot tolerate any economic shock, Mustafa said.
Fulfilling the simplest needs has become an unattainable dream for Syrian families, education department employee Asma Ali al-Taqsh told Al-Mashareq.
"There is no electricity or water, especially in cities controlled by the regime," she said. "At least rural areas close to water sources are blessed to have water."
The situation has become so difficult that "Syrian women are unable to wash clothes, and families cannot access water for personal hygiene," Al-Taqsh said.
Potable water is hard to access on a regular basis, as it is sold at high prices, she said. Sometimes, home water tanks cost 30,000 ($11) to fill. They need to be filled about four times a month for an average household's use.
State-provided drinking water is provided for two or three hours every three days to fill domestic water tanks, but given the low quantity and pressure of the water, residents living on higher floors often miss out, said al-Taqsh.
As for electricity, she said, most areas have power for an hour followed by a six-hour blackout.
Impoverished population
Beggars of all ages and genders -- including children -- have become a common sight in most areas under the regime's control, Syrian activist Mohammad al-Beik told Al-Mashareq.
The regime has attempted to blame this on "gangs", he said, but the reality is that the situation on Syrian streets is beyond the government's control, and reflects the severe economic hardship in the country.
The Directorate of Social Affairs and Labour, Ministry of Social Affairs and police have not taken any measure to address the prevalence of begging, which has mushroomed since the onset of the Syrian conflict, al-Beik said.
The decline in monthly income, lack of job opportunities and the collapse of the Syrian pound are among the root causes for the current proliferation, he said.
"Impoverished people used to resort to traditional low-cost foods, but at their current prices, even those foods are beyond their purchasing power," he noted.
"A falafel sandwich, which was a poor man's food, now costs 3,000 SYP ($1.20), and a single piece of falafel costs 250 SYP ($0.90)," he said.
"Potatoes are 4,500 SYP ($1.79) per kg, a fatira (hand pie) costs up to 1,500 SYP ($0.69), and the prices of other foods containing meat have become astronomical, generally starting at 7,000 SYP ($2.78)," al-Beik said.