A fuel crisis is sweeping all parts of Syria, with petroleum products disappearing from the markets and black market prices skyrocketing, causing further hardship to the Syrian people as they go about their daily lives.
The crisis is punctuated by popular protests against government institutions, fueled by anger that the Syrian regime has favoured its military forces, affiliated militias, and the Islamic Revolutionary Guard Crops (IRGC) over Syrian citizens.
Petroleum supplies flow normally to these forces, in sharp contrast to the situation most civilians are experiencing.
"The current fuel crisis was expected to occur because of the high demand for fuel during the winter season," Syrian economist and Damascus University lecturer Mahmoud Mustafa told Al-Mashareq.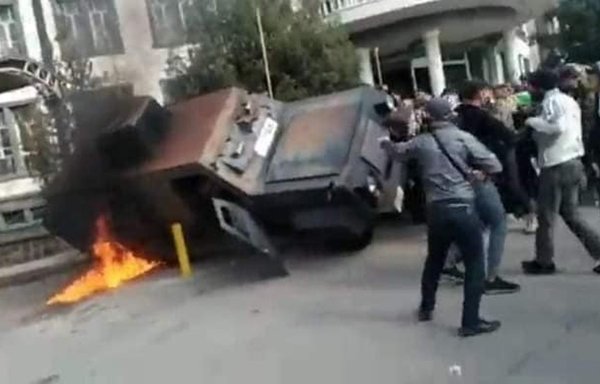 But instead of the Syrian government taking proactive measures to prevent the crisis from occurring, he added, "it remained silent and announced a multifold increase in prices after the crisis hit".
The amount of fuel allocated to citizens has been reduced to 20 litres per week, and the regime has declined to deliver the amounts allocated to minibuses, which remain the cheapest means of transportation for Syrians.
The current official price of a litre of gasoline is 4,900 SYP ($2), and diesel has risen to 5,400 SYP, he said. But because of unavailability in the markets, prices have risen on the black market to more than 13,000 SYP for gasoline and 8,000 for diesel.
Meanwhile, cooking gas has become a luxury, as the price of a cylinder has risen to more than 250,000 SYP.
The crisis has led to an "insane rise in prices", Mustafa said, noting that petroleum products have become too expensive for many families to afford -- along with many other basic necessities.
"Electricity, communications and internet services are now almost totally cut off, and most important, the school year has been suspended because of the students' inability to bear transportation expenses," Mustafa said.
There does not seem to be an immediate solution to this crisis, he added.
The current crisis is "the most severe since the outbreak of the war in Syria in 2011, despite the continuation of the Iranian line of credit, which supplies Syria with two million barrels per month", he said.
Popular protests
"The rise in fuel prices in particular, and prices of commodities in general, prompted residents in the city of Sweida to protest," local activist Nizar Bou Ali told Al-Mashareq.
"Some of them stormed the Sweida local government building and set it on fire," he said. "The incidents left one policeman and one civilian dead."
Fuel was completely unavailable in the area for more than 10 days, he said, and tensions boiled over from the failure of government agencies to take any action to remedy the situation.
All this time, Syrian military and militia vehicles continue to run normally, as if the crisis does not exist, he said, "which confirms the available fuel is hidden from the market and is withheld exclusively for the regime and the militias".
"Government officials are trying to calm the situation down and persuade citizens not to take to the streets and participate in the demonstrations that have been going on for 10 days, but to no avail," Bou Ali said.
The crisis is deepening, he said, amid the "insane" rise in prices and the absence of electricity and basic services that rely on it.
'Ghost towns'
The streets of Damascus are empty of cars, except for those belonging to pro-regime militias or the Islamic Revolutionary Guard Corps (IRGC), said activist Muhammad al-Beik of Eastern Ghouta.
"This sparked some protests, though regime forces quickly suppressed them and banned gathering in many places, for fear they would spread on a wide scale," he said.
Damascus and its surrounding villages are like "ghost towns, especially at night, because electricity supply is barely available for half an hour every 10 hours", he said.
This has compelled the owners of shops and factories to close their doors for lack of electricity and of fuel to operate generators, he said.
Al-Beik said it is common to see "long queues of citizens, including employees and students, standing at privately owned bus and public transport stations".
Many wait "for long hours in vain and eventually are forced to return to their homes instead of their universities and jobs", he said, which prompted the government to increase the number of weekend days, by adding Sunday.