Beijing is using an army of social media influencers and exploiting search engine results to amplify and spread disinformation on China, in particular the situation of Uighurs and other Muslim minorities in the Xinjiang region.
China is using online platforms -- including Google, Bing, YouTube, Facebook and Twitter -- to disseminate narratives aimed at weakening democratic institutions and to spread propaganda to audiences around the world, the Brookings Institution reported July 6.
"On a range of topics of geopolitical importance, Beijing has exploited search engine results to disseminate state-backed media that amplify the Chinese Communist Party [CCP]'s propaganda," Brookings said, citing a report published in May in collaboration with the German Marshall Fund's Alliance for Securing Democracy.
Internet users turning to search engines for information on Xinjiang "are surprisingly likely to encounter articles on these topics published by Chinese state-media outlets", it said.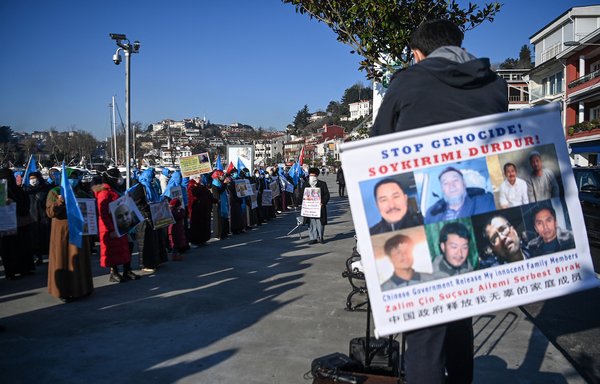 Beijing is accused of detaining more than one million Uighurs and other mostly Muslim, Turkic-speaking people, in the far-western region as part of a years-long crackdown that the United States, other governments and human rights activists have labelled a "genocide".
New files released in May on the detention centres in Xinjiang provide further evidence of rights abuses, including violent methods to enforce mass internment, torture, systematic rape, forced sterilisation and the use of forced labour.
The evidence shows the abuse was likely approved at the highest levels in Beijing, US State Department spokesman Ned Price said May 24.
"It would be very difficult to imagine that a systemic effort to suppress, to detain, to conduct a campaign of genocide and crimes against humanity would not have the blessing -- would not have the approval -- of the highest levels of the PRC government," he said, referring to the People's Republic of China.
The Chinese regime denies any abuses are taking place and describes the camps as "vocational training centres" that teach skills to prevent the allure of Islamic radicalism.
Planting Chinese state-media outlets in search engine results plays a major role in Beijing's effort to shape external perceptions on the situation in Xinjiang, the Brookings Institution report said.
Over four months, between November 2021 and February 2022, Brookings and the Alliance for Securing Democracy tracked search engine results for terms linked to Xinjiang.
It found that "21.5% of the top results on Google News and Bing News returned Chinese state-backed media, and one quarter of top results on YouTube featured state-backed accounts".
"For web searches, 6.5% of top results featured state media."
This means that users looking to educate themselves on the situation in Xinjiang were likely to encounter propaganda disseminated by Chinese state media.
Social media influencers
Beijing is also trying to shape foreigners' perspectives on China through a variety of social media influencers.
On one such YouTube channel, British father and son duo Lee and Oli Barrett paint an upbeat and exciting picture of life in China -- and also hit back at criticisms of the authoritarian regime, defending its policies towards Xinjiang, Hong Kong and Taiwan.
In one video, viewed more than 277,000 times, Lee Barrett said terms such as "forced labour" and "genocide" in connection to Xinjiang are an attempt to appeal to people's emotions.
"All the West are hoping to do is to destabilise the area of Xinjiang to stop the rise of China," he said.
Another YouTube personality, Cyrus Janssen, a dual American-German citizen living in China, posts similar content.
"No one in the West could possibly imagine that China would be this successful. And this is the big reason why Western media is always attacking China," he said in one video viewed more than 440,000 times.
"A genocide, they say. A genocide. There's no proof of genocide. There is no proof of atrocity. All this has been debunked many times," said BarrieV of the Best China Info YouTube channel.
The videos featuring Caucasian men speaking in English attempt to give authenticity to the stories they are spinning.
"But on the other side of the camera often stands a large apparatus of government organisers, state-controlled news media and other official amplifiers -- all part of the Chinese government's widening attempts to spread pro-Beijing messages around the planet," The New York Times reported December 13.
The YouTubers say they decide what goes into the videos and that their aim is to counter the West's increasingly negative perceptions of China.
But even if they do not see themselves as propaganda tools, Beijing's cadre of "wolf warrior" diplomats is using them that way. Chinese diplomats, embassy staff and other officials have shown the videos at news conferences and amplified them on their social media accounts.
Chinese officials are using YouTube and Twitter, which are both blocked inside China to prevent the uncontrolled spread of information, as "propaganda megaphones for the wider world", The New York Times reported.
"China is the new super-abuser that has arrived in global social media," said Eric Liu, a former content moderator for Chinese social media. "The goal is not to win but to cause chaos and suspicion until there is no real truth."
Efforts to quash propaganda
The CCP's use of foreign influencers is a growing challenge to global social media platforms and to their efforts to identify and label state-affiliated accounts, the Australian Strategic Policy Institute (ASPI) said December 10.
The content about Xinjiang created by foreign social media influencers is "being used as part of a wider, global propaganda push by the Chinese state to counter critical reporting about human rights abuses in the region, often via amplification on US-based social media platforms", ASPI said.
"Between January 2020 and August 2021, 156 Chinese state-controlled accounts on US-based social media platforms have published at least 546 Facebook posts, Twitter posts and shared articles from CGTN, Global Times, Xinhua or China Daily websites that have amplified Xinjiang-related social media content from 13 influencer accounts," it said.
"Videos featuring foreign social media influencers are often the preferred content that Chinese state entities repackage and boost online," it added.
The idea that propaganda created by foreigners can be particularly potent is a longtime strategy of the Chinese regime.
"We have always attached great importance to 'borrowing a mouth to speak' and used international friends to carry out foreign propaganda," Zhu Ling, then-editor-in-chief of China Daily, said in a speech in 2016.
To be most effective, he said, China's propaganda should mix "what we want to tell" with what foreign audiences "want to hear".
Social media companies have begun to take action against Beijing's efforts on this front.
Google's Threat Analysis Group (TAG) reported taking down tens of thousands of YouTube channels spreading Chinese propaganda.
In January the company terminated 4,361 YouTube channels as part of its ongoing investigation into co-ordinated influence operations linked to China, in February it terminated 6,103 YouTube channels and in March it terminated 7,304 YouTube channels.
In April and May Google terminated a total of 5,616 YouTube channels spreading disinformation on a variety of topics.
Last December, Twitter shut down almost 3,500 accounts that were posting pro-government propaganda, the majority of which were part of a network that amplified Chinese narratives related to its repression of Muslims in Xinjiang.
Around the same time, Facebook took down more than 500 accounts after they had amplified posts from a fake scientist who had been quoted by Chinese state media.