Since routing the "Islamic State of Iraq and Syria" (ISIS), Iraq has focused its attention on a new battleground -- drug trafficking and smuggling networks facilitated by the Islamic Revolutionary Guard Corps (IRGC) and allied militias.
The effort to remove the scourge of drugs from Iraq has involved hundreds of arrests, raids and border security crackdowns, which have resulted in the seizure of huge quantities of various types of illicit narcotics, Iraqi officials said.
According to the Ministry of Interior, 5,300 people involved in drug trafficking were arrested and four million Captagon pills and 100kg of other narcotic substances were confiscated between January 1 and April 30 alone.
The ministry's General Directorate of Narcotics Control announced the arrest of "hundreds" in drug-related raids in May.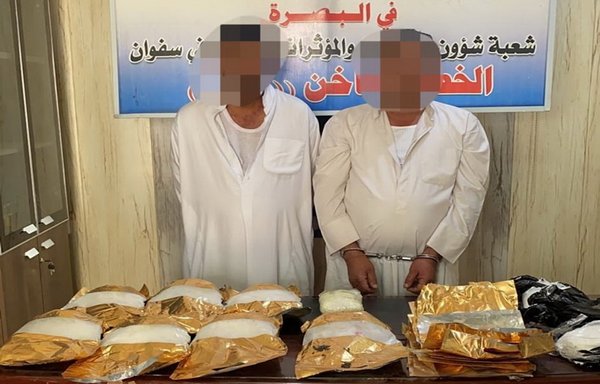 On May 1, the Iraqi National Security Service said it had dismantled two international drug trafficking networks comprised of Iraqi and foreign nationals.
A seven-member group, which included three Iraqi nationals, confessed to taking part in drug smuggling operations and provided details of its activity.
This led to the seizure of a large narcotics storage facility near Baghdad, where 6.2 million narcotic pills were stored, the security service said.
Members of the second network -- two Iraqis and another whose nationality was not revealed -- were arrested while carrying 6kg of hashish, it added.
'Deadly and destructive'
"The drug trade is a deadly and destructive crime for society and is no less dangerous than terrorist crimes," said an Iraqi security source who asked to remain anonymous.
"There are co-ordinated security action and redoubled efforts to eradicate it and rid the country of this danger," he told Al-Mashareq.
Security efforts are accompanied by public awareness campaigns, and there is an established hotline (178) for reporting any drug-related activity, he said.
Narcotic and psychotropic abuse and trafficking are on the rise among Iraqi youth, particularly those between the age of 18 and 30, he said.
The most widespread illegal drug in Iraq is methamphetamine (crystal meth), which is smuggled in from Iran and most commonly used in central and southern Iraq.
Captagon pills, known in Iraq as "Zero One", are more widely used in the western and northern parts of the country.
These enter Iraq from Syria, which is a major Captagon production centre and a hub for export to Saudi Arabia and other Gulf states through Lebanon.
On May 14, Saudi authorities seized a shipment of 29,000 Captagon pills hidden in a shipment of cheese entering through al-Haditha crossing from Jordan.
Saudi authorities have prevented drug smuggling at the crossing before, notably blocking an attempt in October to smuggle 5.2 million Captagon pills into the country in a shipment of "carbonate powder" bags, the Arab News reported.
Militia drug trafficking
The IRGC and its proxies play a pivotal role in smuggling narcotics, political analyst Abdul Qader al-Nayel said.
"Drug trafficking is financially beneficial for the Iranians, as they reap huge profits from it, which they use to buy weapons and finance their proxies' activities," he said.
"The IRGC, with the help of Iraqi militias, Lebanese Hizbullah and the Iran-backed Houthis in Yemen, manages specialised mafia-like groups that handle the production, smuggling and marketing of drugs at regional and international levels," he said.
On May 17, the US Navy announced it had seized 640kg of methamphetamine, worth $39 million, off an Iranian fishing vessel in the Gulf of Oman. It was the ninth shipment of its kind to be seized so far this year.
"Drugs make their way into Iraq through the border areas in east of the country and other routes controlled by militias in the city of al-Qaim in Anbar and in Ninawa province," al-Nayel said.
"These areas are chosen because militia groups provide protection to drug smugglers and traders," he added.
IRGC-affiliated militias also are active in cultivating narcotic plants, with Syrian activists reporting that Iran-backed Iraqi militia Kataib Hizbullah oversees a cannabis farm in al-Hari, near the Iraq-Syria border town of Albu Kamal.
Poppies are being cultivated at a farm in the Iraqi town of al-Rummaneh, bordering Syria, sources said.