Cross-border drug trafficking from Iran continues to pose a grave threat to Iraqi society despite governmental efforts to contain it, Iraqi officials told Diyaruna.
The "illegal drug trade is run by armed militias linked to Iran", said military and strategy expert Muayyed Salem al-Juhaishi.
"These militias are directly responsible for drug trafficking in Iraq, which currently constitutes one of their biggest sources of funding," he told Diyaruna.
These armed groups are agents of Iran who seek their own interest and the interests of the Iranian regime at the expense of the Iraqi people, he said.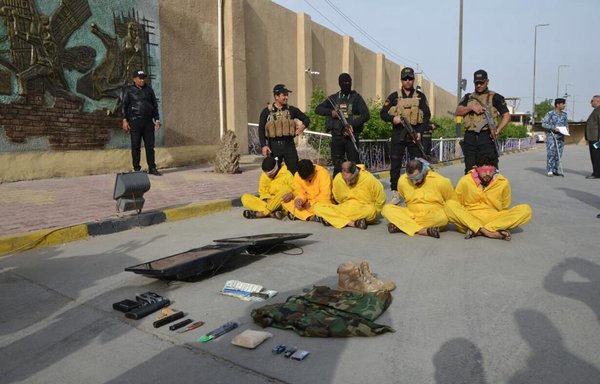 This is because the illegal drug trade from Iran has been turning Iraq into "a thriving drug market", he said, with a readily available flow of narcotics sold at low prices putting youth in Iraq and elsewhere in the region at risk of addiction.
As drug abuse spreads, so do other forms of crime, he warned, thereby creating a society that is "helpless, fragmented, weak and without a future".
Al-Juhaishi also accused Iran of seeking to establish drug farms in Iraq.
This would not only turn Iraq into a drug-trafficking corridor to Syria and Lebanon, but would make it a "producer of various kinds of narcotics", he said.
"Drugs are an enemy that penetrates and corrodes society from the inside and destroys it," he said, noting that this effect lasts for generations.
Strategic plan to curb drug use
The Iraqi Ministry of Health has a "strategic plan" in place to curb the drug epidemic, which has worsened in recent years because of Iran-backed militias such as Asaib Ahl al-Haq, Kataib Imam Ali, Kataib Sayed al-Shuhada and Saraya al-Khorasani, a ministry source told Diyaruna.
The plan focuses on spreading awareness, "as prevention is an integral part of the fight", the source said, asking to speak on condition of anonymity for security reasons.
In co-ordination with the ministries of education and justice and civil society organisations, the ministry has been working to intensify programmes and educational campaigns in schools, universities and other institutions, the source said.
"We are distributing thousands of publications on the dangers and devastating effects of drugs," the source added.
"We also plan to open a national addiction treatment centre with a capacity of 100 beds," the ministry source said, pointing out that "psychiatric branches at all hospitals in the country [already] treat all kinds of addiction".
Around 5,000 Iraqis sought treatment this year for drug and substance abuse, with the most prevalent drugs and narcotics in Iraq being crystal meth, Captagon, Tramadol, methamphetamine and opioids, the source said.
'Revolution against drugs'
During a November news conference, Basra police chief Rashid Fleih said 80% of the narcotics that enter his province come from Iran.
Earlier this year, the Basra Police Command launched a "revolution against drugs" and has since made numerous arrests, an officer in the Basra police department told Diyaruna.
"As [drug abuse] worsened, raising concern among residents, we decided to embark on this revolution," the officer said. "We focused our efforts on pursuing and targeting drug dealers and pushers."
Six "top traffickers" involved in selling drugs to small dealers and pushers were killed in recent drug busts, he said.
Strict measures have been put in place to monitor cafés and popular areas where youth gather to ensure they are not being used by drug dealers, he said.
"We are also co-operating with clerics, dignitaries and community leaders to raise awareness about and fight drug abuse," he added.