The rise in the rate of drug-related crimes in Iraq's Kurdish region underscores the disruptive and destabilising role of Iran's Islamic Revolutionary Guard Corps (IRGC) and its proxies, who are heavily involved in the drug trade.
Most narcotics entering the Kurdish region and the rest of Iraq are smuggled in by armed groups backed by the IRGC or its partners, experts said, noting that drug trafficking is a significant source of funding for these groups.
During a September press conference, the Kurdish region's Interior Minister Rebar Ahmed Khalid announced that drug trafficking and crimes related to drug abuse are on the rise.
This adds to the burden of responsibility shouldered by security forces, he said.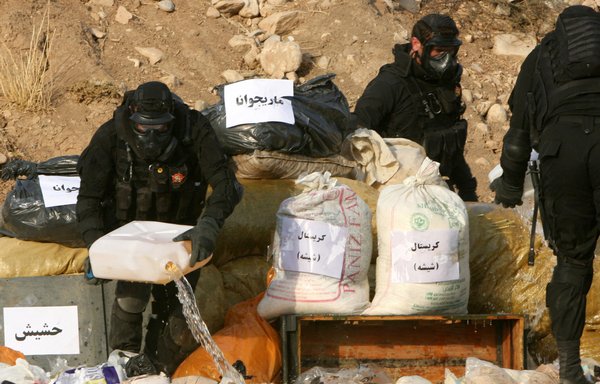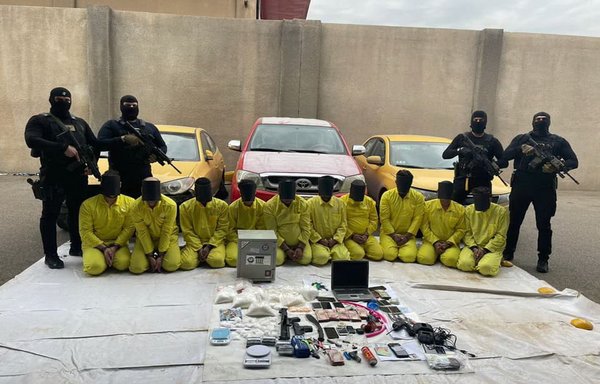 Arrest records show that some 5,000 people were arrested in the northern region in 2021 in connection with drug trafficking and drug abuse offenses, which is more than double the number of arrests recorded in 2020.
According to Kurdistan Organisation for Human Rights Watch (KOHRW) executive director Hoshyar Malo, drug smuggling has become a serious problem in Iraq.
"There is a large influx of drugs, mostly from Iran," he told Al-Mashareq.
"Iraq is no longer just a place where these poisons are consumed, but also a place for trafficking them and a corridor for smuggling them to other countries," he said.
"The indicators are frightening, and yet there are no effective measures being taken to curb this threat."
Large influx of drugs
Malo said powerful militias, political parties and influential figures are using their influence to bring narcotics into Iraq from Iran through illegal border crossings and that they are profiting from this illegal trade.
The KOHRW has helped local authorities arrest individuals who sell narcotic substances online, he said, without giving a figure for the arrests.
He stressed, however, that drug users should be treated as victims under the law, rather than as criminals, and called for legislation to be updated accordingly.
These individuals should not be imprisoned but should instead undergo drug addiction treatment and rehabilitation as patients, he said, pointing to the need for rehabilitation and recovery centres across Iraq.
According to local observers and previous reports, units 190 and 400 of the IRGC's Quds Force (IRGC-QF) are leading covert arms smuggling operations and also directing the transport of drugs into Iraq, via allied militias.
In under two years, Iraqi security authorities said they have been able to seize about 900kg of narcotics, including hashish, heroin and crystal methamphetamine, in addition to some 19 million narcotic pills.
The majority of these shipments originated in Iran or Syria, they said, and were destined for distribution and sale in several areas of Iraq, including the north.
Tighter border control
Campaigns to crack down on drug trafficking have resulted in the arrest of at least 17,000 individuals accused of involvement in drug dealing and smuggling over the past two years.
Many were directly linked to the Iran-backed militias or were under their protection.
On January 11, Iraqi army spokesman Yahya Rasul announced that the Iraqi National Intelligence Service had dismantled a network of 10 major drug traffickers and dealers in Baghdad.
With its drug smuggling, Iran is engaging in subversive activity that is no less dangerous than the proliferation of weapons and rockets, political expert Rabie al-Jawary said.
Drugs are spreading throughout Iraq, including in the Kurdish region, he said, adding that the danger they pose is growing because of the high level of unemployment, poverty and corruption in the country.
He stressed the need to exercise tighter control over the 1,400km-long border with Iran and to take a more stringent approach in dealing with drug traffickers.