A Soviet-era air defence system that has Moscow worried in Ukraine is unlikely to have the same effect for Iran's adversaries.
Russian Foreign Minister Sergey Lavrov on March 18 told RT in an interview that Moscow "will not allow" the transfer of S-300 air defence missile systems from NATO countries to Ukraine.
Any arms supply to Ukraine would be considered by Russia a "legitimate target", he added.
Lavrov's remarks came after Slovakia announced days earlier that it was willing to supply Ukraine with the S-300 system in exchange for assurances that the weapon will be immediately backfilled with a system of similar quality.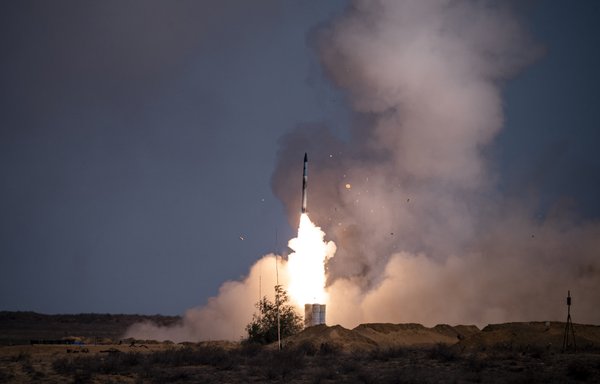 The US-made Patriot air defence system is on its way to Slovakia, Defence Minister Jaroslav Nad said March 20, paving the way for Bratislava to possibly deliver the S-300 to Ukraine.
NATO members Slovakia, Greece and Bulgaria field the S-300 system, which can hit aircraft at high altitude.
The Soviet Union began development of the S-300 in the 1960s as a follow-up to a variety of prior surface-to-air missile (SAM) systems, the National Interest reported in February 2021.
Testing of the system took place in the 1970s, and it entered service in 1978.
The S-300 notably has the ability to be multichannel -- to utilise multiple guidance beams to guide missiles to different targets simultaneously.
The S-300's missiles, which are typically launched from the back of a truck, can be deployed quickly and can engage multiple aircraft or short- and medium-range ballistic missiles.
Iran's S-300s
While Russia is eyeing the S-300 with caution, Iran's adversaries likely do not share the same concern.
Under a 2010 deal worth $800 million, Russia began delivering S-300s to Iran in April 2016, the Diplomat reported.
Deliveries of 16 systems were completed in October the same year. Then in March 2017, Iran announced that its S-300s were operational.
However, past evidence suggests that Iran's S-300s are unlikely to be effective, especially against stealth aircraft.
Israeli F-35 stealth fighters were able to slip past Iranian S-300s during a raid in March 2018, the National Interest reported, citing a June 2019 report by Kuwaiti daily Al-Jarida.
The Israeli aircraft "penetrated Iran's airspace, circled high above Tehran, Karajrak, Isfahan, Shiraz and Bandar Abbas -- and photographed Iran's air defence system", according to the report.
The Israeli jets had carried out the sortie as a test of the possibility of an undetected attack on Iranian outposts and bases, during which they photographed sensitive areas -- including underground bases.
Iranian leader Ali Khamenei fired Islamic Republic of Iran Air Force (IRIAF) commander Brig. Gen. Farzad Ismaili for attempting to hide the incursion, the report added.
One of the sources cited by Al-Jarida said that Iran's S-300 air defence system, including its Russian radar, did not detect the entry and exit of the fighter planes.
Iran unable to use effective air defence
Iran's Islamic Revolutionary Guard Corps (IRGC) has a long history of missile failures and embarrassments, including the downing of the Ukrainian passenger plane in 2020.
Insufficient attention to missile safety protocol, dilapidated equipment and outdated technology have contributed to this track record of failure.
Even if Iran were to purchase the upgraded S-400 systems -- which has an upgraded radar and purportedly can track stealth aircraft -- Iranian forces would be unable to properly use the system, according to analysts.
Russian officials have in the past said they would consider selling Iran the S-400, which itself is the result of decades-long development of the S-300.
Iran, however, is likely among the countries unable to fully utilise the S-400, according to commentary published on the RAND blog in May 2020.
"Many countries do not fully appreciate that effective air defence requires a networked system and not just one missile system component," according to the report.
"At a basic level, the S-400's field of view for the search and fire control radar is limited to the horizon of the earth," which means the system depends on tall masts, or optimally, airborne warning and control aircraft systems (AWACS), it noted.
Without sensors that can detect beyond horizon, the S-400 is "vulnerable to a low-altitude attack by cruise missiles, which, in large numbers, can overwhelm an air defence system".
S-400 units "need to be tightly integrated with AWACS aircraft" to be effective -- an additional, expensive cost that Iran is likely unable to shoulder.
The low-altitude cruise missile threat is not the only threat, as there are inherent difficulties in effective air defence, the report said.
Iran's accidental downing of Ukraine International Airlines Flight 752 "is another example of how difficult it is to operate air defence systems and not make tragic mistakes".