Iran's plans to update its greatly outdated air force fleet appear to have run aground, with a planned purchase of Russian fighter jets seemingly on ice amid the Ukraine war, and domestic plans to develop a stealth fighter stalled.
Before Russian President Vladimir Putin launched his assault on Ukraine, Iranian President Ebrahim Raisi met with him in Moscow, on January 20, to discuss "long-term co-operation within a 20-year framework".
Though details of the deal have yet to be officially announced, the two sides are believed to have signed a 20-year, $10 billion defence agreement as part of it.
Under this agreement, Russia would supply Iran with 24 Sukhoi Su-35 Super Flanker fighter jets, two advanced S-400 air defence missile systems and a military satellite, Forbes reported December 30.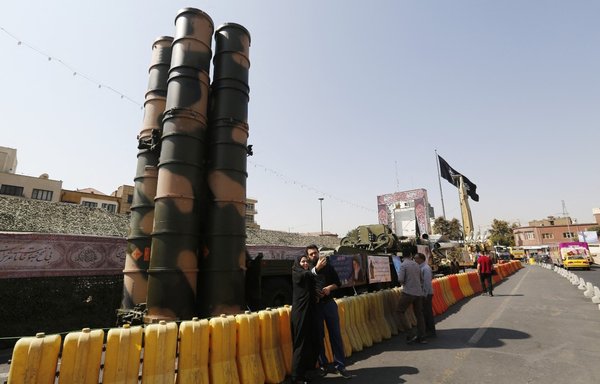 If a contract is signed, it said, 15 Su-35SEs could be transferred to Iran in early 2022. But to date there is no sign that this has happened.
In any case, some in Iran regard purchases from Russia with deep scepticism, rooted in prior experience of purchasing outdated equipment from that country at an extremely high price.
It is a price some in Iran are willing to pay, however, as the Islamic Republic of Iran Air Force (IRIAF) is desperate for new fighter jets to revive its antiquated fleet, the newest of which were built in the early 1990s.
Most of its fleet consists of US-built F-14As, F-4s and F-5s delivered in the 1960s and 1970s, according to Forbes. It has since acquired MiG-29As from Russia and some ex-Iraqi Air Force Dassault Mirage F-1s.
Iran's civilian aircraft fleet also is aging badly, with Iran Airline Association deputy head Alireza Barkhor in December revealing that more than half of the domestic fleet of civilian aircraft is grounded for lack of spare parts.
"The number of inactive planes in Iran has risen to more than 170... as a result of missing spare parts, particularly engines," he told state news agency IRNA. "If this trend continues, we will see even more planes grounded in the near future."
According to Iranian economic daily Financial Tribune, the national carrier Iran Air operates a fleet of 39 planes, the majority of them Airbus jets.
In 2016, following the lifting of sanctions, Iran concluded deals to purchase 100 Airbus jets, 80 Boeing planes and 40 ATR aircraft.
But the Islamic Republic received only 11 planes, as deliveries were interrupted following the reimposition of sanctions, the media outlet said.
'Like a Hollywood prop'
Iran's domestic efforts to develop its air power capabilities also appear to have hit a wall, with plans to develop a "fifth-generation" stealth fighter jet that was first announced in February 2013 failing to materialise.
Iran rolled out the single-seat Qaher-313 stealth fighter jet in the presence of then-President Mahmoud Ahmadinejad, who touted the grey, futuristic-looking fighter jet as "one of the most advanced" aircraft in the world.
The aircraft was shown in flight in a report titled "Qaher: Iranian genius crystallised" that was aired by state-run TV station Shabakeh-ye Khabar (Islamic Republic News Network).
In March 2017, Iranian defence minister Hossein Dehghan declared that the Qaher-313 was finally ready for flight testing, the Fars News Agency reported.
But the fighter jet is still not in service, and has been widely derided.
Some media outlets claim Iran's "stealth fighter jet" is a hoax, comparing it to a model airplane, while others point to blurry video footage that shows it flying jerkily across the sky, like an unmanned aerial vehicle (UAV), or drone.
Others note that the cockpit is so tiny, a pilot can hardly fit inside the plane.
Initially greeted with scepticism, it "became a laughing stock among the military enthusiasts, who dismissed it as a crude mock-up and a stunt designed to impress the domestic audience", Eurasian Times reported December 29, 2020.
"The military aviation experts after taking a cursory look at the images and videos released by Iran showing the fighter jet said it was simply impossible for this 'prototype' to even fly," the outlet said.
"The single-engine aircraft was far too small to perform and had too many engineering flaws to even qualify as a fourth-generation jet," it added, with analysts suggesting the vaunted Qaher-313 looked "like a Hollywood prop".
Furthermore, it said, the stealth fighter "is so small that there literally isn't enough space under its wings for the bombs and missiles that the country claimed it could carry; it doesn't even have a weapons bay".
A long way to go
In an August 2019 report on Iran's military power, the US Defence Intelligence Agency notes that since at least 2014, senior Iranian officials have stressed the need to improve military capabilities against a wider range of threats.
Officials, including Iranian leader Ali Khamenei, have called publicly for the military to better address these threats and support Iran's rising regional involvement, the report says.
It notes that in 2016, Khamenei for the first time called on the military to boost its offensive capabilities in addition to defensive capabilities.
"Military officials have since noted Iran's need to invest more in offensive capabilities and missions, such as combat air power and maintaining forward presence, areas it has traditionally neglected," the report added.
But on the basis of its air programme alone, observers noted, it seems Iran has a long way to go.