As Iran marks the 43rd anniversary of the Islamic Revolution that brought the current regime to power, Iranian citizens are growing bolder in their discontent, even defacing effigies of regime founder Rouhollah Khomeini.
In one recent incident in Esfahan province on January 22, all the plaques displaying Khomeini's name, located in a square named after him, were destroyed, and Khomeini's bust was vandalised.
A resident of Ardestan city accused of vandalising the statues and plaques was detained and transferred to Naein Prison.
Ardestan governor Hamid-Reza Taamoli attempted to discredit the man, accusing him of being a repeat criminal and a drug addict.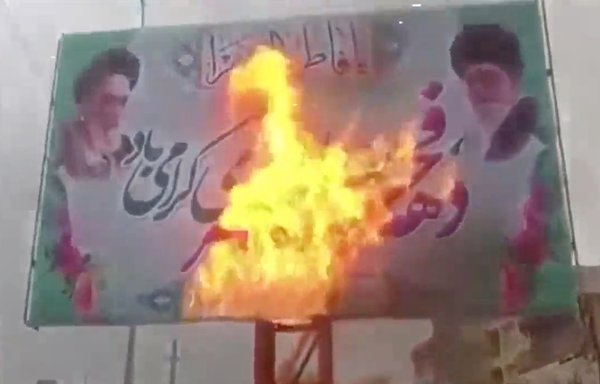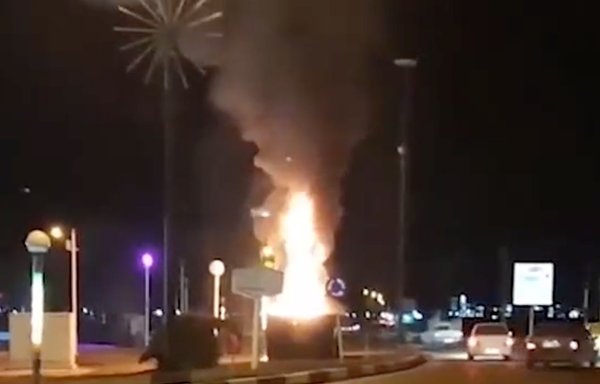 "No specific speculation can be made about the motive of this person's behaviour," he said.
Frequent anti-regime protests, chants
The incident is far from being an isolated event. Over the past year, Iran has witnessed a series of protests, some of which have featured images of Khomeini and Iranian leader Ali Khamenei being set aflame.
Members of the public have regularly chanted "Rest in peace, Reza Shah" in their protests -- a tribute to the first Pahlavi king.
Reacting to the governor's remarks, activist and Iran expert Hamid Farzad said, "The motive for such actions needs no speculation."
"The governor's remarks about this individual's addiction and criminal record are a futile attempt to cover up the Iranian public's widespread dissatisfaction with the regime," he said.
A statue of Qassem Soleimani, the slain commander of the Islamic Revolutionary Guard Corps' Quds Force (IRGC-QF), was also set ablaze and completely burned just hours after it was unveiled on January 6 in Shahr-e-Kord, Chaharmahal and Bakhtiari province.
Qassem Behrami -- a monarchist poet also known as "Sheida-ye Hamedani" -- was arrested by IRGC security agents in Mashhad on September 15 and transferred to an unknown location.
A few weeks earlier, Bahrami had posted a video on Twitter about the rising number of COVID-19 victims in Iran in which he criticised Khamenei's policies while burning his picture.
Before that, protesters had chanted slogans against the Islamic Republic in large-scale demonstrations that began in Khuzestan and spread to several other provinces over water shortages.
The protests and torching of the statues are a sign of growing grievances against the regime's misplaced priorities and its mismanagement of the crises that have beset Iran, observers say.
Crackdown on domestic dissent
Ahead of the February 10 anniversary of the 1979 Revolution, videos of Khomeini's speeches were circulated on social media.
In some of them, the founder of the Islamic Republic plainly mentions "the need to shed the opposition's blood" -- the same violent rhetoric the regime still promulgates over four decades later.
Rather than focusing on the woes afflicting the public, which have also left the country on the brink of economic collapse, the regime continues to focus on cracking down on domestic dissent, training and arming militias to expand its regional reach and bolstering its nuclear programme.
Although officials of the Islamic Republic have demonstrated that they would not hesitate for a moment to violently suppress protesters, it is completely clear to them that official propaganda has not only lost its effect but has even become dangerous to the regime, Farzad said.
Through protests and acts of vandalism, the Iranian public has shown that it is no longer as deeply terrified of the consequences of ignoring the regime's "red lines", observers say.