BAGHDAD -- The international coalition against the "Islamic State of Iraq and Syria" (ISIS) has finished its combat mission in Iraq and will shift to a training and advisory role, Iraq and the alliance announced Thursday (December 9).
The change of the mission for around 2,500 US troops stationed in Iraq by the end of the year was first announced by US President Joe Biden in July, when he hosted Iraqi Prime Minister Mustafa Kadhemi.
In a news release on its website, the international coalition announced it has "completed its transition to a non-combat mission before year's end as agreed".
"The new mission is to advise, assist and enable Iraqi forces," it said.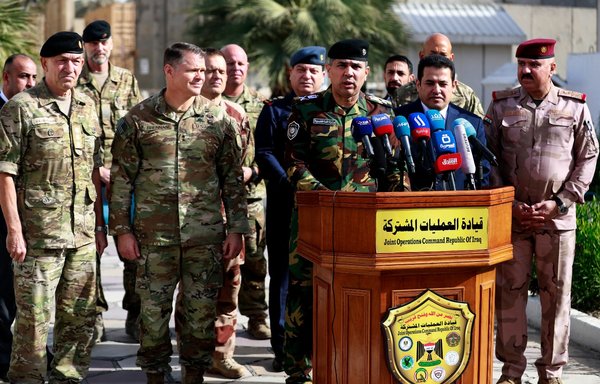 "Tomorrow, we join the people of Iraq in celebrating the fourth anniversary of the victory over ISIS," Maj. Gen. John W. Brennan, commander of Combined Joint Task Force - Operation Inherent Resolve (CJTF-OIR), said Thursday.
"Many brave men and women gave their lives to ensure ISIS never returns, and as we complete our combat role, we will remain here to advise, assist and enable the Iraqi security forces, at the invitation of Republic of Iraq," he said.
"We are confident that the fruits of our strong partnership will ensure ISIS will not reconstitute and threaten the Iraqi people," he said.
Relationship continues
Iraqi National Security Adviser Qassem al-Araji announced the official conclusion of the coalition's combat role in a post on Twitter.
"The relationship with the international coalition continues in the areas of training, advising and capacity building," he said, after a meeting between the coalition and the Joint Operations commanders of the Iraqi security forces.
"The coalition will have completely finished the transition to a non-combat mission before the end of the year," Iraqi interior ministry spokesman Gen. Saad Maan said Thursday.
The United States had previously set a deadline of December 31.
In effect, the approximately 2,500 US and 1,000 other international coalition troops deployed in Iraq will remain in the country, where they have been acting as military advisers and trainers since mid-2020.
The coalition, with Iraqi forces, remains "a formidable, enabling force", Brennan said, noting that ISIS's 40,000 fighters once terrorised eight million people in a statelet that covered 110,000 square km in Iraq and Syria.
"We have come a long way since the coalition answered the call for help," he said.
"In this new phase, our transformative partnership with Iraq symbolises the need for constant vigilance," he added. "ISIS is down, but not out. We will advise and assist our partner forces to enable the protection of the people of Iraq."
The top US commander for the Middle East, CENTCOM commander Gen. Frank McKenzie, said the United States will keep the current 2,500 troops in Iraq for the foreseeable future, and he warned that he expects increasing attacks on US and Iraqi personnel by Iranian-backed militias determined to get US forces out, according to the Associated Press.
"They actually want all US forces to leave, and all US forces are not going to leave," he said.
"We've drawn down from bases we didn't need, we've made it harder to get at us. But the Iraqis still want us to be there. They still want the presence, they still want the engagement," said McKenzie. "So as long as they want it, and we can mutually agree that's the case — we're going to be there."
He said he believes ISIS will continue to be a threat in Iraq and that the group will "keep recreating itself, perhaps under a different name." The key, he said, will be to ensure that ISIS is not able to coalesce with other elements around the globe and become increasingly strong and dangerous.
McKenzie added the US military will still provide air support and other military aid for Iraq's fight against ISIS.
Four-phase campaign
ISIS overran swathes of Syria and Iraq in the summer of 2014, with the stated aim of establishing a so-called "caliphate".
On October 17, 2014, the US Department of Defence formally established CJTF-OIR in order to formalise ongoing military actions against the ISIS threat in Iraq and Syria.
As a partnership of nations that eventually grew to include more than 80 countries, the international coalition resolved to militarily defeat ISIS in Iraq and Syria, with regional partners, in order to increase regional stability.
It is now in the final chapter of its four-phase campaign to defeat the group.
During the campaign's first phase, dubbed "Degrade", international coalition forces conducted air strikes against ISIS to blunt its expansion into Iraq and reduce its effectiveness.
They began to train, equip, advise and assist the Iraqi forces, and also began to partner with forces on the ground in Syria.
At the end of 2015, the coalition entered phase two of its plan: "Counterattack".
This included supporting Iraqi forces and Syrian partner forces in their battle to oust ISIS from the territory it had seized, and conducting air strikes against the extremist group to weaken it on the ground.
Phase three, "Defeat", saw coalition forces conducting air strikes in support of the decisive battles against ISIS, with Iraqi and Syrian partners in 2017 liberating al-Raqa in Syria and Mosul in Iraq and clearing remaining pockets of resistance.
Supporting security, stability
In the final phase, "Support Stabilisation", international coalition forces have been providing security, planning and other support to the Iraqi government and authorities in Syria.
ISIS cells remain active in Iraq and pose a lingering threat, with a UN report this year noting that the group maintains some 10,000 fighters in Iraq and Syria.
The international coalition has stressed that it remains in Iraq at the invitation of the Iraqi government, with its troops now stationed at three Iraqi bases managed by Iraqi forces.
In recent months, it has made numerous announcements highlighting its change of mission, including a November announcement in which it noted the departure from Iraq of more than 2,100 trucks carrying military equipment.