Speculation is growing over the apparent deal Iran struck with Saudi Arabia last month over the evacuation of Iran's top official in Yemen.
Iran's ambassador to Yemen, Hassan Eyrlou, flew out of Yemen's capital Sanaa on December 18 to receive treatment for COVID-19 in a rare exemption from an air blockade enforced by the Arab coalition, Saudi and Iranian officials said.
Eyrlou, a former officer in Iran's Islamic Revolutionary Guard Corps (IRGC), died days later in Iran.
However, observers are still wondering why Saudi Arabia, which has been at war with the ran-backed Houthis for years, would have allowed such a flight to take place considering Eyrlou's major role in the war.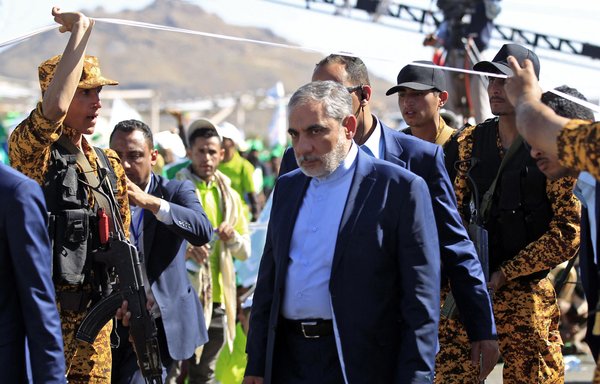 Eyrlou was already facing a death sentence after a military court in Marib province found him guilty of entering Yemen on false pretences, engaging in espionage and taking part in crimes with the Houthis.
Yemeni officials had previously accused Eyrlou of directing military operations in Houthi-controlled areas, including the militia's assault on Marib, and of serving as the "de facto governor" of Houthi-controlled parts of Yemen.
Even though Saudi Arabia said it allowed the flight on "humanitarian grounds", other possible scenarios have emerged.
Precision Saudi strike
Only days after Eyrlou left Yemen, the Saudi-led Arab coalition on December 20 carried out precision air strikes on Houthi targets and facilities within the Sanaa International Airport.
Coalition spokesman Brig. Gen. Turki al-Maliki described the precision strikes in depth with detailed knowledge about each target he could have known only through an inside source or trusted adviser.
Al-Maliki said the strikes targeted six sites in the northeastern part of the airport, which are used to launch attacks with armed drones.
Some of the sites are also used to train personnel on the use of drones, and serve as residence for them and their trainers, he said, adding that two of the targeted sites were warehouses for drones.
"The destruction of these targets will not have any impact on the operational capacity of the airport, and will not affect the management of airspace and air traffic," al-Maliki said.
Political analyst Faisal Ahmed said, "Eyrlou might have informed the Saudis about the location of drones at Sanaa airport as part of a deal to allow him out of Yemen by air."
"This is because there was much opposition to him and to Iran's policy in Yemen, especially by senior [Houthi] leaders who differed with him about how to run things," he told Al-Mashareq.
"Those leaders have lost a lot of their privileges to him and to those close to him and to Iran," he noted.
"Disputes escalated, especially as many leaders opposed the campaign to enter Marib, given the heavy human losses the group suffered," Ahmed said.
The cause of the rift between some Houthi leaders and Eyrlou was mainly financial, economist Abdul Aziz Thabet said.
"Eyrlou has restricted the powers of those leaders in favour of others who were working with him and implementing Iran's policy," he said, adding that he does not think it is farfetched to say the Saudi coalition was tipped about the military targets at the airport.
This is especially true given that the airport was targeted right after Eyrlou was airlifted out of Yemen, he said.
Increasing divisions
Meanwhile, political analyst Mahmoud al-Taher said he thinks it was the Houthis themselves who leaked the information to the Arab coalition.
"Those who made the leaks are the Houthi officials who visited southern Saudi Arabia [in 2016], and Houthi intelligence officials as a result of internal disputes between the rival factions vying for influence and money and Eyrlou and his supporters," he said.
"This shows how broken the relations have become between Iran and the Houthis in favour of the Saudi-led Arab coalition," he noted.
Regardless of how Eyrlou managed to get airlifted out of Yemen, the situation has shed fresh light on the group's internal leadership disagreements and on growing friction between the Houthis and Iran.
A number of Houthi officials who spoke on condition of anonymity told the Associated Press at the time that Eyrlou's illness had provided the group with an "opportunity to demand his departure".
They said the Houthis had complained to the Iranian leadership about Eyrlou's failure to co-ordinate strategies with them in his meetings with tribal and political leaders.
"Eyrlou has become a burden for them," one regional official told the Wall Street Journal. "He's a political problem."
Analysts told Al-Mashareq that Eyrlou's unilateral management style, especially regarding the direction of military operations in Houthi-controlled areas, had caused internal rifts.
"Eyrlou was the representative of the IRGC in Yemen," Abaad Centre for Studies and Research in Yemen director Abdul Salam Mohammed said.
"If it weren't for his presence, the drones, missiles and modern weapons would not have been sent to Yemen," Mohammed said.
Iranian weapons have exacerbated and extended Yemen's war, which has dragged on for more than seven years, to the detriment of the Yemeni people.
Mohammed noted that Eyrlou had forced out some Houthi commanders who had not been trained in Iran and excluded others from positions of power, fueling resentment inside the group.
Analysts said that this heavy handedness had provoked anger among some of the Houthis, who increasingly perceived that their own cause was being undermined as the Iranians bent it further towards their own agenda.