TEHRAN -- Iran's envoy to the Houthis Hassan Eyrlou died of COVID-19 Tuesday (December 21) despite his medical evacuation on Saturday from the Yemeni city of Sanaa, the Iranian foreign ministry said.
Eyrlou, a former Islamic Revolutionary Guard Corps (IRGC) officer, served as ambassador to the Houthi-installed administration in Sanaa, which is backed and recognised only by Tehran.
Iran's ISNA news agency on Tuesday described him as a "friend and comrade" of the late IRGC Quds Force commander Qassem Soleimani.
"The ministry announces the death from COVID-19 of martyr Hassan Eyrlou, ambassador of the Islamic Republic of Iran to Yemen's National Salvation Government," foreign ministry spokesman Saeed Khatibzadeh said in a statement.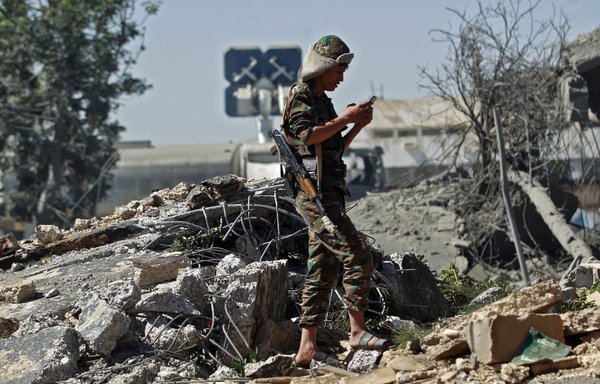 "Martyr Eyrlou, who was also wounded in the Iran-Iraq war of the 1980s, fell victim to COVID-19 in the country where he was assigned, because of the slow co-operation of certain countries," he said, without specifying which ones.
"Unfortunately, he returned home to the country in adverse circumstances, and despite treatments to improve his health, he died this morning," he said.
Eyrlou was flown out of Sanaa on Saturday on an Iraqi flight, after the Houthis secured authorisation from the Arab coalition, which has enforced an air and sea blockade on Houthi-held territory since August 2016.
An Iranian spokesman said Eyrlou had been sick with COVID-19 for several days already, while Iraqi and Omani mediators organised the exemption.
Yemen's healthcare system is in tatters after seven years of war. Government officials have accused the Houthis of looting the public health sector to fund their war effort, even as it reels amid the coronavirus pandemic.
Tehran sent Eyrlou to Sanaa as ambassador in October 2020. It is unclear how he had reached the city, which is under blockade.
At the time of his death, Eyrlou was already facing a death sentence, after a military court in Marib province found him guilty of entering Yemen on false pretenses, engaging in espionage and taking part in crimes with the Houthis.
Yemeni officials had previously accused Eyrlou of directing military operations in Houthi-controlled areas, including the militia's assault on Marib, and of serving as the "de facto governor" of Houthi-controlled parts of Yemen.
Eyrlou's death came amid rumours of tensions with Houthis in Sanaa.
Houthi officials, speaking on condition of anonymity, told the Associated Press that his illness provided the group with an "opportunity" to demand his departure.
They said the Houthis had complained to the Iranian leadership about Eyrlou's failure to co-ordinate with them in his meetings with tribal and political leaders.
Retaliatory strikes
On Monday evening, the Arab coalition said it had carried out "a limited number of precision strikes on legitimate military targets in Sanaa international airport".
"The operation was mounted in response to the threat and use of airport infrastructure to carry out cross-border attacks," it said, in a statement carried by the Saudi Press Agency (SPA).
Arab coalition aircraft hit six targets in the airport, including sites used to "control attacks by drones loaded with explosives" or to "train terrorist elements" for such operations, the statement said.
A metal hangar and cement structures near an air traffic control tower were destroyed in the strike, an AFP correspondent reported.
Sanaa airport director general Khaled al-Shayef said, "The health quarantine quarters and warehouses to store export and import goods were destroyed".
The Norwegian Refugee Council urged both sides to work with the United Nations to reopen the airport for humanitarian and commercial flights.
The Monday strikes on the Sanaa airport came after Saudi defences on Sunday shot down two Houthi drones fired at the kingdom's Abha International Airport, which has been a regular target for the Houthis.
Three drones were launched from Sanaa's airport, which the Arab coalition said has become a platform for carrying out cross border attacks, with the third drone targeting the kingdom's Khamis Mushayt area, according to Asharq al-Awsat.
The Houthis have repeatedly launched missile and drone strikes against neighbouring Saudi Arabia, targeting the kingdom's airports and oil infrastructure, and they have intensified their strikes in recent months.