RIYADH -- Iran's ambassador flew out of Houthi-controlled Sanaa to receive treatment for COVID-19 on Saturday (December 18) in a rare exemption from an air blockade enforced by the Arab coalition, Saudi and Iranian officials said.
"The ambassador left on an Iraqi aircraft and is probably now in Baghdad," a senior Saudi official familiar with Yemeni affairs said.
He said the flight was organised at the request of the Iran-backed Houthis and agreed to by Saudi authorities following mediation by Iraq and Oman.
Iraq has hosted several exploratory meetings between Iranian and Saudi officials seeking a thaw in relations after years of proxy wars around the region.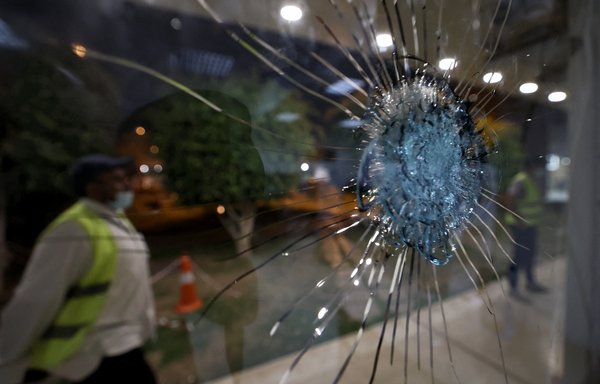 Oman is the only Gulf Arab state that has remained neutral in the Yemen conflict and has frequently mediated with the Houthis.
A foreign ministry spokesman in Tehran said the ambassador had been suffering from COVID-19, and that arrangements had been made for his evacuation.
Yemen's healthcare system is in tatters after seven years of war. Government officials have accused the Houthis of looting the public health sector to fund their war effort, even as it reels amid the coronavirus pandemic.
"The Iranians told us through the Omanis that their ambassador had contracted COVID-19 and must get out," a Saudi official said. "We agreed to let him out for humanitarian reasons."
Tehran is the only government that recognises the Houthis' administration in Sanaa, sending Hassan Eyrlou -- a former Islamic Revolutionary Guard Corps (IRGC) officer -- there as ambassador in October 2020.
It gave no details on how he had reached the city, despite the blockade.
On August 25, a military court in Marib province handed Eyrlou a death sentence, finding him guilty of entering Yemen on false pretenses, engaging in espionage and taking part in crimes with the Houthis.
Yemeni officials had previously accused Eyrlou of directing military operations in Houthi-controlled areas, including the militia's assault on Marib, and of serving as the "de facto governor" of Houthi-controlled parts of Yemen.
Volley of attacks
A Houthi attack on Haradh, in Hajjah province -- near Yemen's northwest border with Saudi Arabia -- on Thursday killed 14 Sudanese soldiers who were fighting as part of the Arab coalition, Yemeni military sources said.
The Arab coalition, which has been battling the Houthis in support of Yemen's internationally recognised government since 2015, has repeatedly accused Iran of arming the Houthis.
Iran has consistently denied the charge, despite ample evidence to the contrary.
Saudi defences on Sunday shot down two Houthi drones fired at Abha International Airport in the south of the kingdom, Asharq al-Awsat reported.
The Abha airport has been a regular target for the Houthis.
The Arab coalition accused the Houthis of deliberately seeking to harm travellers.
Three drones were launched from Sanaa's airport, which the Arab coalition said has become a platform for carrying out cross border attacks, with the third drone targeting the kingdom's Khamis Mushayt area, the newspaper said.
The latest salvo came as Saudi Deputy Defence Minister Prince Khalid bin Salman held talks in Riyadh on Sunday with Yemeni Prime Minister Moeen Abdulmalik on efforts to reach stability in Yemen.