MANAMA -- International efforts to crack down on drug smuggling operations in the Middle East will be supercharged by a newly opened interagency centre in Bahrain that enables partners to share information, Bahrain-based analysts said.
The Regional Narcotics Interagency Fusion Cell (RNIFC) will operate the new centre, which officially opened December 8 at Naval Support Activity Bahrain.
The cell is a joint US Department of Defence and law enforcement team that includes personnel from US Naval Forces Central Command (NAVCENT), the Combined Maritime Forces (CMF), and law enforcement agency partners.
It supports maritime and land drug interdiction operations by analysing and sharing intelligence that helps security forces locate illegal activity and other transnational threats emanating from illicit drug trades.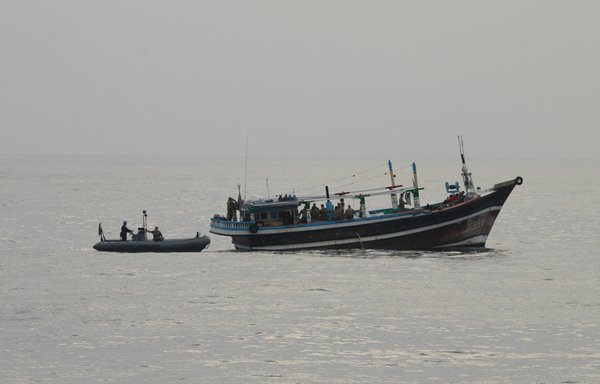 "We work with our interagency partners in the region to reduce drug trafficking," said RNIFC's law enforcement co-director Fred Paris. "Together this builds an effective capability to stem the flow of illicit trafficking in narcotics and weapons."
RNIFC partners with CMF, the world's largest multinational naval partnership, to counter illegal drug shipments in the region.
Two US Navy ships operating as part of Combined Task Force 150 (CTF 150), one of CMF's three principal task forces, on December 27 seized hundreds of kilogrammes of heroin from a stateless fishing boat in the Arabian Sea.
Last year, CTF 150 seized and destroyed illegal drugs worth more than $193 million (at regional wholesale prices) during counter-narcotics operations near the Arabian Gulf, the US Navy said.
Fighting organised crime
The new facility will boost international efforts to crack down on illegal drugs of all kinds, and will disrupt drug smuggling routes in Bahrain's territorial waters and beyond, Bahrain-based analysts said.
They noted that Bahrain is a regional leader in combating drug trafficking and smuggling through its borders, with national efforts in 2020 resulting in the seizure of 116kg of narcotic substances and 6,000 psychotropic pills.
Security personnel handled 729 incidents, leading to the arrest of 284 drug traffickers and 519 users, they noted. This reflected a significant decrease in drug-related incidents compared to 2018 (1,559 cases) and 2019 (1,547 cases).
The kingdom has a long track record of embracing international efforts to combat organised crime, said political analyst Tamam Abu Safi.
She pointed to Bahrain's support for the establishment of the Regional Centre of Excellence for Capacity Building in the Field of Combatting Trafficking in Persons.
The centre offers training to those who deal with the victims of trafficking, in collaboration with the International Organisation for Migration (IOM) and the Gulf Co-operation Council office of the United Nations Office on Drugs and Crime.
Bahrain also has an envoy to the IOM, which has been working with the government to fight and prevent trafficking, among other initiatives, she noted.
The Central Bank of Bahrain meanwhile has made the fight against money laundering (AML) and combating the financing of terrorism (CFT) a key priority.
Bahrain is part of the Financial Action Task Force (FATF) and a founding member of the regional MENA-FATF, and hosts its secretariat.
'A more co-ordinated effort'
Abu Safi said there have been regional efforts to combat drug trafficking in territorial waters for many years, which have resulted in the seizure of large quantities of drugs, with many shipments originating in East Africa or Iran.
The new centre will have "a positive impact in terms of intensifying these efforts" she said, and will enhance the ability of Bahrain and its regional and international partners to combat illegal drugs.
This will lead to a more co-ordinated effort, she added, and will "create an infrastructure for the exchange of information about drug trafficking".
"It is not possible to rely on security measures alone and on patrols in combating drugs, as 95% of the effort to combat drug crimes is based on the exchange of information," Abu Safi noted.
"There has to be a support centre that plays the important co-ordinating role between the countries bordering the Gulf and [allied] forces on a periodic basis," she said.
This centre must operate in conjunction with the deployment of patrols and the monitoring of the activity of smugglers and traffickers, she said, "especially in areas of conflict on the borders of Yemen and Iran and near the Arabian Sea".
Abu Safi said that not a week passes without illegal activities -- particularly drug smuggling -- being thwarted.
The CMF also plays a major role in ensuring the safety of navigation, which is an essential part of their mission, she said, adding that the new centre will enhance maritime security and safety in the major waterways.
Pro-active in anti-drug fight
Bahrain has been proactive in the fight against drugs, and the opening of the new centre is a testament to its pivotal role and strategic location in the region, political analyst Saad Rashid said.
It endorsed the statute of the GCC Criminal Information Centre to Combat Drugs, for example, he said, and the UN Convention against Illicit Traffic in Narcotic Drugs and Psychotropic Substances.
Rashid said the crackdown on illegal drugs falls under the heading of combating the activities of terror groups, which depend in large part on smuggling drugs and contraband to finance their activities and operations.
It affirms "Bahrain's leadership of the security apparatus and the essentiality of its strategic co-operation with security allies, led by the United States," he said.
"Bahrain has a long record of breaking up smuggling operations, which come as part of the efforts to curb illegal imports," he said.
This boosts the confidence of the kingdom's allies, he added, and cements the reputation it has built in this regard over many years.