BEIRUT -- In the days before the January 3 anniversary of Qassem Soleimani's death, Lebanese Hizbullah erected a large billboard emblazoned with the slogan 'We are Qassem' on Beirut's airport road, which runs through its stronghold.
The billboard shows the Iranian general in various poses -- holding a child in his lap or giving a speech -- alongside photos of children intended to show that younger generations are being raised to follow in his footsteps.
Many other posters of Soleimani, who commanded the Islamic Revolutionary Guard Corps Quds Force (IRGC-QF) and his Iraqi lieutenant, Abu Mahdi al-Muhandis, who was killed at the same time, lined the airport road.
With this display of propaganda, Hizbullah aims to damage Lebanon's relations with the international community, particularly the United States, analysts said.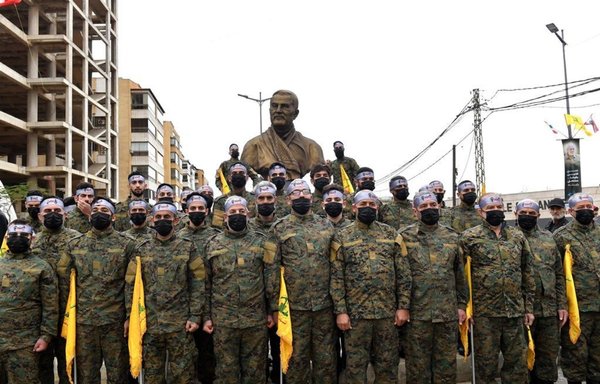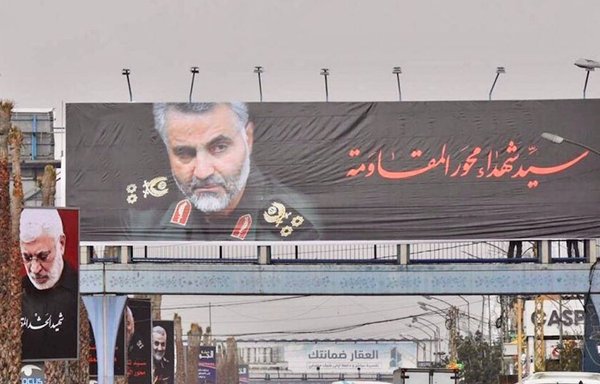 Such acts "embody the reality of Lebanon's occupation by Hizbullah and the IRGC", said Fadi Saad, a Lebanese expatriate.
Many Lebanese took to Twitter to reject Iran's hegemony over Lebanon.
"The country is experiencing an unparalleled collapse of the currency, continuous power outages, an unprecedented rise in the prices of everything, and queues of humiliation," posted Twitter user Rayan.
Meanwhile, he added, "Hassan Nasrallah's minions hang banners honouring an Iranian on airport road".
Slogans do not serve Lebanon
"Anyone who departs through Beirut airport is astonished to see portraits, banners, religious and partisan slogans and militia symbols," said Lebanese Centre for Research and Consulting director Hassan Qutb.
These do not serve Lebanon's stability, he told Al-Mashareq, and neither do they improve its relations with the Arab and international communities.
"What does it mean to erect portraits of the terrorist Qassem Soleimani on the road to Beirut airport?" he asked, noting that Soleimani caused the death and displacement of millions in Syria, Iraq and Yemen.
He said the erection of the Soleimani billboard, on the same ground where the US Marines barracks were bombed in 1983, was intended as a message to the United States.
"Hizbullah does not cease to engage in actions that further isolate Lebanon from the international and Arab communities, and never hesitates to portray Lebanon as being entirely under its control and hegemony," Qutb said.
All of the party's actions "serve a regional project led by Iran, and not national interests that benefit the Lebanese people", he added.
"We will not accept, bargain over or surrender to [Hizbullah's plans], because Lebanon is not the private property of a party, sect or militia," he said.
'Reality of Iranian occupation'
Political activist Mazen Osseiran said he was saddened to see the billboard of Soleimani and other leaders affiliated with Iran on the airport road, and admonished the government for its failure to prevent its appearance.
"Has the airport road become outside the authority of the state, or has Lebanon in its entirety become outside its sovereignty?" Osseiran asked.
"What is the purpose of this provocative billboard? Is it to say that Lebanon no longer belongs to the Lebanese?"
Those who erected the billboard must know it will not elicit the reaction they were hoping for, "first and foremost from the Shia community itself", he said.
Hizbullah's actions reveal that its true aim is to "totally change the face of Lebanon in all cultural, social and political aspects", political writer Tony Boulos told Al-Mashareq.
"Instead of exporting civilisation, knowledge and culture to the world, Lebanon is exporting drugs, terrorists and harm to the Arab and international communities," he said.
"It has become, because of Hizbullah, a rogue state that bears no resemblance to its history, people or ambitions, who are now eager to emigrate and flee Lebanon."
While the Soleimani billboard shows "the beginning of Hizbullah's decline and demise", Boulos said, it also reflects "the reality of the Iranian occupation of Lebanon".